Cheesecake
Twix Cheesecakes – Gingerbread Bagels - StumbleUpon. Cheesecake Stuffed Strawberries | White Chocolate No-Bake Cheesecake. This dessert is chillin' out in my freezer just waiting for July 4th to arrive.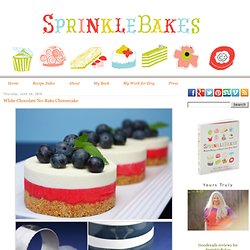 For once I'm a little ahead of the game! Life has been busy lately, and it didn't help having a big fat cake FAIL during Father's day preparations. The cake was Pop's special request and the recipe is from a little old lady who makes and sells the cakes from her home. She's been making them for decades, and I suppose it was a little presumptuous of me to think I'd get her method right with my first try.
Peanut Butter Cheesecake Oreo Bites. We have officially signed our new lease for our brand new apartment.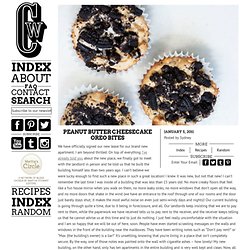 I am beyond thrilled. On top of everything I've already told you about the new place, we finally got to meet with the landlord in person and he told us that he built the building himself less than two years ago. I can't believe we were lucky enough to find such a new place in such a great location! Blueberry Cheesecake Bars. Delicious Meliscious - a cooking blog by Melissa: Cheesecake Stuffed Strawberries. Not being a fan of chocolate covered strawberries, I was happy to find these CHEESECAKE stuffed strawberries on The Novice Chef.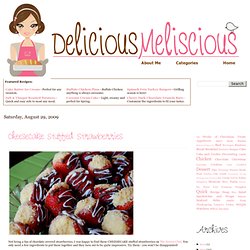 You only need a few ingredients to put these together and they turn out to be quite impressive. Try them - you won't be disappointed! Ingredients:2 quarts of fresh Strawberries1 box Jello No Bake Cheesecake (I used this box mix and it came with the graham cracker crumbs. This was good, but next time I think I'd try making my own filling - just to compare.)Crushed Graham CrackersMilk Chocolate for drizzling (I also used white chocolate because I had some)
2 Stews: Cheesecake In A Mug. I was telling a friend about my 1-2-3 Chocolate Microwave Mug Cake and kept thinking there had to be equally easy and delicious alternatives.
I had some cream cheese and sour cream in the refrigerator and played around with a microwave cheesecake. The first time I overcooked it, but the second time was a charm. It was creamy and delicate from the first bite. This cake is great for people at work, in dorms or if you just want cheesecake...fast!
---