Projet
Judah Method - Bleaching Experemnet on the Behance Network - StumbleUpon. New Green Mama: Reversible Messenger Bag Tutorial. Here's what you will need: Main body -2 pieces of home dec weight fabric or corduroy measuring 14" x 12" (Fabric A) Main body-2 pieces of contrasting home dec weight fabric measuring 14" x 12" (Fabric B) Flap- 1 piece of Fabric A- 12" x 11.5" Flap- 1 piece of Fabric B- 12" x 11.5" Back Pocket- 1 piece of Fabric A- 14" x 8"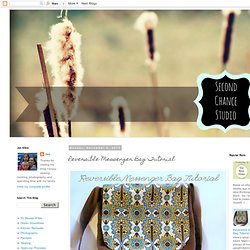 How to make Glittens (fingerless glove-mittens) 1) Select which part of the fabric you want as the main feature of your gloves.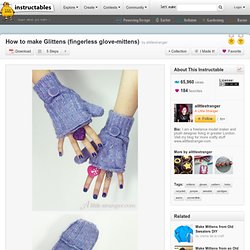 I decided to have the cabling on the jumper running down the middle of the gloves. 2) Mark and cut out the hand part of the gloves, placing the cabling in the centre of one half of the glove. Cut another with the cabling on the opposite side. V and Co how to: jersey knit bracelet - StumbleUpon. I don't know what it is about this time of year that makes me just want to have my bare feet in the sand, be watching the sun setting into the ocean, and breathing in the warm salty air of the beach...as i get older, more and more i find myself missing that place i used to go to almost every.single.day. as a teen.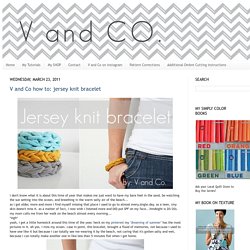 (my skin doesn't miss it. as a matter of fact, i now wish i listened more and DID put SPF on my face...hindsight is 20/20). my mom calls me from her walk on the beach almost every morning... *sigh*yeah, i get a little homesick around this time of the year. heck on my pinterest my "dreaming of summer" has the most pictures in it. ah yes. i miss my ocean. case in point. this bracelet, brought a flood of memories, not because i used to have one like it but because i can totally see me wearing it by the beach, not caring that it's gotten salty and wet, because i can totally make another one in like less than 5 minutes flat when i get home.
Tinted Mason Jars in Rainbow. I love using mason jars for decorating and a seemingly endless supply of craft projects.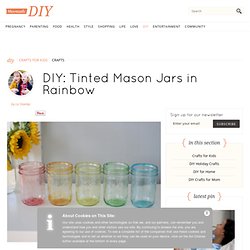 But rainbow tinted mason jars, just like the vintage ones you can never find anymore? This one might be my favorite project with mason jars yet! Mason Jars Mod Podge in Gloss (buy it here) Food coloring Ramekins to mix colors Newspaper or paper bag Mix food coloring with a T or so of water into individual ramekins. Upcycle: Pillowcase to top tutorial.
I teased some post a go asking what could I make with a pillowcase, ribbon and some lace?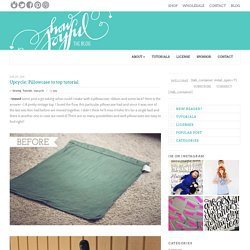 Here is the answer =] A pretty vintage top. I loved the flow this particular pillowcase had and since it was one of the last sets Ken had before we moved together, I didn't think he'll miss it hehe (it's for a single bed and there is another one in case we need it) There are so many possibilities and well pillowcases are easy to find right? I really liked the green and mixed it up with some vintage lace I had hanging around, I used ribbon for the straps and even tho there is a lof of pillowcase dresses and t-shirts out there, I wanted to show my version because I made it so to be very loose-fitting and comfy. To make this top is super easy and you dont need a serger at all (even tho if you have an extra one you can always send it my way! Record Notebook. Vintage postcard calendar journal. Growing up, I kept a daily journal.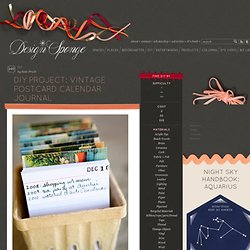 I always enjoyed looking back at previous entries to see what had changed over the course of a year. These days, I can't seem to find the time to journal, but I do try to jot down a little note from each day on my perpetual calendar/journal. The idea is very simple — flip to the current date and at the end of the day, write down something that happened. Some days it is big things like "Annie took her first steps."
Bird Nest Necklace | DIY. Today's DIY is a bird nest necklace.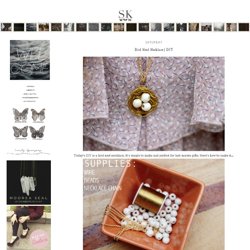 It's simple to make and perfect for last minute gifts. Here's how to make it... First, take your wire and begin twisting it around three beads to form a small cluster. These will be the eggs in the nest. iPhoneographie: Miniature iPhone Prints DIY. Food Coloring Markers. Update 3-9-14 -- Thanks to instructabler Conrad3000 for pointing this out, you can buy unfilled markers from Crayola!
Saves some steps, that's for sure! I'm retiring my original set this year, so I'll give them a try. He mentions he's also trying them with Crayola's airbrush kit, I may end up trying that as well. This is a very simple project. Put it together and enjoy! Now for the fun part!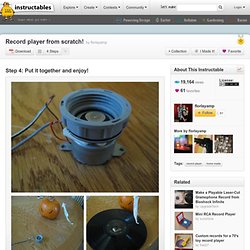 Round over edges & final sanding.
---