kelvinanderson
Kelvin Anderson
Get flash to fully experience Pearltrees
Mission The Defense Satellite Communications Systems Phase III is an important part of the comprehensive plan to support globally distributed military users. Features Air Force Space Command operates nine Phase III DSCS satellites that orbit the earth at an altitude of more than 22,000 miles. Each satellite uses six super high frequency transponder channels capable of providing secure voice and high rate data communications. DSCS III also carries a single-channel transponder for disseminating emergency action and force direction messages to nuclear-capable forces.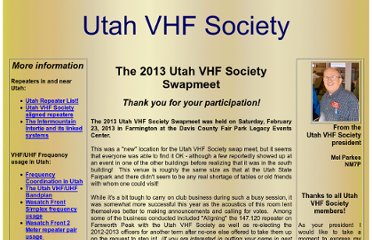 The 2013 Utah VHF Society Swapmeet was held on Saturday, February 23, 2013 in Farmington at the Davis County Fair Park Legacy Events Center. This was a "new" location for the Utah VHF Society swap meet, but it seems that everyone was able to find it OK - although a few reportedly showed up at an event in one of the other buildings before realizing that it was in the south building! This venue is roughly the same size as that at the Utah State Fairpark and there didn't seem to be any real shortage of tables or old friends with whom one could visit!
Edit Edited by 30stm_Sheri, Horses4Ever, Rob S, Krystle and 203 others Noticing the signals that people send out with their body language is a very useful social skill.