Knitting
Fingerless Mitts part 3: Knit Gradient Mitts! Now for part 3 of my Fingerless Mitts Times 3 tutorials from Craft: 10!
Knit Gradient Mitts! It's written as more of a how-to than a normal knitting pattern, with step-by-step instructions and photos to go with them! I made it into a free PDF – download it directly here or head over to ravelry to add it to your library – and I'm pasting it all right here as well…. enjoy! This is a fantastic project for beginner knitters bored with scarves – just don't be scared off by the double pointed needles, which are very easy to use once you get the hang of them.
Andalutheean Knitted Dishcloth. Thank you for visiting Little House in the Suburbs.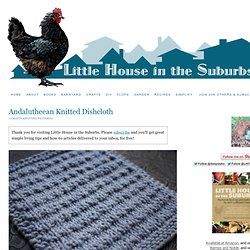 Please subscribe and you'll get great simple living tips and how-to articles delivered to your inbox, for free! The latest in my so-easy-you-can-knit-with-swarming-kids dish/washcloth series. If you can knit and purl, you can knit this hanging upside down from the monkey bars. Mary Jane Slippers « ohmygoodknits! By Lisa Gutierrez on 04/01/2008 **I thought this was obvious, but apparently not: PLEASE OH PLEEASE do not use any of my photos without my permission!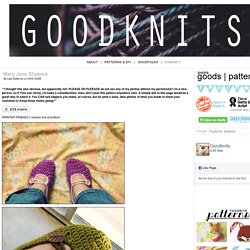 I'm a nice person, so if YOU ask nicely, I'd make a consideration. CRAFT Pattern: Bunny Hop Slippers. Thrummed Bunny Slippers in 3 Adult Sizes By Nikol Lohr These slippers are soft as a bunny, thanks to their thrums — unspun wool knit right in for a warm, cushy, fleecy lining.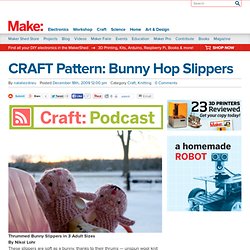 They're also quick as a bunny! Knit in bulky yarn, they have the same stitch count as your average worsted hat. Worked up quickly in economical ($5/100g ball) bulky wool, they're a recession-busting and adorable last-minute holiday gift. And you can always omit the "bunniness" if your subject isn't silly rabbit material. Aside from the cush, these slippers have a great fit and actually stay on your feet, thanks to the heel shaping and wide button flap. PIxie Dust Lap Blanket. This is a where-did-you-get-this?!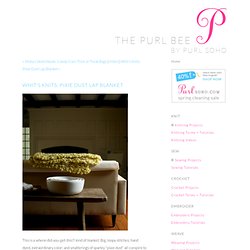 Kind of blanket. Big, loopy stitches; hand dyed, extraordinary color; and smatterings of sparkly "pixie dust" all conspire to make this no ordinary blanket. The yarn comes from the incredibly creative yarn company, Knit Collage. We used their super funky Handspun Yarn to knit up the Fun Kid's Hat last spring, and now we're turning our attention to their more subdued (relatively speaking!) Pixie Dust yarn. Om Dishcloth Pattern (aka, why are all the patterns I write yoga related?)
Ok, ladies and gents, the pattern you've all been waiting for (yeah right, but I have to fluff myself up a bit here :P )............................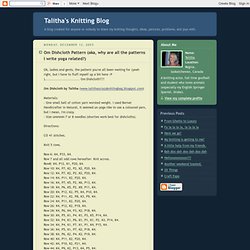 Om Dishcloth!!!! Om Dishcloth by Talitha (www.talithascrazyknittingbag.blogspot.com) Materials:- One small ball of cotton yarn worsted weight. I used Bernat Handicrafter in Natural, it seemed un-yoga-like to use a coloured yarn, but I mean, I'm crazy.- Size ummmm 7 or 8 needles (shorties work best for dishcloths). Directions: AZURE KNITS BLOG: Free Pattern! Quick Cable Slouch Hat//Hat constructions. This is a pattern I had made to teach my student how to make her first cabled hat, so I made sure it was not intimidating.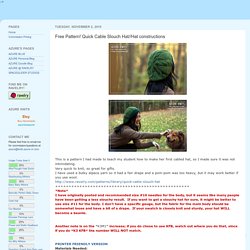 Very quick to knit, so great for gifts. I have used a bulky alpaca yarn so it had a fair drape and a pom-pom was too heavy, but it may work better if you use wool. Spud & Chloë — Blog. Hi Spud & Chloë Friends, After an overwhelmingly positive response for the Oink preview and for adding wings….. here he is!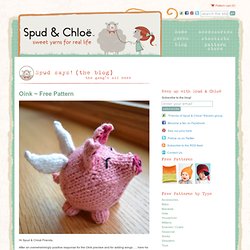 This project is so fast to work up you will barely blink an eye and a pig will be flying around your house. I promise. Oink's body has a Hi Bounce Pink Ball inside but it is optional. You could also use fiberfill for stuffing instead of the ball. Cables.
---