Entrees
Spaghetti with Spinach Pesto and Turkey Meatballs. Whew…that was a stressful weekend…who would have thought a simple update would turn into a nightmare.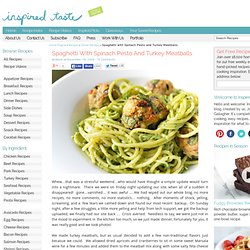 There we were on Friday night updating our site, when all of a sudden it disappeared! Gone…vanished… it was awful … We had wiped out our whole blog, no more recipes, no more comments, no more statistics… nothing. Healthy Dinners in 40 Minutes or Less : Recipes and Cooking. Chicken and Tortellini Soup. Broccoli and White Cheddar Mac & Cheese « The Craving Chronicles. Mac & cheese.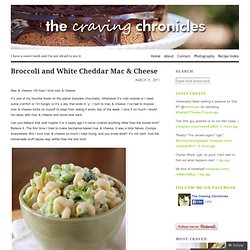 Oh how I love mac & cheese. It's one of my favorite foods on the planet (besides chocolate). Lemon Spaghetti Recipe by Giada De Laurentiis. Exhibit #5978b on why I've lived in suburbia for too long: I found it more than a little bit exciting that they recently redid our Target.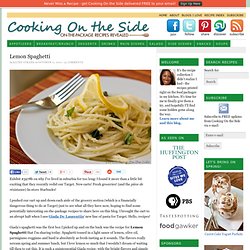 New carts! Fresh groceries! Better Than Takeout Orange Chicken. Yesterday as I stood in the kitchen trying to figure out what to make for dinner I wondered to myself, how do those people do it on those shows where they are given random ingredients and are suppose come up with something genius.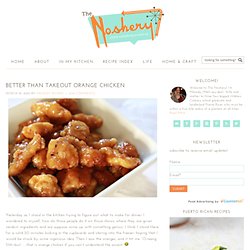 I think I stood there for a solid 20 minutes looking in the cupboards and staring into the freezer hoping that I would be struck by some ingenious idea. Then I saw the oranges, and it hit me "O-raang Shh-ikun"….that is orange chicken if you can't understand the accent. I love orange chicken, and I almost always order # 14 Orange Chicken when we order Chinese take out and I wondered to myself if I could make it better at home. This recipe most definitely delivered! Ha ha Chinese food…delivered….get it? Recipe: Spicy Oven Fries. Parmesan Roasted Potatoes.
Ok fine.
I'm officially ready to make the transition to fall. And I thought, what better way to do it than with my all time favorite Parmesan Roasted Potatoes! These are like candy. 100% addictive. The Best Broccoli of Your Life. November 10, 2008 | By Adam Roberts | 331 Comments You know you've done something right with broccoli when the person you made it for describes it to someone else the next day as "better than biting into a steak."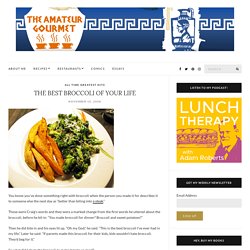 Those were Craig's words and they were a marked change from the first words he uttered about the broccoli, before he bit in: "You made broccoli for dinner? Broccoli and sweet potatoes?" Fried chicken. Last night was an absolute, spectacular dinner fail.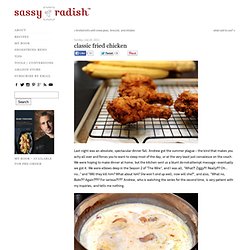 Andrew got the summer plague – the kind that makes you achy all over and forces you to want to sleep most of the day, or at the very least just convalesce on the couch. We were hoping to make dinner at home, but the kitchen sent us a blunt do-not-attempt message –eventually we got it. We were elbows deep in the Season 2 of "The Wire", and I was all, "What?! Pampered Chef Chicken Broccoli Wreath Recipe. Soup for Supper: 25 Nourishing, Delicious Soups | Apartment Therapy The Kitchn. Buffalo Chicken Bites. It's football season and I'm ready for some party food!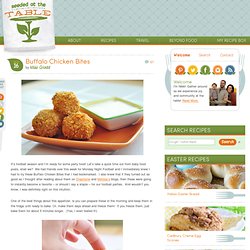 Let's take a quick time out from baby food posts, shall we? We had friends over this week for Monday Night Football and I immediately knew I had to try these Buffalo Chicken Bites that I had bookmarked. I also knew that if they turned out as good as I thought after reading about them on Stephanie and Melissa's blogs, then these were going to instantly become a favorite – or should I say a staple – for our football parties. Homemade Crispy Potato Tots (Tater Tots)
Homemade Crispy Potato Tots (Tater Tots) I went to a Sonic Drive In for the first time a few weeks ago and was surprised to see that they served tater tots.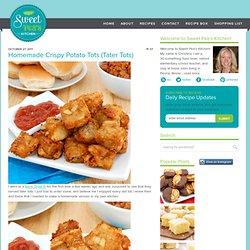 I just had to order some, and believe me I enjoyed every last tot. Half-Assed Cooking: Wok-Free Chinese. It's not fast food.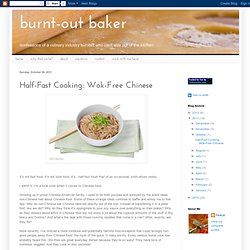 It's not slow food. It's...half-fast food! Elephantine: the baked mac and cheese. My favorite thing to eat, hands down, is noodles. Italian, Chinese, Japanese, Thai... whatever way you make it, I like it. But mac and cheese is high up there on the list, especially baked mac and cheese. Is there anything more comforting? Sweet Potato Risotto. So, last Monday, I promised to serve up some warm, scrumptious, holiday-worthy, meatless meals over the next few weeks – meals that would be right at home on a Thanksgiving table – and someone asked a very good question: Why can't vegetarians just make a meal out of the sides?
If this were the height of the summer, then a veggie plate would be a great option, but Thanksgiving sides are usually … not peak produce. They're hefty. Starchy. Thanksgiving's the one day when we all think it's perfectly normal to have mashed potatoes, rolls, two kinds of sweet potato casserole, broccoli-rice casserole AND cornbread dressing in one meal.
Have you ever OD'd on cornbread dressing?
---