Graphic and Web Design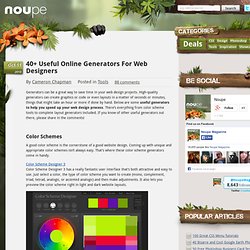 Oct 11 2010 Generators can be a great way to save time in your web design projects. High-quality generators can create graphics or code or even layouts in a matter of seconds or minutes, things that might take an hour or more if done by hand. Below are some useful generators to help you speed up your web design process. There's everything from color scheme tools to complete layout generators included.
Fonts have already been among the essential materials used by designers. Whether it is a web design project or a logo design – font is the element, capable of attracting people's attention, rendering the key idea, and communicating the necessary message. That is why, thousands of free fonts reside today in multiple online font repositories. Below we are introducing a collection of 100 free fonts, which represent vividly only some of the most significant trends in typography, however all of these fonts feature really unique and fresh designs. Clean fonts contain the samples of free fonts of the sans serif family with classic proportions, distinct lines, and clean backgrounds. Fancy fonts introduce multiple decorative elements, used in typography – from curly fonts to eroded and distorted ones.