U2
I made this tree just for fun.
Bible References in U2 Lyrics from @U2. Originally developed by Angela Pancella, and now maintained by Tim Neufeld (you can contact Tim with ideas for this collection) "We've found different ways of expressing it, and recognized the power of the media to manipulate such signs.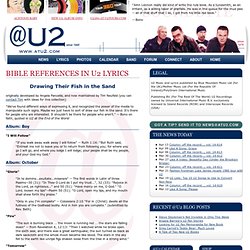 Maybe we just have to sort of draw our fish in the sand. It's there for people who are interested. Bono praises Cohen's "Hallelujah" - @U2blog - U2 news and discussion. Bono says that Leonard Cohen's "Hallelujah" is the "most perfect song in the world."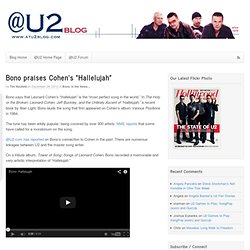 In The Holy or the Broken: Leonard Cohen, Jeff Buckley, and the Unlikely Ascent of "Hallelujah," a recent book by Alan Light, Bono lauds the song that first appeared on Cohen's album Various Positions in 1984. The tune has been wildly popular, being covered by over 300 artists. NME reports that some have called for a moratorium on the song. @U2.com has reported on Bono's connection to Cohen in the past.
There are numerous linkages between U2 and the master song writer. Bono: How Natural Resources Can Save Africa. It's become the go-to cliché of modern economics.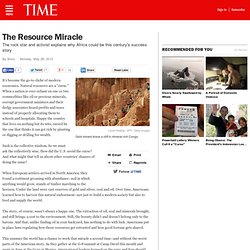 Natural resources are a "curse. " When a nation is over-reliant on one or two commodities like oil or precious minerals, corrupt government ministers and their dodgy associates hoard profits and taxes instead of properly allocating them to schools and hospitals. Happy the country that lives on nothing but its wits; cursed be the one that thinks it can get rich by planting or digging or drilling for wealth. Bono Reads Two Poems by Charles Bukowski, "Laureate of American Lowlife" U2: From the Sky Down (part 1) A Decade of Progress on AIDS.
It was the look in their eyes when the nurses gave them the diagnosis — H.I.V.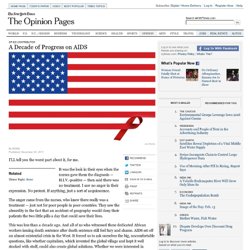 -positive — then said there was no treatment. I saw no anger in their expression. Welcome. U2 Home Page: @U2 - U2 News, U2 Lyrics, U2 Photos and more! U2. 'From the Sky Down': U2, looking back on a funk. As the 1980s drew to a close, the members of U2 had that special problem of being too successful and too full of themselves.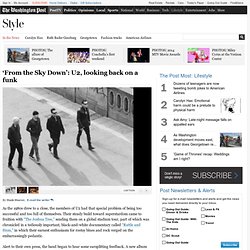 Their steady build toward superstardom came to fruition with "The Joshua Tree," sending them on a global stadium tour, part of which was chronicled in a tediously important, black-and-white documentary called "Rattle and Hum," in which their earnest enthusiasm for rootsy blues and rock verged on the embarrassingly pedantic. Alert to their own press, the band began to hear some earsplitting feedback.
A new album was due, and it would come only after a painful gestation at studios in Berlin and Ireland, in which U2 spent a year breaking itself down and remaking its sound and image.
---