DIY Stores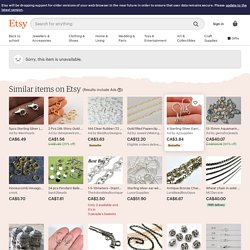 50 pcs Hot Pink Pyramid Stud Biker Spikes spots by 18items on Etsy
GREAT FOR LEATHER CRAFTS, PURSE, JEANS, JACKET, ACCESSORIES DECORATIONS etc. Material : Metal Measures: 9 mm.
Welcome to Mesmeric Matter, your supply store for everything shiny, sparkly, glitzy, and glam! For buyers outside of the United States, I have unfortunately had to remove the international shipping option from all listings. The US Postal Service doubled their rates earlier this year making even the cheapest options for global mail nearly $7 USD for very lightweight packages, and doesn't provide any sort of tracking with any shipping service short of Express which runs $35+ a package. Also, many packages with this new price increase has been going missing, creating all sorts of chaos. If you're interested in a bulk order, I'm willing to set up custom listings for international customers for orders of $25 or more.
Glitzy Hard To Find Supplies by MesmericMatter on Etsy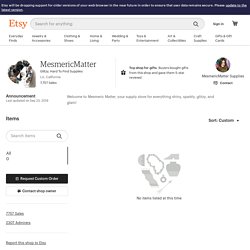 NAILHEADS SPOTS STUDS 500+ PCS Grab Bag Assorted!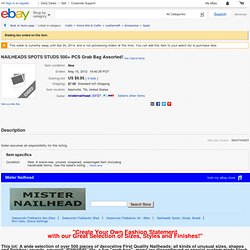 Place bid Review and confirm your bid Bid confirmation d h m
NAILHEADS SPOTS STUDS assorted
Ornamentea is your home for fine craft ingredients and inspiration. We strive to offer the most interesting 'parts' for your creations and we do it in an environment that is welcoming and encouraging. Our 'real' store is located in Raleigh, North Carolina and our virtual store is open 24 hours a day on your screen.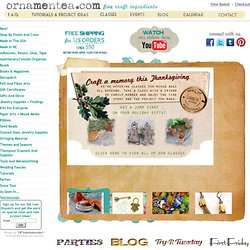 Welcome to Ornamentea.com!!!
Low Wholesale Prices for & Sewing Notions & Trimmings
Craft Materials > Garment Accessories > Garment Studs
Garment Metal Accessories, Garment Accessories, Garment, Stud, Studs, Studd, Catchup, Catch up, Indian Garment, China Garment, Supplier of Garment, Manufacturer of Garment, Delhi Garment, Eyelet, Washer, Rivet Button, Hollow Rivet, Designer Rivet Button,
Pyramid Spots - Spots Spikes & Studs - Zack White Leather Company
Punk Rock Clothing - Angry, Young and Poor