BPD
Coping With A Narcissist - Information Guide to Narcissism. What It Means To Be With a Narcissist and One Way of Coping About You It isn't easy being you.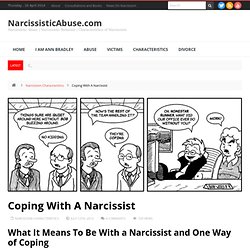 You might be unsure yourself if you are with an abuser because they can so easily turn on the charm or maybe they might say, "C'mon, aren't you being too sensitive? What's the matter with you?" And there you are again, back in the cycle of abuse. Borderline Personality Disorder (BPD) The husband enters the main door of the house coming from work.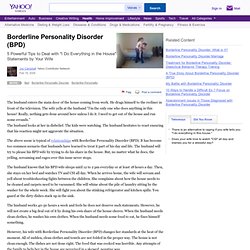 He drags himself to the recliner in front of the television. The wife yells at the husband "I'm the only one who does anything in this house! Really, nothing gets done around here unless I do it. I need to get out of the house and run some errands. " Borderline Personality Disorder « Mrs. Treasures's Blog. At least send up a prayer for me.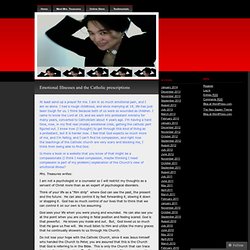 I am in so much emotional pain, and I am so alone. I had a rough childhood, and since marrying at 19, life has just been tough for us. I think because both of us were so wounded as children. I came to know the Lord at 19, and we went into protestant ministry for many years, converted to Catholicism about 4 years ago. I'm having a hard time, now, in my first real (inside) emotional crisis, getting the catholic part figured out.
Non-BPD's Need Tools Too. How to Help a Loved One with Borderline Personality Disorder, Part 1 By Margarita Tartakovsky, M.S.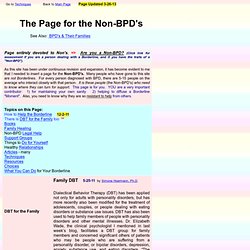 Borderline personality disorder (BPD) can seem like an enigma, even to family and friends, who are often at a loss for how to help. Many feel overwhelmed, exhausted and confused. Fortunately, there are specific strategies you can use to support your loved one, improve your relationship and feel better yourself. I Am the Child of a Borderline Parent. Characteristics of Narcissistic Mothers. 1.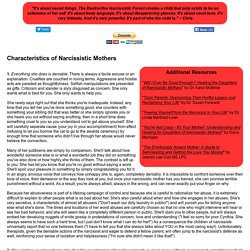 Everything she does is deniable. There is always a facile excuse or an explanation. S LIVIN' SMART Mini-Strategies. BORDERLINE WAIFS AND UNSUNG HEROES; Rescuing The Woman Who Doesn't Want To Be Saved. BORDERLINE WAIFS AND UNSUNG HEROES; Rescuing The Woman Who Doesn't Want To Be Saved.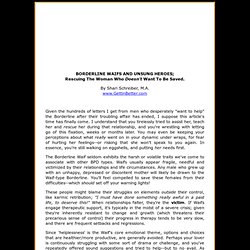 By Shari Schreiber, M.A. www.GettinBetter.com Given the hundreds of letters I get from men who desperately "want to help" the Borderline after their troubling affair has ended, I suppose this article's time has finally come. I understand that you tirelessly tried to assist her, teach her and rescue her during that relationship, and you're wrestling with letting go of this fixation, weeks or months later. You may even be keeping your perceptions about what really went on in your dynamic under wraps, for fear of hurting her feelings--or risking that she won't speak to you again. In essence, you're still walking on eggshells, and putting her needs first.
GettinBetter.com's Articles. OUTGROWING YOUR ADDICTION - 'The Little Book' WHO'S DOING YOUR DIRTY WORK?
Deconstructing Passive Aggression. Borderline Personality Disorder Resource Center. Children of Mothers with Borderline Personality Disorder - Jane Middelton-Moz. Attachment Status and Early Experiences of Mothers with Borderline Personality Disorder Mothers with BPD are characterized by a history of broken relationships and marked instability in multiple domains of their lives.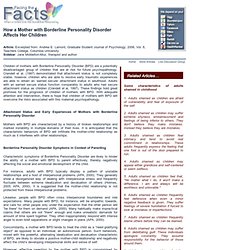 It is anticipated that the characteristic behaviors of BPD will infiltrate the mother-child relationship as much as it interferes with other relationships. Borderline Personality Disorder Symptoms in Context of Parenting Characteristic symptoms of Borderline Personality Disorder are likely to hinder the ability of a mother with BPD to parent effectively, thereby negatively affecting the social and emotional development of the child. FREQUENTLY ASKED QUESTIONS. Hi I'm not sure I can get enough oxygen up here, such a rarefied atmosphere & all!
Thank you for including me!
---