BPD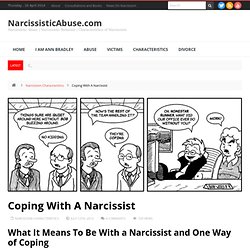 What It Means To Be With a Narcissist and One Way of Coping About You It isn't easy being you. You might be unsure yourself if you are with an abuser because they can so easily turn on the charm or maybe they might say, "C'mon, aren't you being too sensitive? What's the matter with you?" And there you are again, back in the cycle of abuse.
Rating Your Psychotherapist
The husband enters the main door of the house coming from work. He drags himself to the recliner in front of the television. The wife yells at the husband "I'm the only one who does anything in this house! Really, nothing gets done around here unless I do it. I need to get out of the house and run some errands."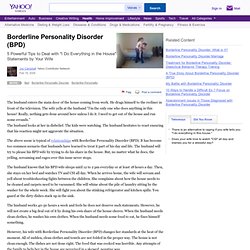 Borderline Personality Disorder (BPD)
Borderline Personality Disorder « Mrs. Treasures's Blog
Last night, I watched the movie "Monsieur Vincent". It was a black and white film in English captions. These kind of films might discourage a person right away. Some viewers do not like to read captions but please give it a chance. It won the Best Foreign Language Film (Oscars) in 1948. It is the story of St.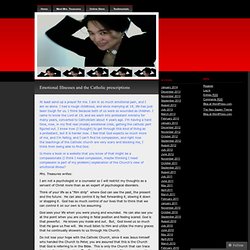 Non-BPD's Need Tools Too
I Am the Child of a Borderline Parent | Group with Personal Stories, Forums and Chat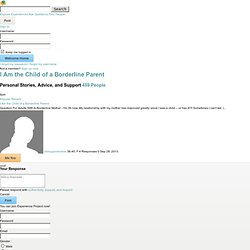 katriana I am currently a 25 year old Psychology major in college. And it took me until recently to discover why my childhood was so painful and why I feel the need to punish myself even into adulthood. My mother's emotional roller-coaster... Read full story See comments NaomiZero WARNING: What follows is possibly more than you would ever care to know about my life story (although it is only a fraction of what has shaped who I am today). It might be a little depressing and it might make you feel a little... Read full story See comments ilovestaplers I am a 32 year old child of a borderline mother....it has taken a brilliant therapist to diagnose her without any contact with her...she is a direct result of my depression, anxiety, and past self-destructive behavior...I am currently...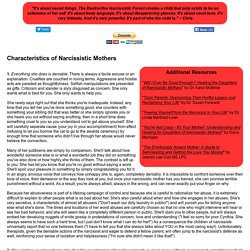 Characteristics of Narcissistic Mothers
Characteristics of Narcissistic Mothers 1. Everything she does is deniable.
s LIVIN' SMART Mini-Strategies
BORDERLINE WAIFS AND UNSUNG HEROES; Rescuing The Woman Who Doesn't Want To Be Saved.
BORDERLINE WAIFS AND UNSUNG HEROES; Rescuing The Woman Who Doesn't Want To Be Saved. By Shari Schreiber, M.A. www.GettinBetter.com G iven the hundreds of letters I get from men who desperately "want to help" the Borderline after their troubling affair has ended, I suppose this article's time has finally come. I understand that you tirelessly tried to assist her, teach her and rescue her during that relationship, and you're wrestling with letting go of this fixation, weeks or months later. You may even be keeping your perceptions about what really went on in your dynamic under wraps, for fear of hurting her feelings--or risking that she won't speak to you again.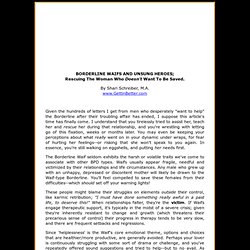 OUTGROWING YOUR ADDICTION - 'The Little Book' WHO'S DOING YOUR DIRTY WORK? Deconstructing Passive Aggression
GettinBetter.com's Articles
Borderline Personality Disorder Resource Center
Children of Mothers with Borderline Personality Disorder - Jane Middelton-Moz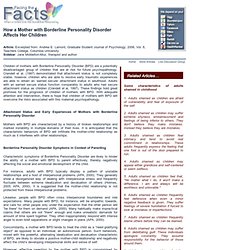 Attachment Status and Early Experiences of Mothers with Borderline Personality Disorder Mothers with BPD are characterized by a history of broken relationships and marked instability in multiple domains of their lives. It is anticipated that the characteristic behaviors of BPD will infiltrate the mother-child relationship as much as it interferes with other relationships. Borderline Personality Disorder Symptoms in Context of Parenting Characteristic symptoms of Borderline Personality Disorder are likely to hinder the ability of a mother with BPD to parent effectively, thereby negatively affecting the social and emotional development of the child.
FREQUENTLY ASKED QUESTIONS
Hi I'm not sure I can get enough oxygen up here, such a rarefied atmosphere & all! Thank you for including me!