Université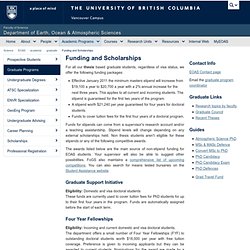 Funding and Scholarships For all our thesis based graduate students, regardless of visa status, we offer the following funding packages: Effective January 2011 the minimum masters stipend will increase from $19,100 a year to $20,700 a year with a 2% annual increase for the next three years. This applies to all current and incoming students.
Graduate Programs - Funding and Scholarships
Research Topics by Faculty - EOS
Département de Biologie - Faculté des Sciences de Luminy - Université de la Méditerrannée - Biointeractif
la rentrée est fixée le mardi 6 septembre 2011 le matin pour les L1 et les étudiants venant de l'extérieur amphi à déterminer, et l'après midi pour les L2 et L3 (allez directement en cours) Plan campus de Luminy si vous ne pouvez pas accéder à votre emploi du temps via l'espace numérique de travail, les différents emplois du temps sont en ligne sur le site de la licence rubrique Emploi du temps.
Centre d'Océanologie de Marseille - Actualités -Examens - diplômes- Annales Licence SME
ENT.ent1 Univmed