AKASocialTV
Kristin kelly. Free Hashtag Report. #AKASocialTV presentation · kekelly_ Free Hashtag Report. Twitter Reach Report Results for AKASocialTV. Do you use other forms of technology (iPhone, iPad, laptop, etc) while watching live TV? Welcome - Ad Age Digital Conference 2012. LoS Angeles!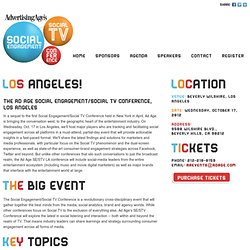 The Ad Age Social Engagement/Social TV Conference, Los Angeles In a sequel to the first Social Engagement/Social TV Conference held in New York in April, Ad Age is bringing the conversation west, to the geographic heart of the entertainment industry. On Wednesday, Oct. 17 in Los Angeles, we'll host major players who are tracking and facilitating social engagement across all platforms in a must-attend, partial-day event that will provide actionable insights in a fast-paced format. We'll share the latest findings and solutions for marketers and media professionals, with particular focus on the Social TV phenomenon and the dual-screen experience, as well as state-of-the-art consumer-brand engagement strategies across Facebook, Twitter and beyond. Is social media distracting for shows like 'Mad Men?' Social TV gives live viewing an edge over time-shifted [with chart] Social TV, in which audiences use social networks while they watch, is causing some viewers to opt for live broadcasts over time-shifted shows, according to a new study from iModerate Research Technologies.
The research firm found that more than half (58 percent) of viewers who habitually engage socially while watching television report that they watch more live TV because they need to be part of the conversation in real-time. People in this group, defined as viewers who engage socially ten or more times a week, also are more active consumers and influencers than average. Startup TweetTV raises $750K in angel funding. 20 TV Shows With the Most Social Media Buzz This Week. We've had a little flip-flop this week.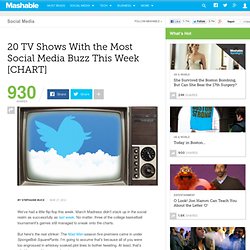 March Madness didn't stack up in the social realm as successfully as last week. No matter, three of the college basketball tournament's games still managed to sneak onto the charts. But here's the real stinker: The Mad Men season five premiere came in under SpongeBob SquarePants. Gen Y Says: "I Want My Social TV!" New research from Parks Associates found that many Gen Y TV viewers are ready for a change when it comes to their television-watching experience.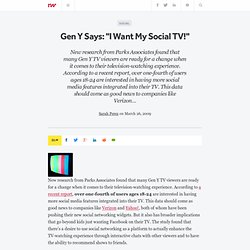 According to a recent report, over one-fourth of users ages 18-24 are interested in having more social media features integrated into their TV. This data should come as good news to companies like Verizon and Yahoo! Foursquare For Boring People? Maybe, But It's the Future of TV. We wrote last week about how TV news is trying to be more like the Internet.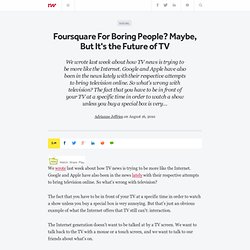 Google and Apple have also been in the news lately with their respective attempts to bring television online. So what's wrong with television? The fact that you have to be in front of your TV at a specific time in order to watch a show unless you buy a special box is very annoying. But that's just an obvious example of what the Internet offers that TV still can't: interaction. The Internet generation doesn't want to be talked at by a TV screen. Social TV App Makers Disagree On Why Viewers Should Check In. Users who want to advertise what they're watching and share recommendations for TV shows and movies with friends have plenty of choices.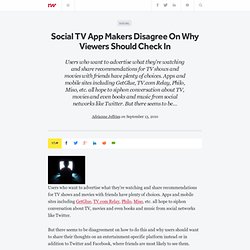 Apps and mobile sites including GetGlue, TV.com Relay, Philo, Miso, etc. all hope to siphon conversation about TV, movies and even books and music from social networks like Twitter. But there seems to be disagreement on how to do this and why users should want to share their thoughts on an entertainment-specific platform instead or in addition to Twitter and Facebook, where friends are most likely to see them. Some believe the value comes from talking about what you're watching and sharing recommendations with friends. Others hope to motivate users with badges and tangible rewards. The Future Of Social TV Is Now. Social "check-in" service GetGlue waited until nearly halfway through January to release its 2011 infographics.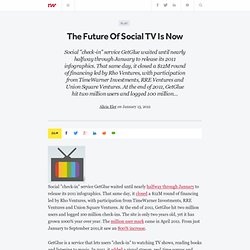 That same day, it closed a $12M round of financing led by Rho Ventures, with participation from TimeWarner Investments, RRE Ventures and Union Square Ventures. At the end of 2011, GetGlue hit two million users and logged 100 million check-ins. The site is only two years old, yet it has grown 1000% year over year. The million user mark came in April 2011. TV Check-In Apps Get Social. Jeremy Lin and Pinterest weren't Social Media Week's only hot topics.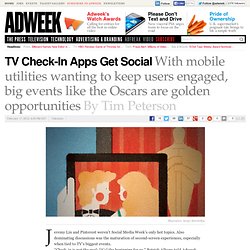 Also dominating discussions was the maturation of second-screen experiences, especially when tied to TV's biggest events. "Check-in is not the goal; [it's] the beginning for us," Patrick Albano told Adweek. Albano is vp of social mobile and innovation at Yahoo, which last spring acquired TV check-in app IntoNow, which recognizes shows through audio fingerprints and then delivers content.
The Oscars, of course, broadcast live, is the perfect opportunity for prolonged engagement. THE EXPERIMENT | Social TV Event. Connect with your friends around the shows you love. Oscars 2012: Miso, GetGlue and Other Social TV Apps Take Aim (Updated) GetGlue.
---