Polls
Survcast - Latest published stories. SMS Studio - SMS Gateway, SMS Voting, SMS TV Chat, SMS Server, SMS Router, SMS Info, SMS Radio. SMS Voting & SMS Polling. Most reliable SMS polling and Text voting service since 2006. over 10,000 polls created SMS polling or Text voting web based software enables you to vote by text.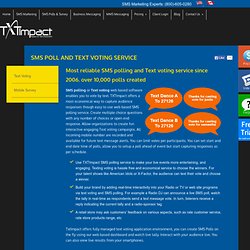 TXTImpact offers a most economical way to capture audience responses though easy to use web based SMS polling service. Create multiple choice questions with any number of choices or open end response. Allow organizations to create fun interactive engaging Text voting campaigns. SMS voting and polls for mobile marketing. Offers Mobile Voting, SMS Voting, SMS Text Messaging for your mobile marketing campaigns. Leader in Mobile SMS Marketing. Instant Poll! What's Twitter Instant Polls?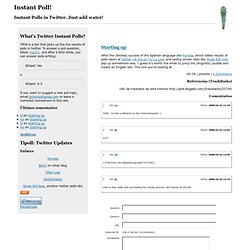 TiPoll is a bot that picks up the the results of polls in twitter. To answer a poll question, follow tipoll, and after a little while, you can answer polls writing: @tipoll: Yes o. Survey Software - Free Instant Poll Creator. SMS Poll. SMS Poll is a text message voting application that allows its customers to quickly and easily gather in-moment data from students, fans, customers, conference attendees, employees, or any other type of live audience.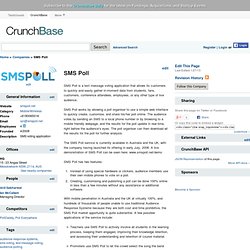 SMS Poll works by allowing a poll organiser to use a simple web interface to quickly create, customise, and share his/her poll online. The audience votes by sending an SMS to a local phone number or by browsing to a mobile friendly webpage, and the results for the poll update in real-time, right before the audience's eyes. The poll organiser can then download all the results for the poll for further analysis.
The SMS Poll service is currently available in Australia and the UK, with the company having launched its offering in early July, 2008. A live demonstration of SMS Poll can be seen here: www.smspoll.net/demo. Free SMS Voting | Text Message Audience Polling : SMS Poll. SurveyMonkey. PollDaddy. Zoomerang. That email address does not appear to be in a valid format.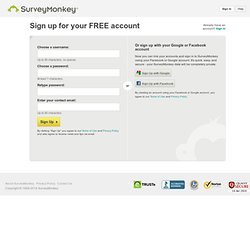 Please enter an email address. Up to 50 characters. PollPortal. Poll Everywhere. Vorbeo.com.
---