Mac
Get flash to fully experience Pearltrees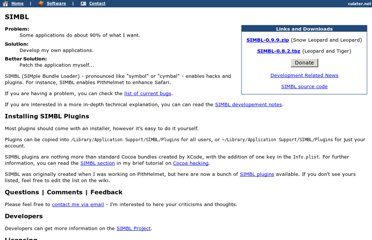 Problem: Some applications do about 90% of what I want. Solution: Develop my own applications.
Neutrino — the core player for the Mac with advanced playback features you won't find in any other player. Add effects, reverb, loops, time, pitch, Audio Units plug-ins, and more, all in real time. Enhance your music with equalizers and space correcting audio units.
If you're one of those Mac users that loves to dig in and play with hidden features and settings, this post is for you. Below you'll find 30 tips and tricks to help both seasoned and beginner Mac users to get the most out of their OS X experience. We'll cover everything from obscure Terminal commands to keyboard shortcuts that every Mac user should know and use. Let's get started! Dock Tricks Recent Items Stack
For the four years I've been using a Mac, I haven't used a maintenance tool. All I've ever done was verify disk permissions, and maybe use Drive Genius to perform some optimisation. But even that was just something 'extra' and not necessary according to me.
There are many applications that can help you work faster and efficiently. Though, not many applications come cheap. For this post we tried to digg deep to find the best selection of free and/or open source Mac applications that will help you be a more efficient designer.