Finance
Stock, Options & Futures Trades | Mobile & Global Trading | High-Yield Savings & Online Banking | E*TRADE FINANCIAL. Online Trading, ETFs, Mutual Funds, IRAs & Retirement - Fidelity. Finance: Stock market quotes, news, currency conversions & more.
CNNMoney - 4 hours ago Bank of America reported a quarterly loss Wednesday as legal costs hit the bank's bottom line.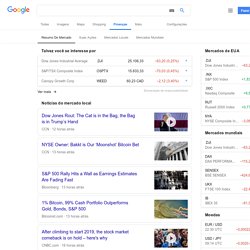 It's another reminder that the tentacles of the financial crisis are still squeezing Wall Street. Wall Street Journal - 41 minutes ago BEIJING--China's slowdown in growth, widely expected to continue through the second quarter at least, will boost pressure on Beijing to dial up stimulus measures and dial back structural reforms, economists said. iAfrica.com - 7 hours ago.
---