Interactive White Boards
Using a Smartboard (186) 5 Tips and Tricks for the SmartBoard. SmartBoards in Education. Best content in IWB Pedgagogy. Best content in SmartBoards and Other IWBs. Using the Hohli Online Charts Builder you can create bar graphs, line graphs, pie charts, Venn diagrams, scatter plots, and radar charts.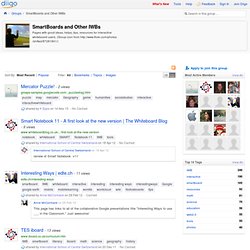 To use create your chart first select the type and size of display that you desire. Then fill in the corresponding form with the information that you want displayed. Your chart will be generated as you enter information so that you can see how each piece of information influences the chart. When you're satisfied with your chart just click on it to save it to your computer or to grab the embed code to use on your blog or website. Best content in Interactive Whiteboards in the Classroom. My Library tagged IWB. SMART Board Revolution - A Revolution in Education.
---