Favorite Webcomics
UK Lectures! - The UK Lectures at St. Andrews, Warwick, Cambridge and Queen Mary were a success! Thanks to everyone who came out, it was great to meet you! More info here! New shirt!
Grading Methods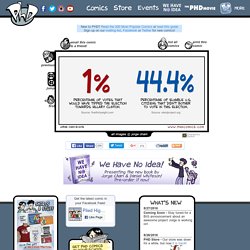 Explosm.net - Home of Cyanide & Happiness
Look who's coming back for Xmas! by Matt on 12.22.2013 It's Sad Larry! We're bringing this week's short a little early, too! This Tuesday, Xmas Eve. Or if you're a season pass holder, you get it a day early as usual!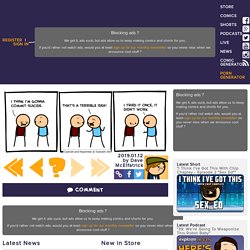 Abstruse Goose
The Store just got some new stuff all up in it! First is the third collection of channelate comics! It's called "You Used to Be Funnier".
channelATE.com: Comics and Cartoons by Ryan Hudson - Comics and Cartoons by Ryan Hudson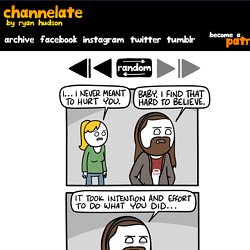 The Phoenix Requiem
Achewood ? October 18, 2010
Hyperbole and a Half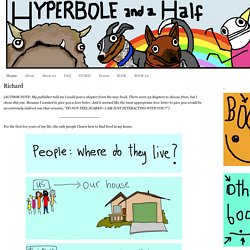 Power is intoxicating. Everyone loves having the ability to make their decisions into reality — to think "this should be something that happens," and then actually be able to make that thing happen. It is also dangerous.
Ctrl+Alt+Del
Motherfucking Banner Saga, man. I've been anxiously awaiting this game for the better part of a year, and it's finally arrived. I was up until the wee hours of the morning playing, and I can't wait to finish my other stuff today to get back to it. Everything you need to know about the combat and the artwork can be found in my original post about Banner Saga: Factions, the free-to-play multiplayer component, and all of it still rings true. The combat is deep and engaging, and the game's art and animation continue to be stunningly gorgeous.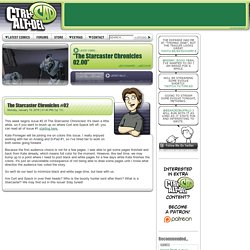 306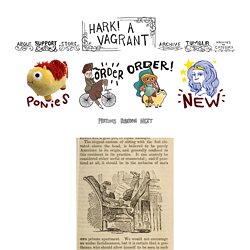 Friends: Lynn AllinghamJohn AllisonAmy AshDawn and Margie BeatonMarc BellSally BloodbathJohn CampbellScott CampbellRyan CarleyAnthony ClarkRebecca ClementsMelanie ColosimoDomitille CollardeyJillian Comeau, Kim Carson and Michelle SkeldingAaron DiazThe Doug Wright AwardsJess FinkEric FeursteinBrian FukushimaSarah GliddenMeredith GranLisa HanawaltDustin HarbinChristopher HastingsEmily Horne and Joey ComeauJimmie KilpatrickJon KlassenSteve LambkeHope LarsonJoe ListDavid MalkiPhil McAndrewCarolyn MerrimanCarly MonardoVicki NerinoAndre RichardRyan NorthRyan PequinNeil RoughJeffrey RowlandGabby SchulzSmart and BirdDeana SobelNathan StapleyHenry SvecMatthew TraffordJulia WertzBritt WilsonStephanie WeirathmuellerSteve WolfhardYou've Changed RecordsChip Zdarsky Good comic shops that have taught me a thing or two: The Beguiling, TorontoStrange Adventures, HalifaxLegends Comics and Books, VictoriaDesert Island, Brooklyn
Bad Machinery by John Allison
Comics. Often dirty.
New Site- The Silmarillion Project January 20th, 2014 Happy New Year, everybody!
Dresden Codak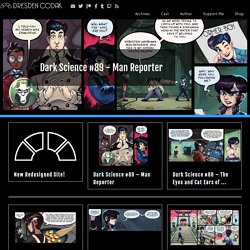 octopus pie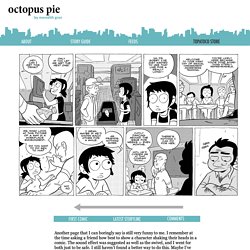 Hi all! This is the end of this story arc. I encourage you to go back and Read It Again now that it's not updating at a slow pace.
Rice Boy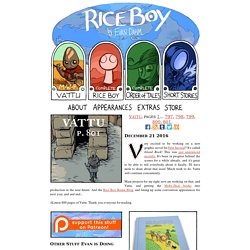 attu is 500 pages long as of today, which might be around halfway through the story but I'm not sure yet: I know all the important things that have yet to happen but I don't know how long they'll take. Thank you everyone for reading, and for bearing with this occasionally idiosyncratic and slow-moving project. The contents of the second book of Vattu, tentatively titled Sword & Sacrament, are heading towards a close now.
Girly - an online digital internet webcomic
Gunnerkrigg Court - By Tom Siddell
Saturday Morning Breakfast Cereal
AmazingSuperPowers: Webcomic at the Speed of Light
That logic doesn't bode well for Life Coaches. Do you know my favorite sign around airport security? It's the one that says something along the lines of "Making jokes about bombs will be taken seriously, and will come with severe criminal charges." That's right, there are places in the US where jokes are actually illegal.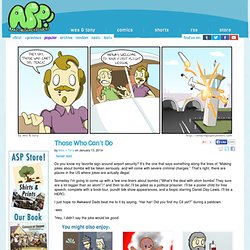 Penny Arcade! - Project Hatesphere
The Meek
Nedroid Picture Diary
emily Thanks for coming to see us in Seattle! ECCC was great, and I'm still recovering, even two days later. SOMEHOW?! A great documentary called Stripped just came out this week, about the transition between newspaper comic strips and webcomics. There are some great interviews in there, inclusing Bill Watterson (WHAT!).
a softer world: 609
Dinosaur Comics - August 15th, 2010 - awesome fun times!
Glass
So Far Apart - Rasmus Gran and Rene Engström's parallel diary comic