Music
Grateful Dead - Smokestack Lightning (March 18, 1967) Robert Johnson - Come on in my Kitchen. The Beautiful Experience Of Vinyl Records. How do you listen to CDs and MP3s?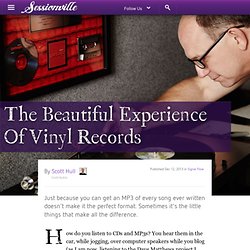 You hear them in the car, while jogging, over computer speakers while you blog (as I am now, listening to the Dave Matthews project I mastered yesterday), and from the tiny little earbuds plugged into your iPhone. How do you listen to records? Boogie Everywhere I Go - John Lee Hooker. The Chocolate Show! (A Tasty New Musical) New Musical The Chocolate Show! To Feature Scott Richard Foster and Emily McNamara. New Musical The Chocolate Show!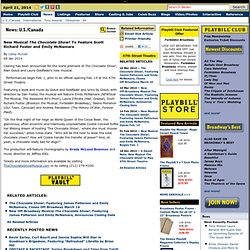 To Feature Scott Richard Foster and Emily McNamara Casting has been announced for the world premiere of The Chocolate Show! , Alan Golub and Laura Goldfader's new musical. Advertisement Performances begin Feb. 1, prior to an official opening Feb. 14 at the 47th Street Theatre. Muddy Waters hoochie coochie man Newport 1960. Here Comes The Sun James Taylor & Yo Yo Ma. Edgard Varèse - Amériques. Kurt Vega - IDM Film rhythmically complex sound puzzles atmospheric soundscapes theatre golden ratio symmetries. Kurt Vega - IDM Film rhythmically complex sound puzzles atmospheric soundscapes theatre golden ratio symmetries. 28 Great Movie Scores Written by Rock, Pop & Hip-Hop Artists. Next week marks the release of the Tom Cruise-starring sci-fi blockbuster Oblivion.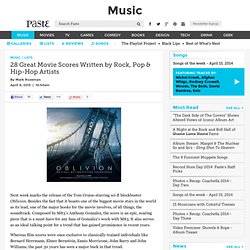 Besides the fact that it boasts one of the biggest movie stars in the world as its lead, one of the major hooks for the movie involves, of all things, the soundtrack. Composed by M83's Anthony Gonzalez, the score is an epic, soaring piece that is a must-have for any fans of Gonzalez's work with M83. It also serves as an ideal talking point for a trend that has gained prominence in recent years. Whereas film scores were once exclusive to classically trained individuals like Bernard Herrmann, Elmer Bernstein, Ennio Morricone, John Barry and John Williams, the past 30 years has seen a major buck in that trend. Birds, Music and the Brain. Next month, President Obama is expected to announce details about dedicating resources to a massive study of the brain.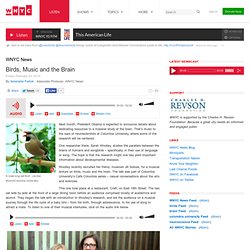 That's music to the ears of neuroscientists at Columbia University, where some of the research will be centered. One researcher there, Sarah Woolley, studies the parallels between the brains of humans and songbirds – specifically, in their use of language or song. The hope is that the research might one day yield important information about developmental diseases. Woolley recently recruited her friend, musician Jill Sobule, for a musical lecture on birds, music and the brain. The talk was part of Columbia University's Café Columbia series – casual conversations about the arts and sciences. Mputer-designed-by-scientists-to-compose-music-which-makes-the-brain-feel-happy-8507437. Researchers, who believe the mood-altering music-writing software can help combat stress and depression, will unveil the first composition created by the project at a music festival in Plymouth tomorrow.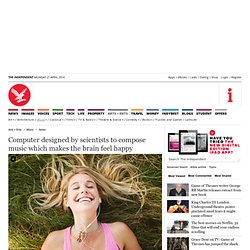 (Sat) The project is being led by Dr Eduardo Miranda, a composer and professor at Plymouth University's Interdisciplinary Centre for Computer Music Research (ICCMR), and Dr Slawomir Nasuto, a professor in the Cybernetics Research Group at the University of Reading. Using Artificial Intelligence techniques, the computer will play music and analyse the brain activity of the listener for emotional indicators. Based on this feedback, and a programmed knowledge of music, it will generate new sounds that can alter these emotions.
Jazz. Pattern music. Josquin des Prez. 1611 woodcut of Josquin des Prez, copied from a now-lost oil painting done during his lifetime[1] Josquin des Prez (or Josquin Lebloitte dit Desprez; French: [ʒɔskɛ̃ depʁe]; c. 1450/1455 – 27 August 1521), often referred to simply as Josquin, was a Netherlandish composer of the Renaissance.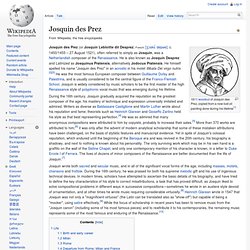 He is also known as Josquin Desprez and Latinized as Josquinus Pratensis, alternatively Jodocus Pratensis. Douleur me bat (Josquin des Prez, paintings by Hieronymus Bosch) John Dowland. Career and compositions[edit] Dowland - Lachrimae From 1598 Dowland worked at the court of Christian IV of Denmark,[6] though he continued to publish in London.[7] King Christian was very interested in music[8] and paid Dowland astronomical sums; his salary was 500 daler a year, making him one of the highest-paid servants of the Danish court.[9] Though Dowland was highly regarded by King Christian, he was not the ideal servant, often overstaying his leave when he went to England on publishing business or for other reasons.[8] Dowland was dismissed in 1606[8] and returned to England;[9] in early 1612 he secured a post as one of James I's lutenists.[10] There are few compositions dating from the moment of his royal appointment until his death in London in 1626.[11] While the date of his death is not known, "Dowland's last payment from the court was on 20 January 1626, and he was buried at St Ann's, Blackfriars, London, on 20 February 1626.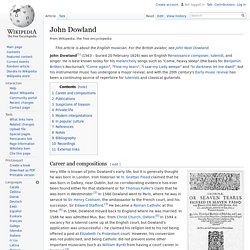 "[12] Giovanni Pierluigi da Palestrina - Wikipedia, the free encyclope. Giovanni Pierluigi da Palestrina Giovanni Pierluigi da Palestrina (c. 1525 – 2 February 1594)[1] was an Italian Renaissance composer of sacred music and the best-known 16th-century representative of the Roman School of musical composition.[2] He has had a lasting influence on the development of church music, and his work has often been seen as the culmination of Renaissance polyphony.[2] Biography[edit]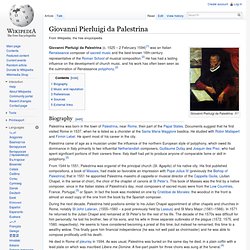 The Tallis Scholars sings Palestrina. Erik Satie. Éric Alfred Leslie Satie (French: [eʁik sati]; 17 May 1866 – 1 July 1925) — he signed his name Erik Satie after 1884 — was a French composer and pianist.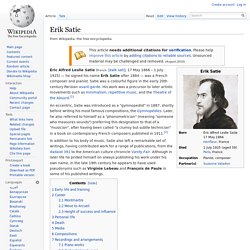 Satie was a colourful figure in the early 20th century Parisian avant-garde. His work was a precursor to later artistic movements such as minimalism, repetitive music, and the Theatre of the Absurd.[1] An eccentric,[2] Satie was introduced as a "gymnopedist" in 1887, shortly before writing his most famous compositions, the Gymnopédies. Erik Satie - Gnossienne No.5. Les six. The members were: Les nouveaux jeunes[edit] Les Six[edit]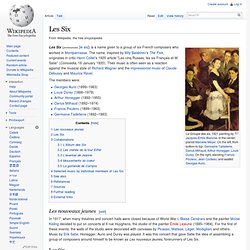 Germaine Tailleferre. Germaine Tailleferre and Mario Hacquard Germaine Tailleferre (French: [tɑjfɛʁ]; 19 April 1892 – 7 November 1983) was a French composer and the only female member of the group of composers known as Les Six. Biography[edit] She was born Marcelle Taillefesse at Saint-Maur-des-Fossés, Val-de-Marne, France, but as a young woman she changed her last name to "Tailleferre" to spite her father, who had refused to support her musical studies.
Moretti plays Tailleferre Sonata. Francis Poulenc. Francis Jean Marcel Poulenc (French: [fʁɑ̃sis ʒɑ̃ maʁsɛl pulɛ̃k]; 7 January 1899 – 30 January 1963) was a French composer and pianist, associated with the French group Les Six. He composed art songs, solo piano music, chamber music, oratorios, choral music, operas, ballet music, and orchestral music. Early life and education[edit] Francis Poulenc - Ave verum corpus. Poulenc Two Piano Concerto First Movement. Francis Poulenc. Louis Durey. Louis Durey (French: [dyʁɛ]; 27 May 1888 – 3 July 1979)[1] was a French composer. Life[edit] Louis Durey was born in Paris, the son of a local businessman. Louis Durey - Deux Pièces pour piano à 4 mains Op. 7 - I. Carill. Germaine Tailleferre. Darius Milhaud. Darius Milhaud (about 1926), Paris Darius Milhaud (French: [daʁjys mijo]; 4 September 1892 – 22 June 1974) was a French composer and teacher.
He was a member of Les Six—also known as The Group of Six—and one of the most prolific composers of the 20th century. His compositions are influenced by jazz and make use of polytonality. Darius Milhaud is to be counted among the modernist composers.[1] Darius Milhaud "La création du monde" part 1. How the Ox got on the Roof. The Song from Moulin Rouge. Percy Faith - The song from Moulin Rouge. Georges Auric. Georges Auric - Une valse, for two pianos. La Bella y la Bestia (1946) - Trailer original de cine. Arthur Honegger. Honegger Cello Concerto Pt.1. Erik Satie et le Groupe des Six. AARON COPLAND - PIANO BLUES NO. 4, WITH BOUNCE. Ralph Vaughan Williams. Ralph Vaughan Williams: Tallis Fantasia. Igor Stravinsky. Igor Stravinsky : Agon (1/2) Kyung Wha Chung plays Stravinsky Violin Concerto (4th Mov)
---
Francois Sep 7 2010

And it still continues - another new release on thursday! The next six months will be incredible.

Francois Jul 5 2010

Sure it continues - a new release on friday! Stay tuned.

kdragon87 Jul 3 2010

Thanks for saying so, had fun doing it. Wonderful for sharing. Great job with Pearltrees, hope it continues to develop.
---