Music
Muddy Waters hoochie coochie man Newport 1960
Here Comes The Sun James Taylor & Yo Yo Ma
Edgard Varèse - Amériques
Kurt Vega - IDM Film rhythmically complex sound puzzles atmospheric soundscapes theatre golden ratio symmetries
Kurt Vega - IDM Film rhythmically complex sound puzzles atmospheric soundscapes theatre golden ratio symmetries
28 Great Movie Scores Written by Rock, Pop & Hip-Hop Artists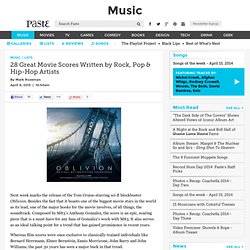 Page 1 of 2 Next week marks the release of the Tom Cruise-starring sci-fi blockbuster Oblivion . Besides the fact that it boasts one of the biggest movie stars in the world as its lead, one of the major hooks for the movie involves, of all things, the soundtrack. Composed by M83's Anthony Gonzalez, the score is an epic, soaring piece that is a must-have for any fans of Gonzalez's work with M83. It also serves as an ideal talking point for a trend that has gained prominence in recent years.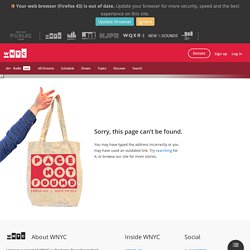 Next month, President Obama is expected to announce details about dedicating resources to a massive study of the brain. That's music to the ears of neuroscientists at Columbia University, where some of the research will be centered. One researcher there, Sarah Woolley, studies the parallels between the brains of humans and songbirds – specifically, in their use of language or song. The hope is that the research might one day yield important information about developmental diseases. Woolley recently recruited her friend, musician Jill Sobule, for a musical lecture on birds, music and the brain. The talk was part of Columbia University's Café Columbia series – casual conversations about the arts and sciences.
Birds, Music and the Brain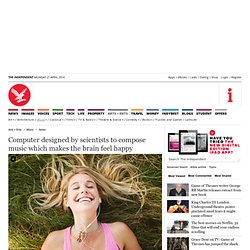 Researchers, who believe the mood-altering music-writing software can help combat stress and depression, will unveil the first composition created by the project at a music festival in Plymouth tomorrow. (Sat) The project is being led by Dr Eduardo Miranda, a composer and professor at Plymouth University's Interdisciplinary Centre for Computer Music Research (ICCMR), and Dr Slawomir Nasuto, a professor in the Cybernetics Research Group at the University of Reading. Using Artificial Intelligence techniques, the computer will play music and analyse the brain activity of the listener for emotional indicators. Based on this feedback, and a programmed knowledge of music, it will generate new sounds that can alter these emotions.
mputer-designed-by-scientists-to-compose-music-which-makes-the-brain-feel-happy-8507437
1611 woodcut of Josquin des Prez, copied from a now-lost oil painting done during his lifetime [ 1 ] Josquin des Prez [Josquin Lebloitte dit Desprez] ( French pronunciation: ​ [ʒɔskɛ̃ depʁe] ; c. 1450/1455 – 27 August 1521), often referred to simply as Josquin , was a Franco-Flemish composer of the Renaissance . He is also known as Josquin Desprez and Latinized as Josquinus Pratensis , alternatively Jodocus Pratensis .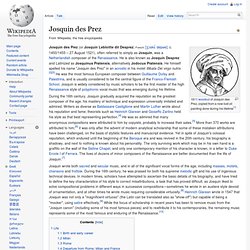 Josquin des Prez
Douleur me bat (Josquin des Prez, paintings by Hieronymus Bosch)
John Dowland [ 1 ] (1563 – buried 20 February 1626) was an English Renaissance composer , singer, and lutenist . He is best known today for his melancholy songs such as "Come, heavy sleep" (the basis for Benjamin Britten 's Nocturnal ), " Come again ", " Flow my tears ", " I saw my Lady weepe " and " In darkness let me dwell ", but his instrumental music has undergone a major revival, and with the 20th century's Early Music Revival has been a continuing source of repertoire for lutenists and classical guitarists . [ edit ] Career and compositions Dowland - Lachrimae Very little is known of John Dowland's early life, but it is generally thought he was born in London .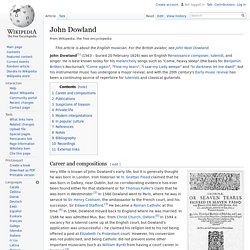 John Dowland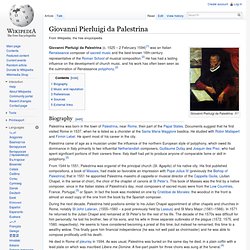 Giovanni Pierluigi da Palestrina Giovanni Pierluigi da Palestrina (3 February 1525 or 2 February 1526 – 2 February 1594) [ 1 ] was an Italian Renaissance composer of sacred music and the best-known 16th-century representative of the Roman School of musical composition. [ 2 ] He has had a lasting influence on the development of church music, and his work has often been seen as the culmination of Renaissance polyphony . [ 2 ] [ edit ] Biography
The Tallis Scholars sings Palestrina
Éric Alfred Leslie Satie ( pronounced: [eʁik sati] ) (signed his name Erik Satie after 1884) (17 May 1866, Honfleur – 1 July 1925, Paris ) was a French composer and pianist. Satie was a colourful figure in the early 20th century Parisian avant-garde . His work was a precursor to later artistic movements such as minimalism , repetitive music , and the Theatre of the Absurd . [ 1 ] An eccentric, [ 2 ] Satie was introduced as a "gymnopedist" in 1887, shortly before writing his most famous compositions, the Gymnopédies .
Erik Satie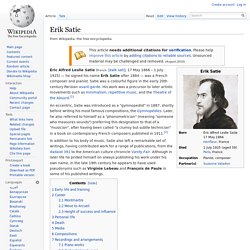 Erik Satie - Gnossienne No.5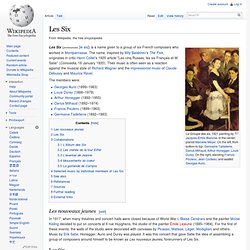 Les six
Les Six is a name, inspired by Mily Balakirev 's The Five , given in 1920 by critic Henri Collet in an article titled " Les cinq Russes, les six Français et M. Satie " ( Comoedia , 16 January 1920) to a group of six French composers working in Montparnasse . Their music is often seen as a reaction against the musical style of Richard Wagner and the impressionist music of Claude Debussy and Maurice Ravel .
Germaine Tailleferre
Germaine Tailleferre and Mario Hacquard Germaine Tailleferre (19 April 1892 – 7 November 1983) was a French composer and the only female member of the group of composers known as Les Six . [ edit ] Biography She was born Marcelle Taillefesse at Saint-Maur-des-Fossés , Val-de-Marne , France , but as a young woman she changed her last name to "Tailleferre" to spite her father, who had refused to support her musical studies.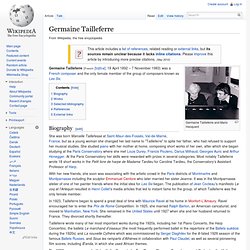 Moretti plays Tailleferre Sonata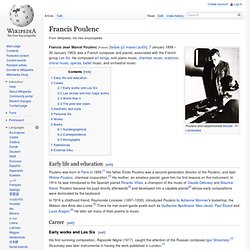 Francis Jean Marcel Poulenc ( French pronunciation: [fʁɑ̃sis ʒɑ̃ maʁsɛl pulɛ̃k] ) (7 January 1899 – 30 January 1963) was a French composer and a member of the French group Les Six . He composed solo piano music, chamber music, oratorio, choral music, opera, ballet music, and orchestral music. [ edit ] Early life and education
Francis Poulenc
Francis Poulenc - Ave verum corpus
Poulenc Two Piano Concerto First Movement
Louis Durey
Louis Durey (27 May 1888 – 3 July 1979) [ 1 ] was a French composer. [ edit ] Life Louis Durey was born in Paris , the son of a local businessman.
Louis Durey - Deux Pièces pour piano à 4 mains Op. 7 - I. Carill
Darius Milhaud (about 1926), Paris Darius Milhaud ( French pronunciation: ​ [daʁjys mijo] ; 4 September 1892 – 22 June 1974) was a French composer and teacher. He was a member of Les Six —also known as The Group of Six —and one of the most prolific composers of the 20th century. His compositions are influenced by jazz and make use of polytonality . Darius Milhaud is to be counted among the modernist composers . [ 1 ]
Darius Milhaud
Darius Milhaud "La création du monde" part 1
How the Ox got on the Roof
The Song from Moulin Rouge
" The Song from Moulin Rouge " (also known as " Where Is Your Heart ") is a popular song that first appeared in the 1952 film Moulin Rouge . The music was written by Georges Auric . The original French lyrics were by Jacques Larue, the English words by William Engvick . However, in the film the song is called "It's April Again", and there is no mention of the phrase "Where Is Your Heart".
Percy Faith - The song from Moulin Rouge
Georges Auric
Georges Auric Georges Auric (15 February 1899 – 23 July 1983) was a French composer, born in Lodève , Hérault . He was a child prodigy and at age 15 he had his first compositions published. He studied at the Paris Conservatoire with Georges Caussade , and under the composer Vincent d'Indy at the Schola Cantorum . Before he turned 20 he had orchestrated and written incidental music for several ballets and stage productions.
Georges Auric - Une valse, for two pianos
La Bella y la Bestia (1946) - Trailer original de cine
Arthur Honegger
Honegger Cello Concerto Pt.1
Erik Satie et le Groupe des Six
AARON COPLAND - PIANO BLUES NO. 4, WITH BOUNCE
Ralph Vaughan Williams
Ralph Vaughan Williams: Tallis Fantasia
Igor Stravinsky
Igor Stravinsky : Agon (1/2)
Kyung Wha Chung plays Stravinsky Violin Concerto (4th Mov)