Top100
People often ask me how I come up with things to blog about, and I find the question strange, because my problem is the opposite. I have too much to blog about.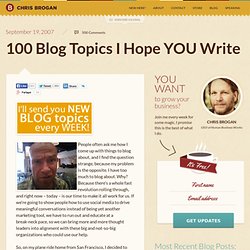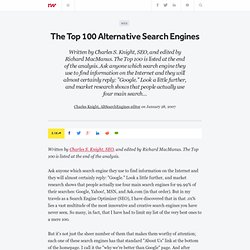 Written by Charles S. Knight, SEO, and edited by Richard MacManus. The Top 100 is listed at the end of the analysis. Ask anyone which search engine they use to find information on the Internet and they will almost certainly reply: "Google." Look a little further, and market research shows that people actually use four main search engines for 99.99% of their searches: Google, Yahoo!, MSN, and Ask.com (in that order).
The new 100 most useful sites | Technology | Guardian Unlimited Technology
In 2004, the internet was a different place: there was, for example, no YouTube, and most Britons online didn't have broadband. That's changed dramatically: now, more than 75% of users have broadband, and the arrival of Web 2.0 has brought sites where the interaction is as fast as if it were on your machine. So we've revisited the "cream of the crop" that we brought you two years ago.