Suicide
The Origins of Suicidal Brains
Suicide rates in the U.S. have increased for the first time in a decade, according to a report published in October by the Johns Hopkins Bloomberg School of Public Health. But what leads a person to commit suicide? Three new studies suggest that the neurological changes in a brain of a suicide victim differ markedly from those in other brains and that these changes develop over the course of a lifetime.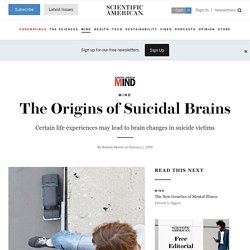 The Urge to End It - Understanding Suicide
People talk to us anytime they like, in their own way, and off the record - about whatever's getting to them. You don't have to be suicidal. Patron: HRH The Prince of Wales. Founded in 1953 by the late Prebendary Dr Chad Varah CH CBE. A charity registered in England and Wales (no. 219432) and in Scotland (no.