Space
673727main_PIA15980-full_full.jpg (JPEG Image, 2047x1357 pixels) - Scaled (47%) Video: To Hunt Comets, NASA is Building a Giant Harpoon. In Kepler, NASA has an exoplanet hunter.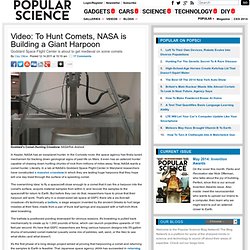 In the Curiosity rover, the space agency has finely tuned mechanism for tracking down geological signs of past life on Mars. It even has an asteroid hunter capable of chasing down hurtling chunks of rock from millions of miles away. Now, NASA wants a comet hunter. Literally.
Archives. Videos. Evolution. Digitization. Nasa. Fermiparadox. With Gravity's Help, Cassini Puts On a Saturn Spectacular. Robert Benson for The New York Times SEVEN MORE YEARS Brent Buffington, left, David Seal and John C.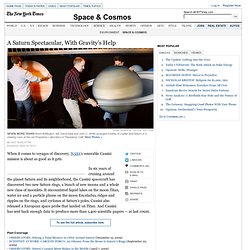 Smith arranged models of Jupiter and Saturn in a viewing room at the Jet Propulsion Laboratory in Pasadena, Calif. More Photos »
---