Space
673727main_PIA15980-full_full.jpg (JPEG Image, 2047x1357 pixels) - Scaled (47%)
Goddard Space Flight Center is about to get medieval on some comets Goddard's Comet-Hunting Crossbow NASA/Rob Andreoli In Kepler, NASA has an exoplanet hunter.
Video: To Hunt Comets, NASA is Building a Giant Harpoon
The Shooting Gallery - Discover.com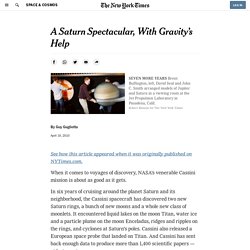 With Gravity's Help, Cassini Puts On a Saturn Spectacular
In six years of cruising around the planet Saturn and its neighborhood, the Cassini spacecraft has discovered two new Saturn rings, a bunch of new moons and a whole new class of moonlets. It encountered liquid lakes on the moon Titan, water ice and a particle plume on the moon Enceladus, ridges and ripples on the rings, and cyclones at Saturn's poles. Cassini also released a European space probe that landed on Titan.