Research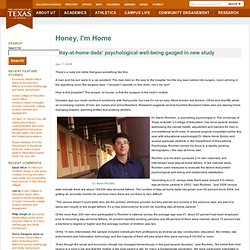 Jan. 7, 2008 There's a rusty old riddle that goes something like this: A man and his son were in a car accident.
Feature Story: Honey, I'm Home: Stay-at-home dads' psychological well-being gauged in new study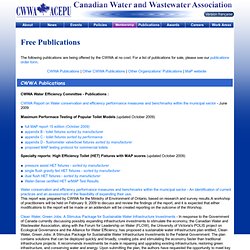 Free Publications
Free Publications The following publications are being offered by the CWWA at no cost. For a list of publications for sale, please see our publications order form. CWWA Publications | Other CWWA Publications | Other Organizations' Publications | MaP website
the silent epidemic (application/pdf Object)
Professor Caroline Hoxby's Papers on the Web
Revealed: The secrets of belly button fluff
Awakening to Sleep - The New York Times
SLEPT BADLY AGAIN last night. Perhaps you did, too. I was in a strange city and in a strange bed filled with the overabundant warmth of a hotel room. At home, I often come awake for an hour or two in the early morning, 3:30, 4.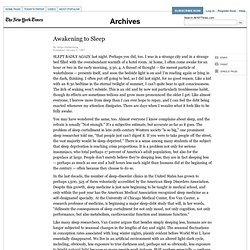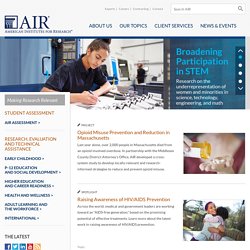 American Institutes for Research (AIR)
AIR Highlights AIR a Key Partner in the 2014 Surgeon General's Report on Smoking & Health The latest Surgeon General's Report, "The Health Consequences of Smoking – 50 Years of Progress," marks the 50th anniversary of the landmark reports warning about the health hazards of smoking. AIR has been partnering with the Office of the Surgeon General and the Centers for Disease Control and Prevention's … Year in Review: Most-Read Work 2013 Here are some of our publications from this past year—reports, research briefs, infographics and an article—that our visitors found especially insightful and interesting. …
The 90/90/90 Schools - A Case Study (application/pdf Object)
The High Risks of Improving Teaching
Resourceshelf
Ideas Previas
Bibliography - STCSE
The bibliography is based on a collection of papers on students' pre-instructional (alternative) conceptions Helga Pfundt started in the late 70s. Since 1984 Reinders Duit has taken care of the bibliography. Initially, the focus was on students' conceptions of various science topics. As this area has developed towards constructivist perspectives of conceptual change the emphasis of the bibliography has also changed. The new name of the bibliography takes these changes into account. Please notice: This is the last version of the bibliography available.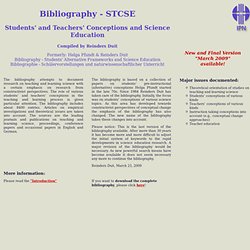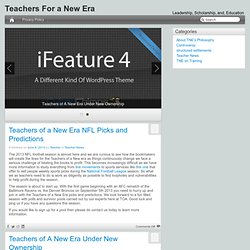 Teachers For A New Era
The 2013 NFL football season is almost here and we are curious to see how the bookmakers will create the lines for the Teachers of a New era as things continuously change we face a serious challenge of beating the books to profit. This becomes increasingly difficult as we have more information to study everything from line movements to sports services like this one that offer to sell people weekly sports picks during the National Football League season. So what we as teachers need to do is work as diligently as possible to find loopholes and vulnerabilities to help profit during the season.
Perfesser Plum, at your service. [That's a statue of Odysseus---not Perfesser Plum.] Don't we sometimes wonder, "Hey! Just how did I get here?" Odysseus wondered [also wandered], far from home, but never gave up on making it back. Even when he'd turned old, Odysseus was ready for more.Death closes all; but something ere the end, Some work of noble note, may yet be done, ...The lights begin to twinkle from the rocks; The long day wanes; the slow moon climbs; the deep Moans round with many voices.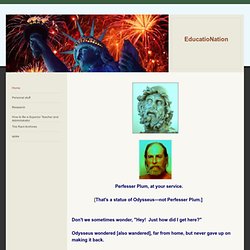 EducatioNation
Expediting Access To Data Sources On The Internet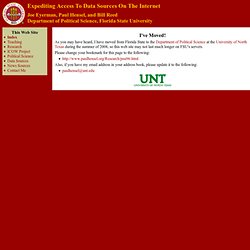 As you may have heard, I have moved from Florida State to the Department of Political Science at the University of North Texas during the summer of 2008, so this web site may not last much longer on FSU's servers. Please change your bookmark for this page to the following: http://www.paulhensel.org/Research/pssi96.html Also, if you have my email address in your address book, please update it to the following: paulhensel@unt.edu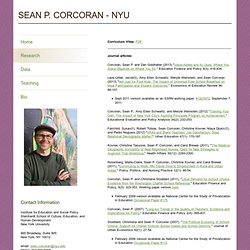 Curriculum Vitae: PDF Journal articles: Corcoran, Sean P. and Dan Goldhaber (2013) "Value-Added and its Uses: Where You Stand Depends on Where You Sit." Education Finance and Policy 8(3): 418-434.
Sean Corcoran's Research
Scott's Library: Educational Research Room Entrance
Research
"Student Outcomes" is a continuing series of interviews with my former students who are now experiencing "real life" after college. Considering how much of our work is based on the assumption that "learning outcomes" will be met, I thought it would be a good way to catch up with them and to see what sort of impact college has had on their lives in the long term. Past students interested in participating should e-mail me.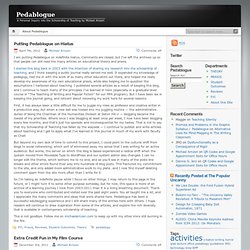 PEDABLOGUE - A personal inquiry into the scholarship of teaching by Michael Arnzen
News: Bye-Bye Bio 101: Teach Science the Way You Do Science
University science education needs reform, and effective methods are already known. Yet for years, many scientists and educators have actively resisted changing their teaching methods. Now, a group of persistent reformers is raising scientists' awareness of successful approaches to science teaching and providing them with tools to implement those strategies in their own classrooms and institutions. "There is mounting evidence that supplementing or replacing lectures with active learning strategies and engaging students in discovery and scientific process improves learning and retention of knowledge," writes lead author Jo Handelsman, Howard Hughes Medical Institute professor and plant pathology researcher at the University of Wisconsin-Madison, in a policy forum article published in the April 23, 2004, issue of the journal Science.