Policy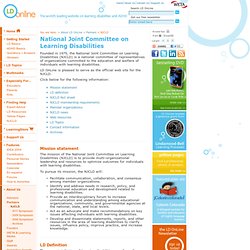 Founded in 1975, the National Joint Committee on Learning Disabilities (NJCLD) is a national committee of representatives of organizations committed to the education and welfare of individuals with learning disabilities. LD OnLine is pleased to serve as the official web site for the NJCLD. Mission statement The mission of the National Joint Committee on Learning Disabilities (NJCLD) is to provide multi-organizational leadership and resources to optimize outcomes for individuals with learning disabilities. To pursue its mission, the NJCLD will:
LD OnLine: National Joint Committee on Learning Disabilities (NJCLD)
Digital TV coupon program hampered from the start
By Leslie Cauley, USA TODAY "Do you really think this will work?" The question, posed by consumer advocate DeAnne Cuellar, was directed at Tony Wilhelm of the Commerce Department's National Telecommunications and Information Administration. It was February 2008, and Wilhelm, head of consumer education, had just explained the digital TV coupon program to a group of consumer advocates that included Cuellar. The program, core to the government's plan to turn the USA into an all-digital TV market, offers $40 coupons — two per household — toward converter boxes that turn digital signals into analog.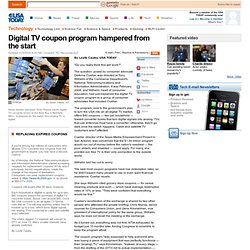 My Daughter's Fabulous Book, an Ethical Yarn - City Room Blog
JUMEAUVILLE, France -- When the municipal day-care center ran out of space because of a local baby boom, the town government gave Maylis Staub and her husband $200 a month to defray the cost of a "maternal assistant" to care for their two children. When Staub delivered twins last December -- her third and fourth children -- the nation not only increased their tax deductions and child allowances, the government-owned French train system offered 40 percent discounts off tickets for the parents and the children until they reach their 18th birthdays. "The government favors families a lot," said Staub, 35, a project manager for a French cellphone company. "They understand that families are the future.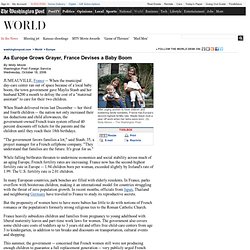 As Europe Grows Grayer, France Devises a Baby Boom - washingtonpost.com
Good Jobs First
Center on Reinventing Public Education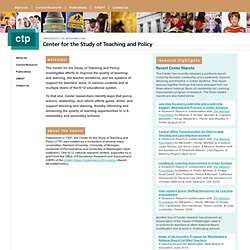 Welcome! The Center for the Study of Teaching and Policy investigates efforts to improve the quality of teaching and learning, the teacher workforce, and the systems of support for teachers' work, in various contexts and at multiple levels of the K-12 educational system. To that end, Center researchers identify ways that policy actions, leadership, and reform efforts guide, direct, and support teaching and learning, thereby informing and enhancing the quality of learning opportunities in U.S. elementary and secondary schools. Research highlights Recent Center Reports
Center for the Study of Teaching and Policy