Lis
Mike Tompkins. More less.
Why I Won't Hire You. Why I Won't Hire Youby Matt Wilcox There are many fine articles about applying for jobs and preparing for an interview.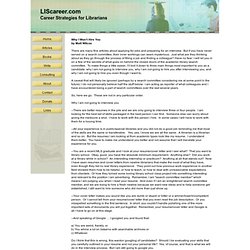 But if you have never served on a search committee, their inner workings can seem mysterious. Just what are they thinking about as they go through the process of filling a job and finding a colleague? Have no fear: I will let you in on a few of the secrets of what goes on behind the closed doors of the academic library search committee. Kids' Informal Learning with Digital Media. LiS Webcast :: Home. ...the thoughts are broken...: LIS Graduate Education and Reading. Sex in the Library: How Gender Differences Should Affect Practices and Programs. Apply the Research on Gender To Your School Library by Debbie Abilock Revised from an article published in Emergency Librarian vol. 24. no. 5 May/June, 1997: 17-18.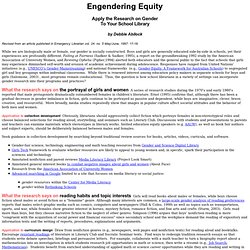 While we are biologically male or female, our gender is socially constructed. Boys and girls are generally educated side-by-side in schools, yet their experiences are profoundly different. Librarian.net. The Shifted Librarian. Archives: To What Degree Are City Librarians Hired? InfoSpeak. Texas Library Association. Main Page - LISWiki. Library Journal - The Practice Prerequisite.
Sorry, but the article or page you're looking was not found. In May 2013, Library Journal underwent a major server migration for its archived web content, which happened slightly sooner than originally expected. As a result, much of the content from 2004 to 2012 is currently unavailable to the public. However, this content has not been lost, and our web staff is in the process of converting these past articles for integration into the WordPress-based website you see here, which was launched in 2012.
---