Lis
more less http://www.youtube.com/v/dWQvoSHLbIE?
Mike Tompkins
The Librarians' Career Manifesto
The page you are searching for http://slis.cua.edu/ihy/sp2000/job/prodev.htm cannot be found.
If you arrived here as a result of a renewal or other purchase transaction that went wrong, try this: close your browser, launch it or another browser, and try again. If your second attempt doesn't work, send details, including your contact information, to ALA Feedback , so we can investigate and get back to you. If you arrived here as a result of following a bookmark or a link from this or another site, try using site search, as it offers ALA Suggestions , our carefully selected best bets for popular resources. If your efforts to search or browse don't provide what you need, contact Karen Muller, ALA Librarian for assistance.
The role of the librarian in combating student plagiarism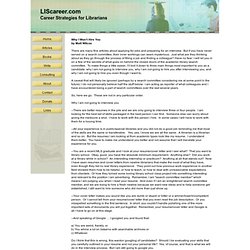 Why I Won't Hire You by Matt Wilcox There are many fine articles about applying for jobs and preparing for an interview. But if you have never served on a search committee, their inner workings can seem mysterious. Just what are they thinking about as they go through the process of filling a job and finding a colleague? Have no fear: I will let you in on a few of the secrets of what goes on behind the closed doors of the academic library search committee.
Why I Won't Hire You
Kids' Informal Learning with Digital Media
LiS Webcast :: Home
...the thoughts are broken...: LIS Graduate Education and Reading
Sex in the Library: How Gender Differences Should Affect Practices and Programs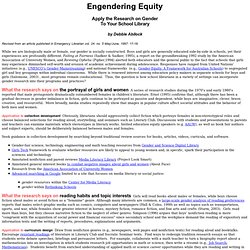 Apply the Research on Gender To Your School Library by Debbie Abilock Revised from an article published in Emergency Librarian vol. 24. no. 5 May/June, 1997: 17-18. While we are biologically male or female, our gender is socially constructed. Boys and girls are generally educated side-by-side in schools, yet their experiences are profoundly different.
Top Ten Library Science Resources
archives: To What Degree Are City Librarians Hired?
InfoSpeak
Texas Library Association
Main Page - LISWiki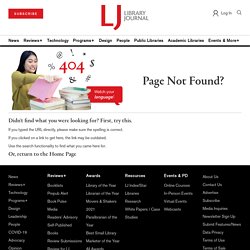 Library experience is as important in getting hired by a library as the MLS, maybe even more so. That has been and still is the report from recent graduates of library and information studies (LIS) programs across the nation. It raises a host of concerns for both those programs and the libraries that hire their graduates. Despite the complicated nature of the issue, the profession must consider making the availability of a formal practicum a requirement for the accreditation of any LIS program.
Library Journal - The Practice Prerequisite