Lis
more less http://www.youtube.com/v/dWQvoSHLbIE?
Mike Tompkins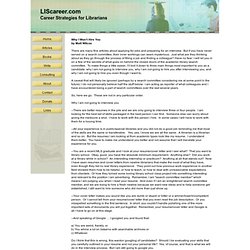 Why I Won't Hire Youby Matt Wilcox There are many fine articles about applying for jobs and preparing for an interview. But if you have never served on a search committee, their inner workings can seem mysterious. Just what are they thinking about as they go through the process of filling a job and finding a colleague? Have no fear: I will let you in on a few of the secrets of what goes on behind the closed doors of the academic library search committee.
Why I Won't Hire You
We are happy to announce the online release of the findings from our three-year project. All of the researchers who have worked on this project will be writing up individual publications, but this report represents a synthesis of the findings across the 22 different case studies. It has been over three years in the making, and is the result of a truly collaborative joint effort with 28 researchers and research collaborators. I am super proud of my team for doing such a phenomenal job with their individual projects, and for their generosity in sharing their work with this collective effort. It's very rare for ethnographers to collaborate at this scale, and we see this project as testament to the fact that large scale collaboration and joint analysis is possible with qualitative work. Special thanks goes to the MacArthur Foundation who funded this work, and in particular to our program officer, Connie Yowell, who has been together with us in this journey every step of the way.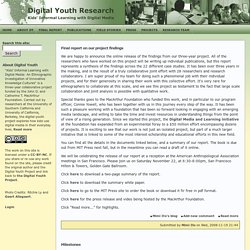 LiS Webcast :: Home
...the thoughts are broken...: LIS Graduate Education and Reading
Sex in the Library: How Gender Differences Should Affect Practices and Programs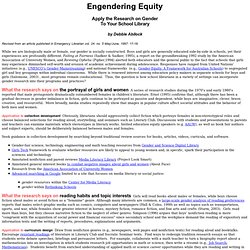 Apply the Research on Gender To Your School Library by Debbie Abilock Revised from an article published in Emergency Librarian vol. 24. no. 5 May/June, 1997: 17-18. While we are biologically male or female, our gender is socially constructed. Boys and girls are generally educated side-by-side in schools, yet their experiences are profoundly different.
data-driven strategizing for tiny libraries I really need to upgrade this version of WordPress but I only remember when I am making a post and so I am busy. I did take the time, with other VLA members (Heidi!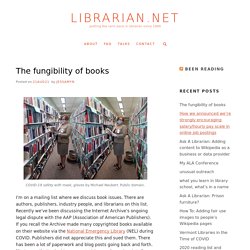 archives: To What Degree Are City Librarians Hired?
You've seen them in the news and you've most likely tried them on at one point or another. Paris Hilton even uses them in her favorite perfume. Pheromones. Otherwise known as nature's hidden secret, pheromones are powerful chemicals or body secret to attract the opposite sex. In the animal world, attraction works on a chemical level. A gut instinct.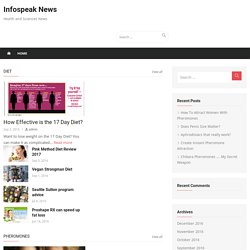 InfoSpeak
Texas Library Association
General Information Please see the about page for more on this cooperative. The other navigation links at left have some more information.
Main Page - LISWiki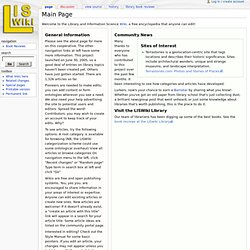 Sorry, but the article or page you're looking was not found. In May 2013, Library Journal underwent a major server migration for its archived web content, which happened slightly sooner than originally expected. As a result, much of the content from 2004 to 2012 is currently unavailable to the public. However, this content has not been lost, and our web staff is in the process of converting these past articles for integration into the WordPress-based website you see here, which was launched in 2012.