Homeschooling
The Whitest Kids U'Know - Home School Skit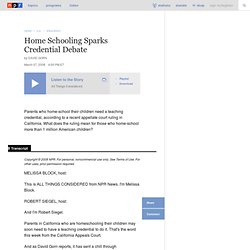 Home Schooling Sparks Credential Debate
Parents who home-school their children need a teaching credential, according to a recent appellate court ruling in California. What does the ruling mean for those who home-school more than 1 million American children? Copyright © 2008 NPR. For personal, noncommercial use only. See Terms of Use. For other uses, prior permission required.
School Registration Bill Worries Welsh Families September 24, 2012 -- A new bill in the Welsh Assembly proposes registration for home educated children and sparks thoughts reminiscent of the 2010 Badman Report in Great Britain. Read More 10 Ways To Save Money On Homeschooling September 20, 2012 -- More and more parents are deciding that homeschooling is the correct choice for their kids. Read More Homeschooling 101: Busting some long-held myths about home education September 19, 2012 -- Homeschooling is on the rise of the United States.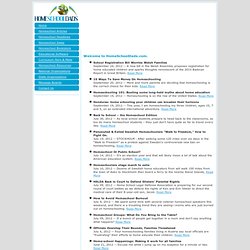 HomeSchool Dads
Opinionated Parenting: Homeschooling Dad: Final Thoughts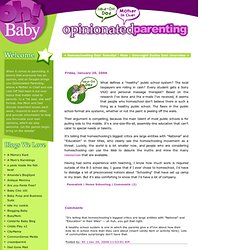 What defines a "healthy" public school system? The local taxpayers are rolling in cash? Every student gets a Sony VAIO and personal massage therapist? Based on the research I've done and the e-mails I've received, it seems that people who homeschool don't believe there is such a thing as a healthy public school. The flaws in the public school format are systemic, whether or not the paint is peeling off the walls.
Homeschool: HSLDA-Home School Legal Defense Association:
Bicycle education at home
The Well-Trained Mind
The Well-Trained Mind: A Guide to Classical Education at Home (first published 1999 by W.W. Norton and now in its third edition) offers a step-by-step, grade-by-grade, subject-by-subject guide to the classical pattern of education called the trivium. Thousands of parents have used the curricula, books lists, and methods of The Well-Trained Mind to teach their children successfully at home–either full-time or as a supplement to classroom education.