Brain
Neurology. Creativity. Einstein. Music a 'mega-vitamin' for the brain. LONDON, England (CNN) -- When Nina Temple was diagnosed with Parkinson's disease in 2000, then aged 44, she quickly became depressed, barely venturing out of her house as she struggled to come to terms with living with the chronic condition.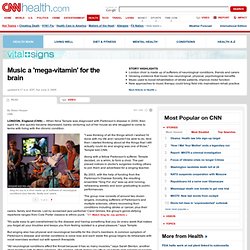 Sing for Joy is a choir made up of sufferers of neurological conditions plus friends, family and carers. "I was thinking of all the things which I wished I'd done with my life and I wouldn't be able to do. Doubting Darwin: Debate Over The Mind's Evolution. Some People Never Learn - TFOT. Some People Never Learn Tuesday, January 22, 2008 - Einat Rotman Home >> News >> General Science Tags: Dopamine learning neurotransmitter feedback allele Researchers at the Max Planck Institute for Human Cognitive and Brain Sciences in Leipzig, Germany have found a genetic factor that affects our ability to learn from our errors.
The scientists demonstrated that men carrying the A1 mutation, which reduces the amount of dopamine D2 receptors in the brain, are less successful at learning to avoid mistakes than men who do not carry this genetic mutation. This finding has the potential to improve our understanding of the causes of addictive and compulsive behaviors. An illustration of a dopamine molecule (Credit: Stanford University) Are smarter people better at ignoring things?
November 29, 2005 Are smarter people better at ignoring things?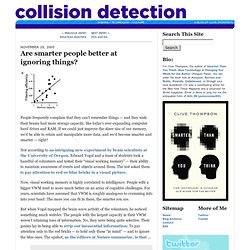 People frequently complain that they can't remember things — and they wish their brains had more storage capacity, like today's ever-expanding computer hard drives and RAM. If we could just improve the sheer size of our memory, we'd be able to retain and manipulate more data, and we'd become smarter and smarter — right? Brain of the Blogger. During the past five years, blogging has exploded from virtual non-existence into an important and influential sociocultural force.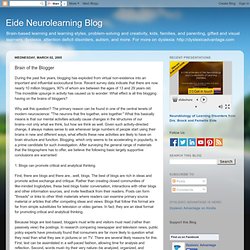 Recent survey data indicate that there are now nearly 10 million bloggers, 90% of whom are between the ages of 13 and 29 years old. This incredible upsurge in activity has caused us to wonder: What effect is all this blogging having on the brains of bloggers? Why ask this question? New Scientist - 11 steps to a better brain. It doesn't matter how brainy you are or how much education you've had - you can still improve and expand your mind.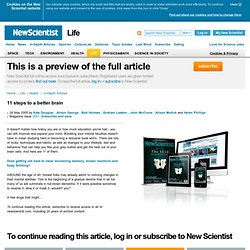 Boosting your mental faculties doesn't have to mean studying hard or becoming a reclusive book worm. There are lots of tricks, techniques and habits, as well as changes to your lifestyle, diet and behaviour that can help you flex your grey matter and get the best out of your brain cells. And here are 11 of them. Does getting old have to mean worsening memory, slower reactions and fuzzy thinking? AROUND the age of 40, honest folks may already admit to noticing changes in their mental abilities.
---