Kctipton
Keith
Dad, Mac owner, Texan, BA in physics
Last.fm Meets Twitter & Facebook
Last.fm Meets Twitter & Facebook
Last.fm Meets Twitter & Facebook
Last.fm Meets Twitter & Facebook
Last.fm Meets Twitter & Facebook
Last.fm Meets Twitter & Facebook
Last.fm Meets Twitter & Facebook
Last.fm Meets Twitter & Facebook
Last.fm Meets Twitter & Facebook
Development Through Enterprise
Last.fm Meets Twitter & Facebook
Last.fm Meets Twitter & Facebook
Last.fm Meets Twitter & Facebook
Last.fm Meets Twitter & Facebook
Last.fm Meets Twitter & Facebook
Last.fm Meets Twitter & Facebook
Last.fm Meets Twitter & Facebook
Last.fm Meets Twitter & Facebook
Last.fm Meets Twitter & Facebook
Last.fm Meets Twitter & Facebook
Last.fm Meets Twitter & Facebook
Last.fm Meets Twitter & Facebook
Last.fm Meets Twitter & Facebook
Last.fm Meets Twitter & Facebook
Last.fm Meets Twitter & Facebook
Why are Chicago's restaurant sidewalk cafes all on the North Side?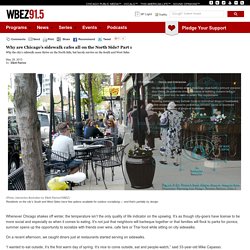 (Photo, interactive illustration by Elliott Ramos/WBEZ) Residents on the city's South and West Sides have few options available for outdoor socializing — and that's partially by design. Whenever Chicago shakes off winter, the temperature isn't the only quality of life indicator on the upswing. It's as though city-goers have license to be more social and especially so when it comes to eating. It's not just that neighbors will barbeque together or that families will flock to parks for picnics; summer opens up the opportunity to socialize with friends over wine, cafe fare or Thai food while sitting on city sidewalks. On a recent afternoon, we caught diners just at restaurants started serving on sidewalks.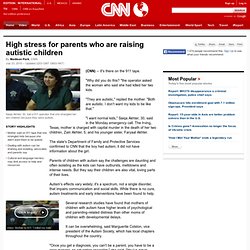 High stress for parents who are raising autistic children
Saiqa Akhter, 30, told a 911 operator that she strangled her two children because they were autistic. Mother said on 911 tape that she strangled kids because she didn't want them to be autisticDealing with autism can be draining and isolating, advocates and parents sayCultural and language barriers may limit access to help and resources (CNN) -- It's there on the 911 tape. "Why did you do this? "the operator asked the woman who said she had killed her two kids. "They are autistic," replied the mother.
Conservation or Environment Concerns