Reading Comprehension Worksheets
Making Inferences. Making Inferences. Making inferences is a skill with which students often need much practice.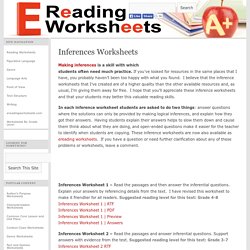 If you've looked for resources in the same places that I have, you probably haven't been too happy with what you found. I believe that the inference worksheets that I've created are of a higher quality than the other available resources and, as usual, I'm giving them away for free. I hope that you'll appreciate these inference worksheets and that your students may better this valuable reading skills.
In each inference worksheet students are asked to do two things: answer questions where the solutions can only be provided by making logical inferences, and explain how they got their answers. Drawing Conclusions. This drawing conclusions worksheet guides your third grader through reading comprehension.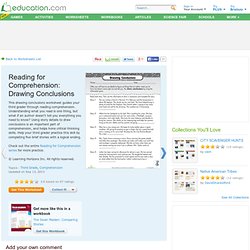 Understanding what you read is one thing, but what if an author doesn't tell you everything you need to know? Using story details to draw conclusions is an important part of comprehension, and helps hone critical thinking skills. Help your third grader practice this skill by completing five brief stories with a logical ending. Free Fourth Grade Worksheets. The fourth grade worksheets found here are meant to be used to supplement the work your child is already doing in school.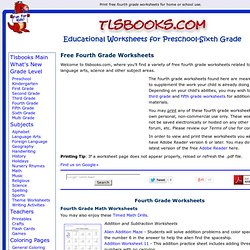 Depending on your child's abilities, you may wish to review these third grade and fifth grade worksheets for additional practice materials. You may print any of these fourth grade worksheets for your own personal, non-commercial use only. These worksheets may not be saved electronically or hosted on any other web site, blog, forum, etc.
Reading Comprehension Worksheets. Students read the passages and answer the questions that follow to check reading comprehension.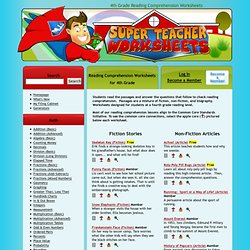 Passages are a mixture of fiction, non-fiction, and biography. Worksheets designed for students at a fourth grade reading level. Most of our reading comprehension lessons align to the Common Core Standards Initiative. To see the common core connections, select the apple core ( Cause-Effect. The Adventures of Pinocchio "Wait a minute and I'll come right back," answered the old fellow, thinking he had to deal with one of those boys who loves to roam around at night ringing people's bells while they are peacefully asleep.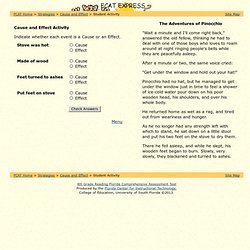 After a minute or two, the same voice cried:
---