Violence against women & men
INST 205-Section Nine.doc
Nagel%20-%20Rape%20and%20War
'The Invisible War' Changing the Conversation on Rape in the Military | PBS NewsHour
By: Cassie M. Chew Kori Cioca, a former member of the U.S.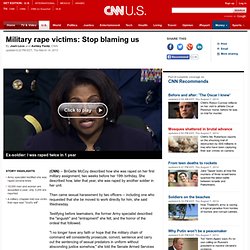 Military rape victims: Stop blaming us
Army specialist testified she was raped several times19,000 men and women are assaulted a year; only 3,200 are reportedA military chaplain told one victim that rape was "God's will" (CNN) -- BriGette McCoy described how she was raped on her first military assignment, two weeks before her 19th birthday. She described how, later that year, she was raped by another soldier in her unit. Then came sexual harassment by two officers -- including one who requested that she be moved to work directly for him, she said Wednesday. Testifying before lawmakers, the former Army specialist described the "anguish" and "entrapment" she felt, and the horror of the ordeal that followed.
Rape victims say military labels them 'crazy'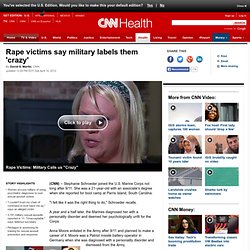 Women accuse military of using psychiatric diagnoses to oust sexual assault victims "I couldn't trust my chain of command to ever back me up," says an alleged victim 3,191 military sexual assaults reported in '11: "Unacceptable," says defense secretary Pentagon is assessing its training for sexual assault prevention and response "I felt like it was the right thing to do," Schroeder recalls. A year and a half later, the Marines diagnosed her with a personality disorder and deemed her psychologically unfit for the Corps.
The Normalization of Intimate Partner Violence in Beauty and the Beast
Scene from the Disney film "Beauty and the Beast" Tags:children/youth, gender, violence, femininity, types of domestic abuse, socialization, 00 to 05 minsYear: 2002 Length: 3:41 Access:YouTubeSummary: Although it may happen behind closed doors, domestic violence is a public issue that has serious psychological, social, and physical consequences. This short clip (start 0:00; end 3:41) from the documentary Mickey Mouse Monopoly (2002) is useful for illustrating how pop cultural messages in children's media socialize girls (and boys) to accept and overlook intimate partner violence. This clip brings to light the normalization and romanticization of partner abuse in Beauty and the Beast. As scholars in the documentary argue, the film teaches girls that a woman should be patient and supportive of her abusive partner in order to help him change his behavior (i.e., transform into a prince).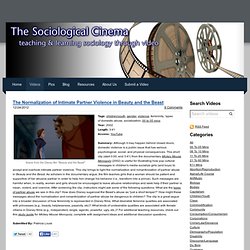 Wow. As many times as I've seen that movie I had never looked at it that way. Seeing the little girls reaction really affected me. by danyelmwilliams Apr 22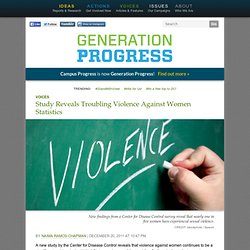 By Naima Ramos-Chapman | December 20, 2011 at 10:47 pm A new study by the Center for Disease Control reveals that violence against women continues to be a significant problem in the United States, and some of the troubling findings indicate that sexual violence occurs at a high rate. According to the national survey, nearly one in five women has been raped or has experienced an attempted rape.
Study Reveals Troubling Violence Against Women Statistics
Fast facts: statistics on violence against women and girls
Between 15 and 76 percent of women are targeted for physical and/or sexual violence in their lifetime, according to the available country data. Most of this violence takes place within intimate relationships, with many women (ranging from 9 to 70 percent) reporting their husbands or partners as the perpetrator. Femicide In Guatemala, two women are murdered, on average, each day.In India, 8,093 cases of dowry-related death were reported in 2007; an unknown number of murders of women and young girls were falsely labeled 'suicides' or 'accidents'.In Australia, Canada, Israel, South Africa and the United States, between 40 and 70 percent of female murder victims were killed by their intimate partners. In the State of Chihuahua, Mexico, 66 percent of murders of women were committed by husbands, boyfriends or other family members. Violence and Young Women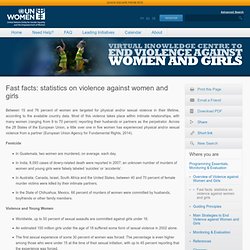 Lynn Langton, Ph.D., Michael Planty, Ph.D., Nathan Sandholtz, BJS Intern March 21, 2013 NCJ 241291 Presents annual counts and rates of hate crime victimization that occurred from 2003 through 2011, using data from the National Crime Victimization Survey (NCVS). The report examines changes over time in hate crime victimizations, including the type of bias that motivated the hate crime, the type of crime, whether the incident was reported to police, and characteristics of the incident, offender, and victim. In addition, the report compares characteristics of hate crime and nonhate crime victimization. NCVS estimates are supplemented by data from official police reports of hate crime from the FBI's Uniform Crime Reporting (UCR) Hate Crime Statistics Program.
Bureau of Justice Statistics (BJS) - Hate Crime Victimization, 2003-2011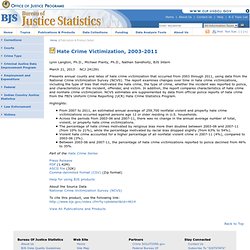 Marcus Berzofsky, Dr.P.H., RTI, Christopher Krebs, Ph.D., RTI, Lynn Langton, Ph.D., BJS, Michael Planty, Ph.D., BJS, Hope Smiley-McDonald, Ph.D., RTI March 7, 2013 NCJ 240655 Presents trends in the rate of completed or attempted rape or sexual assault against females from 1995 to 2010. The report examines demographic characteristics of female victims of sexual violence and characteristics of the offender and incident, including victim-offender relationship, whether the offender had a weapon, and the location of the victimization. The report also examines changes over time in the percentages of female victims of sexual violence who suffered an injury and received formal medical treatment, reported the victimization to the police, and received assistance from a victim service provider.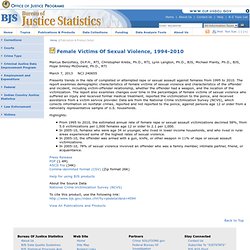 Bureau of Justice Statistics (BJS) - Female Victims of Sexual Violence, 1994-2010
USDOJ: Office on Violence Against Women
RAINN | Rape, Abuse and Incest National Network | RAINN: The nation's largest anti-sexual assault organization.One of "America's 100 Best Charities" —Worth magazine
Myth: Rape is caused by lust or uncontrollable sexual urges and the need for sexual gratification. Fact: Rape is an act of physical violence and domination that is not motivated by sexual gratification. Myth: Once a man gets sexually aroused, he can't just stop. Fact: Men do not physically need to have sex after becoming sexually excited. Moreover, they are still able to control themselves after becoming aroused. Myth: Women often lie about rape or falsely accuse someone of rape.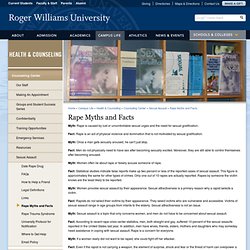 Rape Myths and Facts | Roger Williams University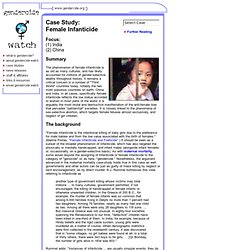 Case Study: Female Infanticide Focus: (1) India (2) China Summary
Watch: Female Infanticide
Human Dignity and Sexual Culture:A Reflection on the 'Comfort Women' Issues Chunghee Sarah Soh, Ph.D. San Francisco State University
C.Sarah Soh paper
From the article: "If we are serious about our commitment to the enhancement of life conditions of humanity, we must confront the global realities of predominance of men's sex-rights over women's human rights,(27) be they sex workers, single or married women. Many women and children who work in the sex industry whether willingly or forcibly are predominantly from poor families in search of livelihood. Prostitution is regarded as the world's oldest profession and no society has gotten rid of it. If this new century is to be a century of human rights, we cannot avoid the issue of human dignity of sex workers in the booming international sex industry in which consumers of sexual service belong to richer classes and/or more powerful nation-states that not only exploit providers of sexual service economically but also demean them socially and psychologically." by kbpc May 6
Rape | V-Day: A Global Movement to End Violence Against Women and Girls Worldwide.
The fact that numerous studies and reports are done on violence against women and have resulted in equally numerous statistics emphasizes that violence against women is a serious problem plaguing the world's women and girls. Some statistics are more relevant, reliable or telling than others and similar statistics from different studies or reports can seem to conflict with one another. This is because there are several variables that affect the collection of data and the formulation of statistics: the size of a study's sample, the duration of the study, how recent the study is, the location of the study, the words used in the questions, the definitions of key terms, among many others factors.
Violence Against Women Statistics | V-Day: A Global Movement to End Violence Against Women and Girls Worldwide.