Stories
Google+ Brand Accounts: What Social Media Managers Want to See. Using Google+?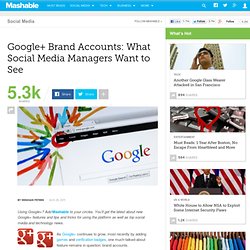 Add Mashable to your circles. You'll get the latest about new Google+ features and tips and tricks for using the platform as well as top social media and technology news. As Google+ continues to grow, most recently by adding games and verification badges, one much-talked-about feature remains in question: brand accounts.
We know it's on Google's radar. About a week after the service launched, the company told businesses not to set up accounts on Google+. Diploma or Dropout: The Entrepreneur's Dilemma. What do Bill Gates, Steve Jobs and Mark Zuckerberg all have in common?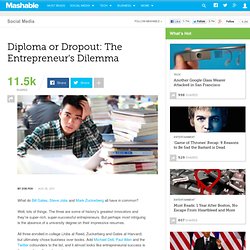 Well, lots of things. The three are some of history's greatest innovators and they're super-rich, super-successful entrepreneurs. But perhaps most intriguing is the absence of a university degree on their impressive resumes. All three enrolled in college (Jobs at Reed, Zuckerberg and Gates at Harvard) but ultimately chose business over books. Add Michael Dell, Paul Allen and the Twitter cofounders to the list, and it almost looks like entrepreneurial success is the norm for college dropouts.
How Dell's Social Suggestion Box Empowered Fans & Improved the Company. The Social Brands Series is supported by Spredfast, a social media management platform provider helping organizations unlock social business potential.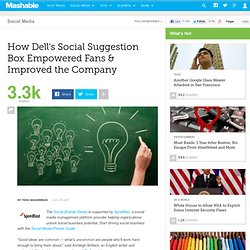 Start driving social business with the Social Media Pocket Guide. "Good ideas are common — what's uncommon are people who'll work hard enough to bring them about," said Ashleigh Brilliant, an English writer and cartoonist. No doubt, many executives at Dell would agree. Though using online media to cast about for ideas is now fairly commonplace, it wasn't when Dell launched IdeaStorm in 2007.
Since then, the company has fetched 16,000 ideas and implemented close to 500 of them, which averages to about 10 per month. (Founder Stories) Kevin O'Connor: Having An "Exit Strategy Is Total Bullshit" Chris Dixon wraps up his interview with FindTheBest (and DoubleClick) co-founder, Kevin O'Connor by asking him about his end goal for FindTheBest.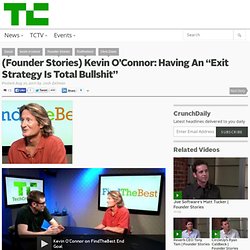 O'Connor responds that an "exit strategy is total bullshit," he is simply doing what he loves doing and notes that if you solve a big problem "you end up with lots of options." O'Connor also suggests that people are actually using the social web less intensely as its novelty fades and it becomes a regular part of their web experience. As the interview concludes in the video below, Dixon inquires about O'Connor's distribution channel for his "decision-making engine," FindTheBest. They discuss how all the attempts to game Google makes it harder to be discovered.
O'Connor tells Dixon most of his early efforts are directed towards SEO.
---