Family & Consumer Science
Welcome. The Science of Food and Drink.
Kitchen Window: A Trip Around The World, By Way Of Seasonings. Soma Rathore for NPR To make even Monday night meals spectacular, I often reach for my favorite global spice mixes.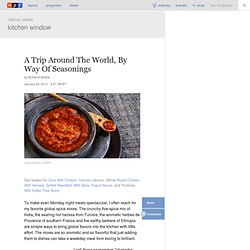 The crunchy five-spice mix of India, the searing hot harissa from Tunisia, the aromatic herbes de Provence of southern France and the earthy berbere of Ethiopia are simple ways to bring global flavors into the kitchen with little effort. The mixes are so aromatic and so flavorful that just adding them to dishes can take a weekday meal from boring to brilliant. I call these seasonings "character mixes. " The Food Price Rollercoaster. Health. Fitness Magazine: Weight-loss plans, video workouts, abs exercises, diet plans, beauty tricks, and health advice. WebMD - Better information. Better health.
---