Outils, tuto & reviews
All Tests / Reviews
Sony E 16mm f/2.8 (SEL-16F28)Sony E 30mm f/3.5 macro (SEL-30F35)Sony E 35mm f/1.8 OSS (SEL-35F18)Sony E 50mm f/1.8 OSS (SEL-50F18) Sony E 10-18mm f/4 OSS (SEL-1018)Sony E 16-50mm f/3.5-5.6 OSS (SEL-1650)Sony E 18-55mm f/3.5-5.6 OSS (SEL-1855)Sony E 55-210mm f/4.5-6.3 OSS (SEL-55210) Sigma AF 19mm f/2.8 EX DNSigma AF 30mm f/2.8 EX DNSigma AF 60mm f/2.8 DN Sony Alpha lenses via Sony EA-LA1 / EA-LA2:Zeiss ZA Planar T* 85mm f/1.4 (SAL-85F14Z)Sony 16-50mm f/2.8 DT SSM (SAL-1650) Vintage Lenses on Sony NEX (via Leica M to Sony NEX adapter <a target="_blank" href="http://rover.ebay.com/rover/1/711-53200-19255-0/1?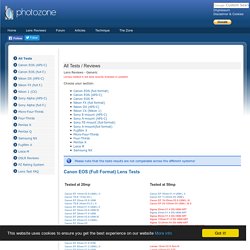 Nikon Nikkor AF-S 18-35 mm f/3.5-4.5G ED - lens review At the beginning of 2013 Nikon presented the Nikkor AF-S 18–35 mm f/3.5–4.5G ED, which is successor of the Nikkor AF 18–35 mm f/3.5–4.5D IF-ED, a lens which they had in their line-up since 2000. Today we would like to present our review of this new lens. Enjoy! Read more >>> Zeiss Otus 55 mm f/1.4 ZE/ZF.2 - lens review
LensTip.com - lens review, lenses reviews, lens specification - Lenstip.com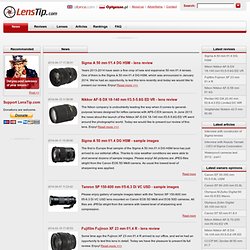 Bonjour à tous, Vu la journée merveilleuse qui s'annonce, je ne souhaite pas vous retenir devant votre ordinateur, mais je tenais à partager avec vous une petite astuce pour Lightroom mobile. Vous savez que, dans le module Développement de Lightroom desktop, vous avez la possibilité d'afficher les zones écrêtées lorsque vous manipulez les curseurs de tonalité (Exposition, Hautes lumières, Ombres, Blancs, Noirs) tout en appuyant sur la touche magique de Lightroom (Alt sur votre clavier). Cette fonction est également disponible dans Lightroom mobile : sélectionnez l'un des outils cités précédemment, puis faites glisser le curseur avec deux doigts au lieu d'un seul.