LIMS
What is NHIN Direct ? - Definition from Whatis.com
Welcome to the PHINMS Community Portal! The purpose of this portal is to provide for the mutual exchange of information and comments for the PHINMS user community. Additionally, it will facilitate feedback from the users to the PHINMS operations and development team resulting in product and process improvements. The user community will also use the portal to share utilities and code developed by them to compliment or augment the PHINMS functionality.
PHINMS Google Site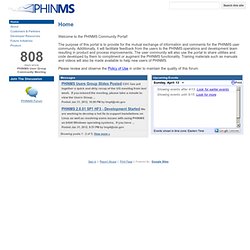 PHINMS User Group Meeting PHINMS will hold a PHINMS User's Group call on Jan 24, 2013, at 2pm EST. Copies of User Group slides will be posted here on the day of the meeting. PHINMS 2.8.02 for Windows Released
Public Health Information Network (PHIN) - PHIN MS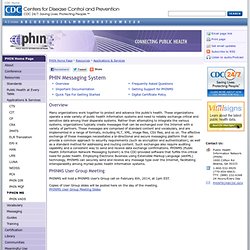 Public Health Information Network (PHIN)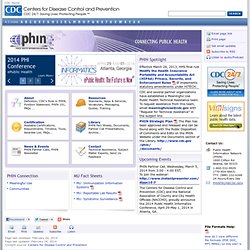 Skip directly to search Skip directly to A to Z list Skip directly to site content Skip directly to page options CDC Home CDC 24/7: Saving Lives. Protecting People
LOINC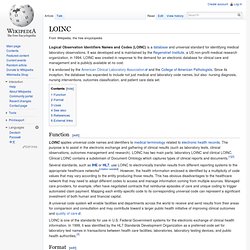 Logical Observation Identifiers Names and Codes (LOINC) is a database and universal standard for identifying medical laboratory observations. It was developed and is maintained by the Regenstrief Institute , a US non-profit medical research organization, in 1994. LOINC was created in response to the demand for an electronic database for clinical care and management and is publicly available at no cost. It is endorsed by the American Clinical Laboratory Association and the College of American Pathologists . Since its inception, the database has expanded to include not just medical and laboratory code names, but also: nursing diagnosis, nursing interventions, outcomes classification, and patient care data set. [ edit ] Function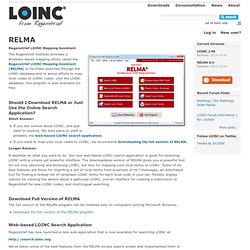 Regenstrief LOINC Mapping Assistant The Regenstrief Institute provides a Windows-based mapping utility called the Regenstrief LOINC Mapping Assistant (RELMA) to facilitate searches through the LOINC database and to assist efforts to map local codes to LOINC codes. Like the LOINC database, this program is also available for free. Should I Download RELMA or Just Use the Online Search Application? Short Answer: If you are curious about LOINC, and just want to explore, the best place to start is probably the web-based LOINC search application .
RELMA — LOINC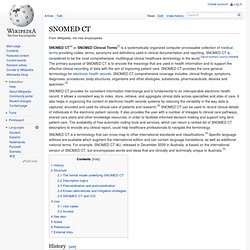 SNOMED CT ( S ystematized No menclature Of Med icine C linical T erms), is a systematically organised computer processable collection of medical terms providing codes, terms, synonyms and definitions covering diseases, findings, procedures, microorganisms, substances, etc. It allows a consistent way to index, store, retrieve, and aggregate clinical data across specialties and sites of care. It also helps in organizing the content of medical records, reducing the variability in the way data is captured, encoded and used for clinical care of patients and research. [ 1 ] The primary purpose of SNOMED CT is to support the effective clinical recording of data with the aim of improving patient care. It is a structured collection of medical terms that are used internationally for recording clinical information and are coded in order to be computer processable. It covers areas such as diseases, symptoms, operations, treatments, devices and drugs.
SNOMED CT
Home | CliniClue
LIMS by STARLIMS: Laboratory Information Management Systems.
Environmental LIMS | Public Health LIMS | Water Quality LIMS | Clinical LIMS from ChemWare
Waters NuGenesis Informatics: SDMS, electronic lab notebooks
Welcome to Data Innovations