LIMS
The Jakarta Site - The Apache Jakarta™ Project -- Java Related Products. What is NHIN Direct ? - Definition from Whatis.com. PHINMS Google Site. Welcome to the PHINMS Community Portal!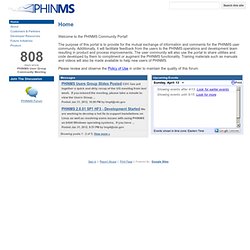 The purpose of this portal is to provide for the mutual exchange of information and comments for the PHINMS user community. Additionally, it will facilitate feedback from the users to the PHINMS operations and development team resulting in product and process improvements. The user community will also use the portal to share utilities and code developed by them to compliment or augment the PHINMS functionality. Public Health Information Network (PHIN) - PHIN MS. Overview Many organizations work together to protect and advance the public's health.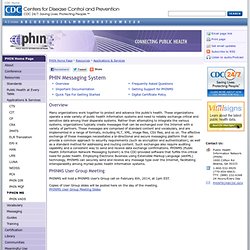 These organizations operate a wide variety of public health information systems and need to reliably exchange critical and sensitive data among their disparate systems. Rather than attempting to integrate the various systems, organizations typically create messages that can be exchanged over the Internet with a variety of partners. Public Health Information Network (PHIN) LOINC. Logical Observation Identifiers Names and Codes (LOINC) is a database and universal standard for identifying medical laboratory observations.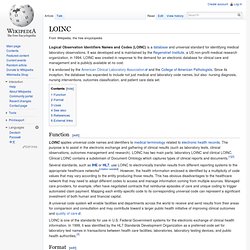 It was developed and is maintained by the Regenstrief Institute, a US non-profit medical research organization, in 1994. LOINC was created in response to the demand for an electronic database for clinical care and management and is publicly available at no cost. It is endorsed by the American Clinical Laboratory Association and the College of American Pathologists. Since its inception, the database has expanded to include not just medical and laboratory code names, but also: nursing diagnosis, nursing interventions, outcomes classification, and patient care data set.
Function[edit] RELMA — LOINC. Regenstrief LOINC Mapping Assistant The Regenstrief Institute provides a Windows-based mapping utility called the Regenstrief LOINC Mapping Assistant (RELMA) to facilitate searches through the LOINC database and to assist efforts to map local codes to LOINC codes.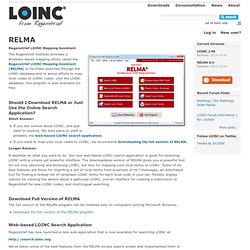 Like the LOINC database, this program is also available for free. Should I Download RELMA or Just Use the Online Search Application? Short Answer: If you are curious about LOINC, and just want to explore, the best place to start is probably the web-based LOINC search application.If you want to map your local codes to LOINC, we recommend downloading the full version of RELMA. SNOMED CT. SNOMED CT[a] or SNOMED Clinical Terms[2] is a systematically organized computer processable collection of medical terms providing codes, terms, synonyms and definitions used in clinical documentation and reporting.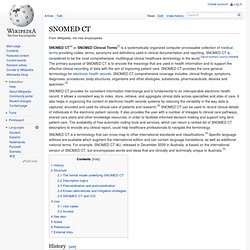 SNOMED CT is considered to be the most comprehensive, multilingual clinical healthcare terminology in the world.[3][non-primary source needed] The primary purpose of SNOMED CT is to encode the meanings that are used in health information and to support the effective clinical recording of data with the aim of improving patient care. SNOMED CT provides the core general terminology for electronic health records. SNOMED CT comprehensive coverage includes: clinical findings, symptoms, diagnoses, procedures, body structures, organisms and other etiologies, substances, pharmaceuticals, devices and specimen.[3] SNOMED CT provides for consistent information interchange and is fundamental to an interoperable electronic health record. Home | CliniClue. Health Level Seven International - Homepage. LIMS by STARLIMS: Laboratory Information Management Systems. Environmental LIMS | Public Health LIMS | Water Quality LIMS | Clinical LIMS from ChemWare.
Waters NuGenesis Informatics: SDMS, electronic lab notebooks. Welcome to Data Innovations.
---