Workouts!
13. Drink a glass of water before you eat - 42 Best Ways To Lose Stomach Fat Fast … This fantastic list of the 50 Best Ways to Lose Stomach Fat Fast includes all the tips you need to lose that belly fat that's been bugging you for months or even years.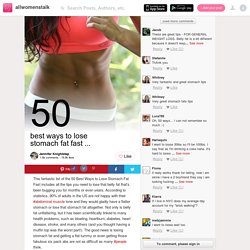 According to statistics, 90% of adults in the US are not happy with their abdominal muscle tone and they would gladly have a flatter stomach or lose that stomach fat altogether. Not only is belly fat unflattering, but it has been scientifically linked to many health problems, such as bloating, heartburn, diabetes, heart disease, stroke, and many others (and you thought having a muffin top was the worst part!). The good news is losing stomach fat and getting a flat tummy or even getting those fabulous six pack abs are not as difficult as many people think.
As a person who last year went from size 10 to size 4, I'm here to give you the 50 best ways to lose stomach fat fast that truly work. How to Get a Complete Workout with Nothing But Your Body. I have had horrible RSI and have gotten a lot better — I'm afraid what helped me was being able to take months off typing, and some weekly or biweekly Pilates.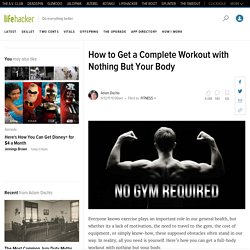 Luxury, insofar as `not crippled' is a luxury. I don't know what you can do while you have acute RSI, because every body is different etc etc., but this is what I came up with at the time: 1) Sleep. It's the only time you actually heal. To be tired and relaxed enough to sleep, I needed. Abs Workout for Beginners. Beginner abs workout is designed for maximum results in minimal time.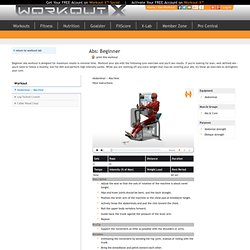 Workout your abs with the following core exercises and you'll see results. If you're looking for lean, well defined abs - you'll need to follow a healthy, low-fat diet and perform high intensity cardio. While you are working off any extra weight that may be covering your abs, try these ab exercises to strengthen your core. Purposes. Try Cardio Acceleration - Experts Reveal: 15 Workout Upgrades for Better Results. If you're ready to take your fitness to the next level in 2012, fitness expert, celebrity trainer, and star of Personal Training with Jackie: 30 Day Fast Start Jackie Warner recommends trying "cardio acceleration.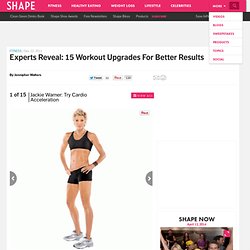 " Cardio acceleration basically means that you add one to two minutes of high-intensity cardio between your sets of resistance training. At home, you can do this by doing 100 rotations with a jump rope when doing any weight lifting or by adding squat jumps after you do a set of squats at the gym. "It's brutal, but I guarantee you will feel sore," Warner says. "And you want that soreness so that your body changes. " You can use your keyboard to see the next slide ( ← previous, → next) Fitness / Tumblr. Lying rotary torso - Drop an Entire Dress Size With This Speedy Strength Workout. Your passion for healthy living brought you here - let's keep talking!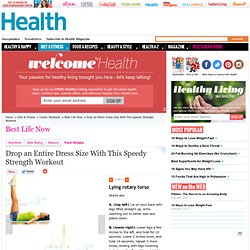 Best Life Now Drop an Entire Dress Size With This Speedy Strength Workout Works abs A. GAIN Fitness - Personal Trainer Quality Workouts. I want Six Pack Abs, Core Exercises. Do you want to see more effective workout routines?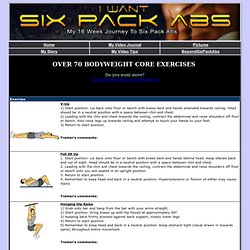 Go to What is WorkoutPass exactly? Members will gain access to 43 different fitness websites ranging from sport specific training, to fat loss, to building strength, power, and explosion, all the way to injury prevention if you? E got a fitness obstacle, WorkoutPass.com has the solution. It?
---