Midagi tähtsat/huvitavat
The Invisible Whisperer. Lab Rats - Season 1, Episode 11 - Chip Switch (FULL EPISODE) T4 on the Beach: Cover Drive and Lawson get loved up in sun cream challenge. Joe Hart The Saver. 8 simple rules season 3 episode 1 first day of school part 1 HQ. Good Luck Charlie: Name That Baby - Part 1. Kiwua How To Make Cross Friendship Bracelets.
How to Make a Shambhala Bracelet, Part I: Macrame Square Knots. Lawson can read minds! Joachim Löw schlägt einem Balljungen Ball aus der Hand. Lawson HomeTowns - Joel in Nottingham. Teen Choice Awards 2012 - Music. Walcott, Oxlade, Hart & England play table tennis - Euro 2012 | FATV. England 1-1 France - England Recovery Session | FATV. Lawson on The Vodafone Big Top 40 - Sunday 27th May 2012. Lawson Interview - W/ Amaru Don TV "Their story thus far" Part 1. Lawson Backstage Interview At Capital FM's Summertime Ball 2012. A League Of Their Own Series 5 Episode 4 (Jermain Defoe) A League of Their Own Series 5 Episode 2 (Peter Crouch)
A League of Their Own Series 5: Steven Gerrard. Joe Hart - The First Class. User Profile: Katarina T. ORLY loosimine. ORLY oli piisavalt lahke, et saata mulle küünelakke ning samuti ka teile jagamiseks!!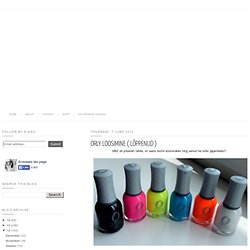 Siin pildil näete selle suve kollektsiooni, kus on neoonid värvid. TUUS! Selles kollektsioonis on üks valge lakk, mis läheb siis ühe kihina neooni värvi alla, et viimane säraks veel rohkem! Kollektsiooni nimi on Feel The Vibe. Joe Hart - England Interview. Joe Hart • England's Number One • Best Saves • 2012. Easy Galaxy Nail Art. My Boyfriend Does My Makeup. EASY DIY: Caviar Nails (microbeads/fish eggs nail tutorial) - ThatsHeart. [HD]Marek Doronin blocks Elvis Évora(205cm center) twice. How to make lip gloss without vaseline.
3 Simple Homemade Lip Balms - Your Lips've Never Been Yummier. Three Amigo Lip Balms Waiting for a homemade lip balm to set up is a little like developing a Polaroid.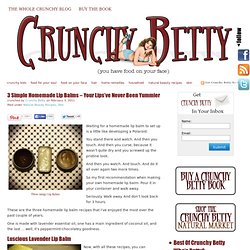 You stand there and watch. My Carmex. BYS huulepulk sassy salmon | minerva. BYS Lipgloss Lipstick Duo-huulepulk -45% - Berrylicious Chilli Red Dusty Rose Iced Candy Mocha Magic BYS Lipgloss Lipstick Duo – 2 ühes huuleläige ja huulepulk, mis sobib suurepäraselt käekotis kaasas kandmiseks, et kasutada seda millal iganes vajadus peaks tekkima.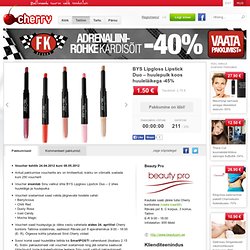 Mobiiltelefonid - TAHVELARVUTID JA LISAD. Käsitööna valmistatud rahakott - isikupärane aksessuaar Sinu igasse päeva. SCOOP: Want to know what lipstick Jessie J wore on The Voice this week? | Beauty news. Noortekas - Kirjastus Pegasus. Autor: LAUREN KATE Raamatu kaas: PK Lehekülgi: 360 Mõõtmed: 145x215 Ilmumisaeg: 15.04.2012 Tõlkija: Pille Kruus Toimetaja: Ingrid Selg Hind, €: 19.37 Hind, EEK: Soodushinnaga tellimine on lõppenud.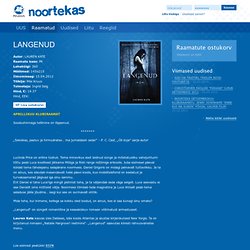 "Seksikas, paeluv ja hirmuäratav… ma jumaldasin seda! " - P. C. Official Beats™ by Dr. Dre™ Headphones Store (UK & Europe) at Universal Music. (Solo HD) PRODUCT RED Special Edition – Beats by Dr. Dre from Monster.
---