Randomness
2 deer and a turkey to Va. governor, and Indian tribes' tax debt is sealed once again. RICHMOND - In honor of Thanksgiving, the president of the United States gets to pardon a turkey each year.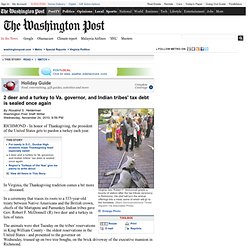 In Virginia, the Thanksgiving tradition comes a bit more . . . deceased. In a ceremony that traces its roots to a 333-year-old treaty between Native Americans and the British crown, chiefs of the Mattaponi and Pamunkey Indian tribes gave Gov. Buddhism/Dharma/Rigpa. Montana QuickFacts from the US Census Bureau.
QR-Code Generator. Mitra_Crouching_Tigers2010.pdf (application/pdf Object) ::iLL WiLL PreSS:: HOME OF NEUROTICALLY YOURS, 4Y-RECORDS & MORE.
---