Herpetology
Herp Nation |
VIPER
Online Husbandry, Community, Tracking, Reptiles, Photos, Tracking, Breeding, Snakes, and More!
Description: An unhandled exception occurred during the execution of the current web request. Please review the stack trace for more information about the error and where it originated in the code. Exception Details: System.Data.SqlClient.SqlException: The INSERT statement conflicted with the FOREIGN KEY constraint "FK_CustomAnimalGroupings_aspnet_Users". The conflict occurred in database "iHerp", table "dbo.aspnet_Users", column 'UserId'. The statement has been terminated. Source Error: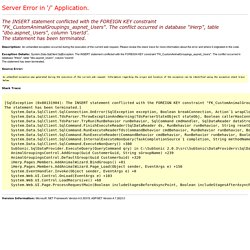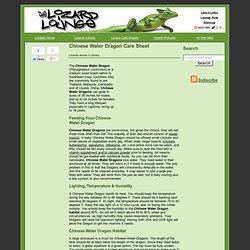 The Chinese Water Dragon ( Physignathus cocincinus ) is a medium sized lizard native to Southeast Asia. Countries they are commonly found in are Thailand, Malaysia, Cambodia and of course, China. Chinese Water Dragons can grow to sizes of 36 inches for males, and up to 24 inches for females. They have a long lifespan, especially in captivity, living up to 18 years.
Chinese Water Dragon Care Sheet
VIPER
Midwest Tongs.Com
Tricia's Chinese Water Dragon, Reptile and Amphibian Care Page (Water Dragon care, Reptile care, Amphibian care)
The Sticky Tongue | Herpetology, Zoology and Conservation
Arizona Herpetological Association (AHA): Home
Wild Recon