Herpetology
Herp Nation |
VIPER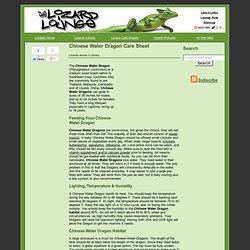 The Chinese Water Dragon (Physignathus cocincinus) is a medium sized lizard native to Southeast Asia. Countries they are commonly found in are Thailand, Malaysia, Cambodia and of course, China. Chinese Water Dragons can grow to sizes of 36 inches for males, and up to 24 inches for females. They have a long lifespan, especially in captivity, living up to 18 years.
Chinese Water Dragon Care Sheet
VIPER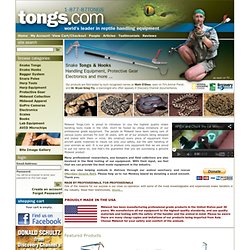 Midwest Tongs.Com
Midwest Tongs.Com is proud to introduce to you the highest quality snake handling tools made in the USA. Don't be fooled by cheap imitations of our professional grade equipment. The people at Midwest have been taking care of various exotic animals for over 30 years, with all of our products being designed and tested with them in mind. We construct every piece of equipment from aircraft grade materials to insure not only your safety, but the safe handling of your animals as well. It is our goal to produce only equipment that we are proud to put our name on, and that's the guarantee that you are purchasing a genuine Midwest product. Many professional researchers, zoo keepers and field collectors are also involved in the field testing of our equipment.
Tricia's Chinese Water Dragon, Reptile and Amphibian Care Page (Water Dragon care, Reptile care, Amphibian care)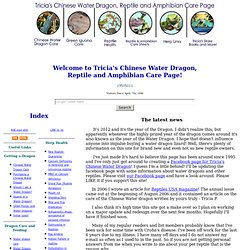 The latest news It's 2012 and it's the year of the Dragon. I didn't realize this, but apparently whenever the highly prized year of the dragon comes around it's also known as the year of the Water Dragon.
The Sticky Tongue | Herpetology, Zoology and Conservation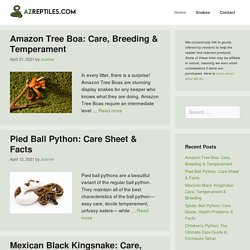 One of the primary focuses of the Arizona Herpetological Association (AHA) is to educate, inform, and promote the communities understanding of reptiles and amphibians. The AHA has had booths setup at many of the community events. If you are thinking about keeping or currently keep reptiles and/or amphibians and have questions, we are here to help. Soon there will be a dedicated section of the forum for questions, advice, and general information on keeping a variety of species. Many of the members of the AHA are active outdoorsmen and some are accomplished photographers as well. If you are a Field Herper or have just taken a picture of something and would like to have identified, please feel free to sign up for the forums and submit your pics.
Arizona Herpetological Association (AHA): Home
Wild Recon