En englés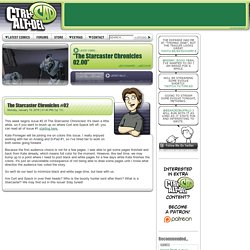 Ctrl+Alt+Del
Cast your vote! Friday, April 18, 2014 | 12:37 AM | by Tim Choose what happens next: Try and steal a shipTry and get their ship back from Chaug
shimmering and white
I waste so much time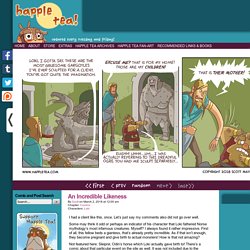 Arguing with true believers of any particular creed, myth, or ideal requires monumental patience and mental fortitude. That, or impotent rage and a serious masochistic streak. You could always just slam your head repeatedly into a wall, it might be less painful in the end. I generally find it's not even worth bothering with, these days.
Happle Tea - Comics!
This has been a long while coming, but we've finally decided it's time to officially go on indefinite hiatus. Thank you all for 8 fantastic years, there are a lot of strips in there I'm really proud of, and grateful you all took the time to read. If we have creative projects together in the future, I'll post about it here and in the RSS feed. If you'd also like to keep up with Peter (the writerman) and his projects you can follow him on twitter @anothercretin.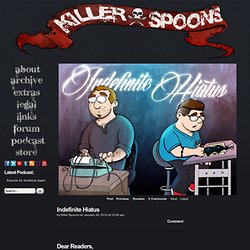 Killer Spoons -
Moonbeard - internetcomic
I hope you're all enjoying your Januween candy and pumpkin etc etc. Here is a comic feat. werewolf. Hey team so I'm currently thinking about where to take this website in 2014, any hot ideas from you internetsters about how to drag Moonbeard into the 20th century? What do you want from Moonbeard.com (apart from a more regular update schedule, I want that too). Feel free to email or comment anonymously if you're shy, I'd love to hear from you.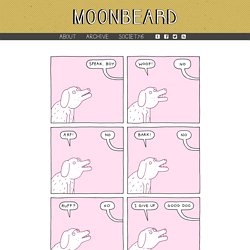 Author's Comment Yes, it IS a new comic, and not just an optical illusion! I'm so sorry for my months-long absence; I've been doing a ton of work for CollegeHumor as well as working a day job, so I've been pretty much swamped for 2 months straight.
For Lack of a Better Comic :: Couldn't Give a Shit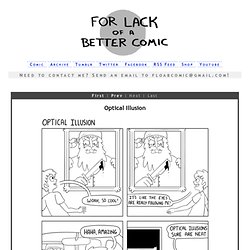 DerpCloud - Funny Pictures and Videos
Comics and Cartoons by Ryan Hudson
My 'Alternative Androids Logos' fav.me/d5pxtdg was chosen as a Daily Deviation on Saturday (January 19th)! Just want to say a great big thanks to everyone who has commented or faved on my work, the response has been overwhelming to say the least! Just FYI: my designs are available from my online T-shirt stores here: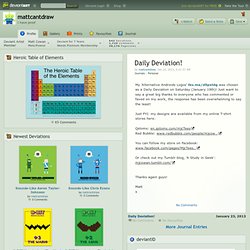 mattcantdraw on deviantART
Dicen que nos representan, que están justamente ahí para defender los intereses de los ciudadanos. A esta gentuza, a estos garrulos sin escrúpulos no les temblará el pulso a la hora de discriminar a los ciudadanos y limitar sus derechos, de quitarnos aquello que nos pertenece, de negarnos lo que nos pertenece por derecho propio. El empobrecimiento de la población aumenta a galope y ahora pretenden cargarse la sanidad pública y vendérsela a los intereses privados. ¡Intolerable! ¡Protegamos la sanidad!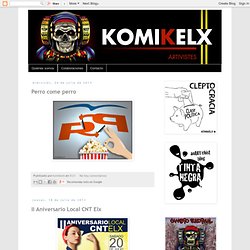 komikelx
Comics Brought to you by Gip
C-Section Comics
Two Sexy Geeks
twistedspeedo - To the rescue!
Trouble Down Pit - Updated every Monday and Friday
The Meta Picture
The Absolute Funniest Posts
The Frogman - Comedy, photoshop, kittens, & corgis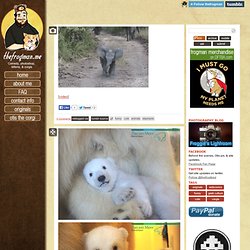 Frogman, I have a snake. He's a six month old ball python named Loki and he's a super adorable ball of squish. When I tell people about my babysnake, people respond with things like "I'd kill it if I could!
Toonhole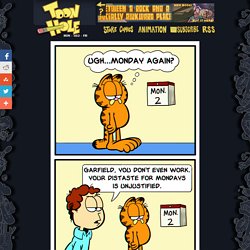 >>April 15th, 2014 For those of you in Southern California, ToonholeChris and ToonHoleRyan will be selling books and prints and original artwork at WONDERCON! This Friday, Saturday, Sunday, Apr. 18th – 20th! We'll be in the Small Press area, listed under ToonHole! Stop by and buy something or just say hey!
Spring Awakening
Savage Chickens - Cartoons on Sticky Notes by Doug Savage
The Lolbrary - Indexing internet humor new and old.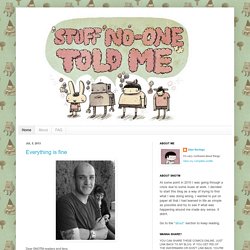 Dear SNOTM readers and fans, I am very much alive... I've just not been drawing many comics because Iris and I have been traveling a lot lately. We spent a few months in Spain visiting my family and walking the Camino de Santiago (by the way, it was awesome). As of now, our current residence is in Sao Paulo, Brazil... and I think we'll be staying here for a few years. I don't know if new comics will come anytime soon.
Stuff No One Told Me
♥
Adult Perversion
Browse
Geek in Love BlogComic « The Geek blogcomic
Salt on a White Picket Fence
Spud Comics
DOGHOUSE
Inspired by true events
Left-Handed Toons (by right-handed people)
BLOGWELL
Hyperbole and a Half
Five Words
Just for Fun!
Domics
MercWorks - An internet comic by Dave Mercier
Calm Blue Oceans - Comics and thoughts by Jesse Cline
Pleated-Jeans.com | No filler, just funny.
Crazy funny pictures of insane internet
No filler, just funny. | Page 2
Science, Love and LSD
Pencils at Dawn
Comics, Quizzes, and Stories
Shoebox
Doodle a Day
Drawing Nothing
Completely Serious Comics - Where funny comes to die!
Mr. Lovenstein | Rounding Down.
by Wes and Tony
EscaWorks - webcomic by Andrei Esca
Comical Concept - Funny vector illustration updated Wednesdays
Poorly Drawn Lines
Home