Jobs/Internships in Development
Current vacancies. Social Research Institute. BASECAMP 2013 : Activism Events : Events calendar. Reconnect with nature in stunning countryside.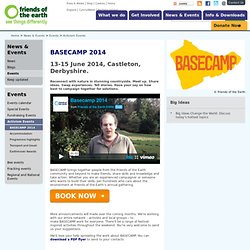 Meet up. Share ideas. Swap experiences. The London Waldorf Seminar - Steiner education teacher training. The Seminar budgets very carefully in order that it can remain solvent but maintain the level of fees charged as low as possible.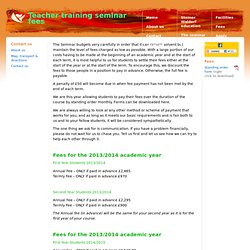 With a large portion of our costs having to be made at the beginning of an academic year and at the start of each term, it is most helpful to us for students to settle their fees either at the start of the year or at the start of the term. To encourage this, we discount the fees to those people in a position to pay in advance. Otherwise, the full fee is payable. A penalty of £50 will become due in when fee payment has not been met by the end of each term. We are this year allowing students to pay their fees over the duration of the course by standing order monthly.
SWSF Member Teaching Vacancies - Steiner Waldorf Schools Fellowship. HOMESWSF Admin Welcome to the Steiner Waldorf Schools Fellowship website The SWSF is the membership organisation for all the Steiner schools and independent Steiner Early Years settings in the UK and Ireland.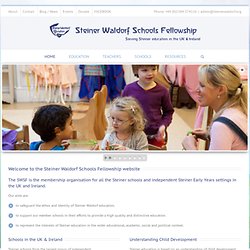 Our aims are: to safeguard the ethos and identity of Steiner Waldorf education.to support our member schools in their efforts to provide a high quality and distinctive education.to represent the interests of Steiner education in the wider educational, academic, social and political context. How To Become A Solicitor - A Quickguide | We know that many visitors to this site are still considering whether or not to become a solicitor.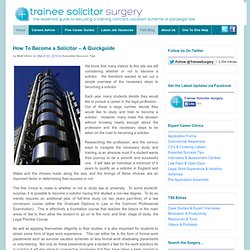 We therefore wanted to set out a simple overview of the necessary steps to becoming a solicitor. Each year many students decide they would like to pursue a career in the legal profession. Jobs. You will find all our current jobs listed below.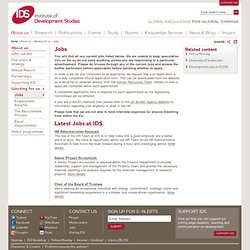 We are unable to keep speculative CVs on file so do not send anything unless you are responding to a particular advertisement. Please do browse through any of the current jobs and access the further particulars (where applicable) before deciding whether to apply. In order to be fair and consistent to all applicants, we request that your application is on a duly completed official application form. Internship Programme | Slow Food Uk. We are currently looking for 2 interns to support our Membership Services and our Chef Alliance programme, and several other positions will become available soon.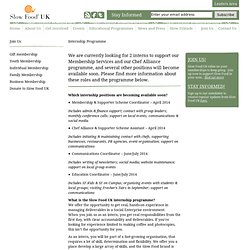 Please find more information about these roles and the programme below. Which internship positions are becoming available soon? Membership & Supporter Scheme Coordinator – April 2014 Includes admin & finance support; contact with group leaders; monthly conference calls; support on local events, communications & social media Chef Alliance & Supporter Scheme Assistant – April 2014.
Ntact us at MKA Ecology. Apply. Strategy& can offer you a career with diverse and challenging assignments, engaging colleagues, unmatched opportunities for professional growth and achievement, and the satisfaction that comes from helping clients solve their most critical issues.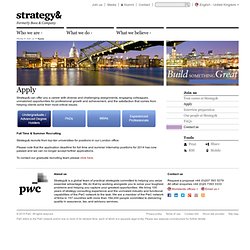 Full Time & Summer Recruiting Strategy& recruits from top-tier universities for positions in our London office. Please note that the application deadline for full time and summer internship positions for 2014 has now passed and we can no longer accept further applications. To contact our graduate recruiting team please click here. Council. Top 10 Climate Change Strategy Consultancies. Boyd Cohen, Ph.D.
CO2 IMPACT Despite the weak regulatory environment at the federal level in both the U.S. and Canada, there is growing demand for helping executives understand how to mitigate climate change at a profit. This demand comes from local regulation, such as California's cap and trade program and Ontario's regulation phasing out coal-fired power plants, and other drivers such as the desire to increase efficiencies or the need to meet increasingly stringent supplier requirements, such as those from Walmart . A few weeks ago I wrote about the top Executive MBA programs promoting profitable solutions to climate change, something I refer to as Climate Capitalism .
Current vacancies. Vacancies in England 0250 Civil Engineering Works Supervisor - PB6a, Sherwood Pines £21,353 - £23,977 plus benefitsClosing date: 18 April 2014If you require any additional information please contact:resourcing@forestry.gsi.gov.uk 0248 Civil Engineer - PB5, Bellingham £24,020 - £27,292 plus benefitsClosing date: 18 April 2014If you require any additional information please contact:resourcing@forestry.gsi.gov.uk 0293 Assistant Diagnostician in Forest Pathology x 2 - PB6a, 2 Years Fixed Term Appointment, Alice Holt £21,353 - £23,977 plus benefitsClosing date: 1 May 2014If you require any additional information please contact:resourcing@forestry.gsi.gov.uk 0294 Forest Pathology Diagnostician and Trainer - PB5, 2 Years Fixed Term Appointment, Alice Holt £24,020 - £27,292 plus benefitsClosing date: 1 May 2014If you require any additional information please contact:resourcing@forestry.gsi.gov.uk.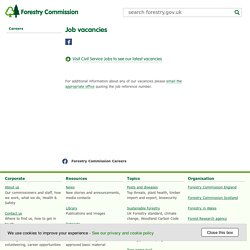 Social Transformation Intern CharityJOB. Spear is looking for an Intern (11 month fixed term contract) to work on this ground-breaking, church-based training programme for unemployed 16-24 year olds.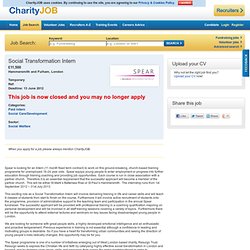 Spear equips young people to enter employment or progress into further education through training,coaching and providing job opportunities. Each course is run in close association with a partner church. I Want Your Job: Foreign Office diplomat - Getting a Job - Career Planning. What does your job involve? Policy jobs at the Foreign Office are either based around a country or region, like Pakistan or Africa; or a theme, like counter-terrorism or human rights. I'm head of a team working on the European Union's common foreign policy, which is where the 27 member countries of the EU act together externally. That might mean the EU training Iraqi judges and prosecutors; running a border checkpoint with the Palestinians between Gaza and Egypt; or calling on the Sudanese president to accept blue-helmeted UN peacekeepers in Darfur.
When an action is proposed, we look at the legal base for it, its budget and, more broadly, what the UK thinks about it. Why do you love your job? Demos. Jobs Demos has no current vacancies. Internships Demos recruits interns on a rolling basis throughout the year. Global justice campaigners tackling the causes of poverty. Reform - The Next 10 Years. w4mp | home. Working with Reform - Reform. The independent think tank Reform will be one of the centres of thinking on public services and the economy in 2014.
We will hold a major programme of events on the key themes of our work for the year: A high productivity public sector Reducing demand Limited government Economic growth Poverty and fairness Reform's events secure a high level of attention and media coverage, and attract high profile speakers and guests. The ideas raised feed into Reform's research programme and contribute to the policy debate. We work with sponsors to create events of very high value that generate new ideas for the policy debate: Lifeworth | Lifeworth.
---