News
SarahMarshall: Here are the stats on Buzzfeed's... Robert Scoble on Newsnight: The drinking game. Robert Scoble - he of questionable job titles and topless pictures - is apparently appearing on Newsnight tonight to talk about Google Glass.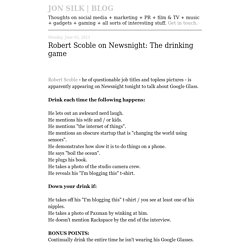 Drink any time the following happens: He lets out an awkward nerd laugh. He mentions his wife and / or kids.
Twitterlists. #Brum - birmingham hyperlocal news. Loic Le Meur Blog: 30 predictions for the future of Twitter. At the 140conf conference in LA, Jeff Pulver asked me to think about the future of Twitter and even though I obviously have no crystal ball, I took some risks and here you go, I gathered my predictions here, in the form of "tweet slides" so you might want to watch the video too.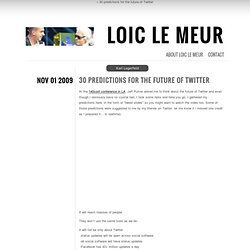 Some of those predictions were suggested to me by my friends on Twitter, let me know if I missed one credit as I prepared it… in realtime). It will reach masses of people They won't use the same tools as we do It will not be only about Twitter -status updates will be open across social software -all social software will have status updates -Facebook has 40+ million updates a day. Death To The Embargo. PR firms are out of control.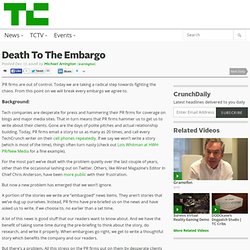 Today we are taking a radical step towards fighting the chaos. From this point on we will break every embargo we agree to. Background: Tech companies are desperate for press and hammering their PR firms for coverage on blogs and major media sites.
---