Measurement
The Most Influential Websites in the World: Wikipedia #1, Twitte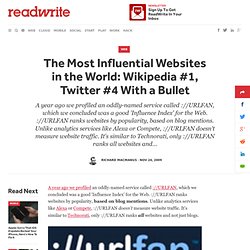 A year ago we profiled an oddly-named service called ://URLFAN, which we concluded was a good 'Influence Index' for the Web. ://URLFAN ranks websites by popularity, based on blog mentions. Unlike analytics services like Alexa or Compete, ://URLFAN doesn't measure website traffic. It's similar to Technorati, only ://URLFAN ranks all websites and not just blogs. We noted in our original review that ://URLFAN's ranking list will inevitably be biased towards users of social media - and in particular bloggers.
Social media measurement is something that I think should be undertaken with a sense of perspective, by standing back and looking at the big picture. A widescreen approach to social media measurement ultimately looks at the things that really matter: sales, profits, customer satisfaction and loyalty.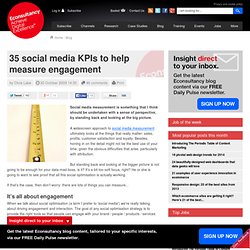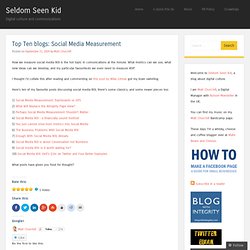 How we measure social media ROI is the hot topic in comunications at the minute. What metrics can we use, what new ideas can we develop, and my particular favouritedo we even need to measure ROI? I thought I'd collate this after reading and commenting on this post by Mike Litman got my brain swhirling.
Top Ten blogs: Social Media Measurement « The Seldom Seen Kid
The Measurement Standard, KDPaine & Partners' Newslette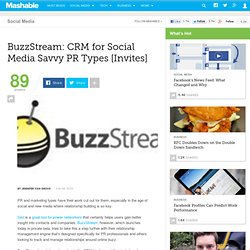 BuzzStream: CRM for Social Media Savvy PR Types [
PR and marketing types have their work cut out for them, especially in the age of social and new media where relationship building is so key.
I intend this to be the first of a series of posts about the challenge of PR Measurement. The transparency of the Online Media World has brought with it greater opportunities to observe and measure the impact of PR, and often at a much lower cost than the equivalent offline measurement. At Measurement Camp last week (which was great by the way, just wish it wasn't a 600 mile round trip!)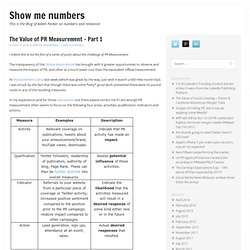 The Value of PR Measurement - Part 1 | Show me numbers
The Measurement Standard, KDPaine & Partners' Newslette
Social media engagement: are we making it up as we go along? | B
Or is it just me? Measuring the effectiveness of brand consumer engagement via social media isn't easy.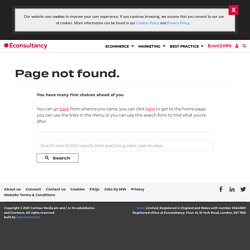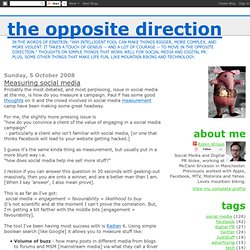 Measuring social media
Probably the most debated, and most perplexing, issue in social media at the mo, is how do you measure a campaign.
The list of free measurement sites from MeasurementCamp II is on Delicious, using the tags "measurementcamp08" and "snapshot". Please add to the list in [http://del.icio.us/tag/measurementcamp08] and mention in the notes how the sites can be used and what for.