Mashable
Twitter
Backgrounds. Posterous vs. Tumblr: A Head to Head. In the space between a long-form blog and a short-form Twitter account, there are mini-blog services like Posterous and Tumblr that seek to make blogging much more immediate, support all types of rich media, allow for longer entries if needed, and support short spurts that auto-post to Twitter as well.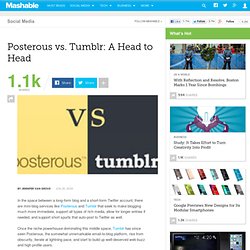 Once the niche powerhouse dominating this middle space, Tumblr has since seen Posterous, the somewhat unremarkable email-to-blog platform, rise from obscurity, iterate at lightning pace, and start to build up well-deserved web buzz and high profile users. This tumbling and posturing web-aholic has been using both sites for quite some time, so the head-to-head you're about to read is filled with intimate knowledge of both applications. Posting Options. Presenting: 10 of the Smartest Big Brands in Social Media. Samir Balwani is an emerging technology strategist at Morpheus Media, a firm specializing in Social Marketing, SEM, and SEO.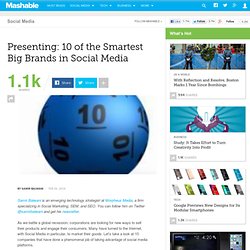 You can follow him on Twitter @samirbalwani and get his newsletter. As we battle a global recession, corporations are looking for new ways to sell their products and engage their consumers. Many have turned to the Internet, with Social Media in particular, to market their goods. Let's take a look at 10 companies that have done a phenomenal job of taking advantage of social media platforms. 10 Must-Follow Usability Experts on Twitter.
Nick Gould is CEO of usability and user experience design firm, Catalyst Group.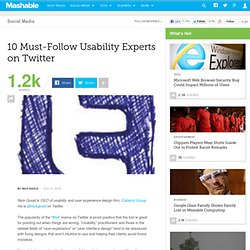 He is @nickgould on Twitter. The popularity of the "#fail" meme on Twitter is proof positive that the tool is great for pointing out when things are wrong. "Usability" practitioners and those in the related fields of "user experience" or "user interface design" tend to be obsessed with fixing designs that aren't intuitive to use and helping their clients avoid those mistakes. You might be surprised by the range of things that are open to usability critiques: web site designs, ATM interfaces, beta software releases, confusing elevator buttons (all real examples from the Twitter feeds of usability pros). Experts in the field often tweet about their latest projects, conferences they are attending, or just point out their most recent usability outrage. Finding the Right "Brand Voice" on Twitter. Kai Turner is head of Information Architecture at Agency.com – London.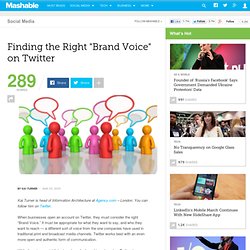 You can follow him on Twitter. When businesses open an account on Twitter, they must consider the right "Brand Voice." It must be appropriate for what they want to say, and who they want to reach — a different sort of voice from the one companies have used in traditional print and broadcast media channels. Twitter works best with an even more open and authentic form of communication. While there is no established roadmap for launching a brand on Twitter, here are some of my observations about approaches to follow and pitfalls to avoid.
15 Fascinating Ways to Track Twitter Trends. One of the great things about TwitterTwitter reviews is that it is a great place to track emerging trends.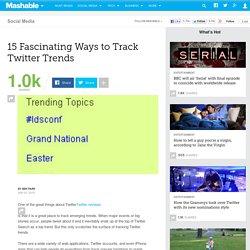 When major events or big stories occur, people tweet about it and it inevitably ends up at the top of Twitter Search as a top trend. FileTwt: Fast File Sharing on Twitter. There are plenty of ways to share images and videos on Twitter.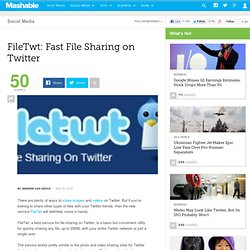 But if you're looking to share other types of files with your Twitter friends, then the new service FileTwt will definitely come in handy. FileTwt, a beta service for file sharing on Twitter, is a basic but convenient utility for quickly sharing any file, up to 20MB, with your entire Twitter network or just a single user.
---