Dinner
Mmm...is for Mommy: Easy Barbecued Ribs. I've never cooked ribs before.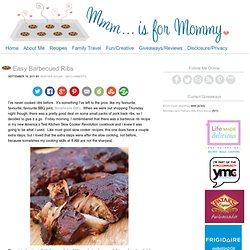 It's something I've left to the pros, like my favourite, favourite, favourite BBQ joint, Boneheads BBQ. When we were out shopping Thursday night though, there was a pretty good deal on some small packs of pork back ribs, so I decided to give it a go. Friday morning, I remembered that there was a barbecue rib recipe in my new America's Test Kitchen Slow Cooker Revolution cookbook and I knew it was going to be what I used. Like most good slow cooker recipes, this one does have a couple extra steps, but I loved that the extra steps were after the slow cooking, not before, because sometimes my cooking skills at 8 AM are not the sharpest. The original recipe is fairly large and should be made in a large oval slow cooker.
Kaytucky Chicken. I have a really fun recipe for you!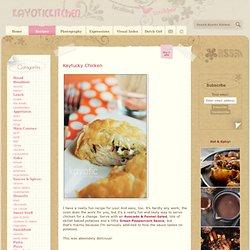 And easy, too. It's hardly any work; the oven does the work for you, but it's a really fun and tasty way to serve chicken for a change. Serve with an Avocado & Fennel Salad, lots of skillet baked potatoes and a little Green Peppercorn Sauce, but that's mainly because I'm seriously addicted to how the sauce tastes on potatoes.
This was absolutely delicious! Directions: Perfect Mac-n-Cheese « My Cooking Quest. November 13, 2008 by joejhorn A few weeks ago I started a quest for some good mac and cheese.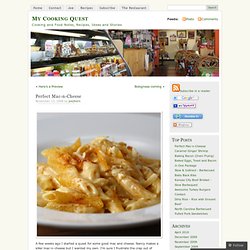 Nancy makes a killer mac-n-cheese but I wanted my own. I'm sure I frustrate the crap out of Nancy sometimes because I'm always looking for something better when it comes to food and recipes. Lasagna Soup. With spring officially arriving last weekend, this house could pretty much assume that soup would be a rarity for a few months.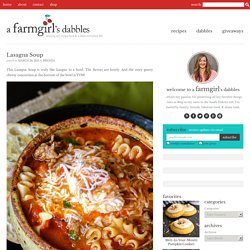 I'm just not the kind to put a hot pot on the stove during the spring and summer, unless we have some unseasonably cool weather. My husband, on the other hand, would welcome a cup of hot chili or soup almost any day of the year. But just as soon as spring finally decided to peek out, it disappeared. Gone. Nowhere to be found.
---