Pie
Take 5 Candy Bar Pie. Between the homemade Snickers bars that I posted last Friday and today's post, I'm starting to think that I have some sort of serious subconscious craving for candy on Fridays.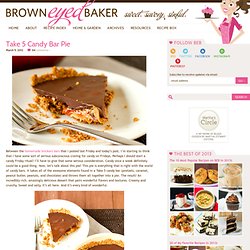 Perhaps I should start a candy Friday ritual? I'll have to give that some serious consideration. Candy once a week definitely could be a good thing. Now, let's talk about this pie! Caramel-Apple Pie Recipe. Sweet Cinnamon Cherry Pie. And I don't mean as in an exclamation, "Sweet cinnamon!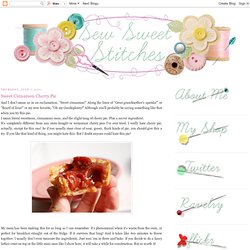 " Along the lines of "Great grandmother's spatula! " or "Beard of Zeus! " or my new favorite, "Oh my Goodnplenty! " Although you'll probably be saying something like that when you try this pie. Tiny Tarts: How to make Pie in a Jar. I love giving thoughtful homemade gifts to friends and family.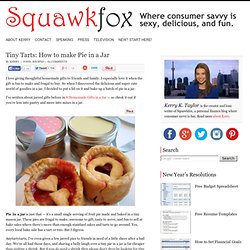 I especially love it when the gift is fun to make and frugal to buy. So when I discovered the delicious and super cute world of goodies in a jar, I decided to put a lid on it and bake up a batch of pie in a jar. I've written about jarred gifts before in 8 Homemade Gifts in a Jar — so check it out if you're less into pastry and more into mixes in a jar. Peach Pie. Okay, so the calendar might say it is fall, but I'm going to retain my death grip on summer and continue enjoying the late summer bounty while others move on to pumpkin-y things and slow braises.
I did warn you that I was planning to obsessively hoard all stone fruit till they rot off the tree, did I not? And even the rotting ones… I'm sure there's still good bits… I know. Obsession is unhealthy.
---