Drinks
Brazilian Lemonade
This is my most favorite drink. Ever. Maybe I'd feel differently if I drank (as in alcohol), but there is nothing I love more than a warm, breezy afternoon and a pitcher of Brazilian lemonade. I didn't try it for a long, long time because I was very put off by putting sweetened condensed milk in with citrus fruit.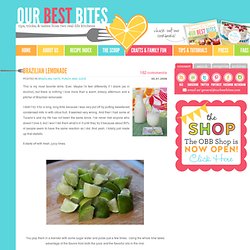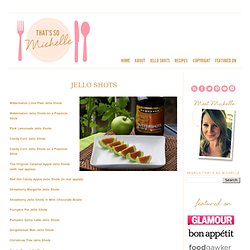 This Blog Jello Shots Watermelon Lime Peel Jello Shots Watermelon Jello Shots on a Popsicle Stick Pink Lemonade Jello Shots Candy Corn Jello Shots The Original Caramel Apple Jello Shots (with real apples) Red Hot Candy Apple Jello Shots (in real apples) Strawberry Margarita Jello Shots Strawberry Jello Shots in Mini Chocolate Bowls Pumpkin Pie Jello Shots Gingerbread Men Jello Shots Cherry Pie Jello Shots Eggnog Jello Shots Eggnog Pudding Shots Apple Cider and Buttered Rum Jello Shots Peppermint Mocha Holiday Jello Shots Champagne Jello Shots Peach and Vanilla Champagne Jello Shots Heart Shaped Jello Shots with Cherries Pink Champagne Heart Shaped Jello Shots Shamrock Jello Shots for St.
Jello Shots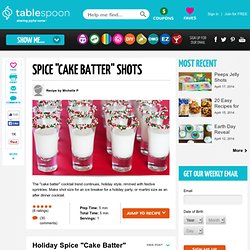 Recipe: Spice "Cake Batter" Shots Try as they might to find a fruitcake recipe that is light and airy, all too often the only thing any fruitcake is good for is propping open a door. Gingerbread houses are no better.
Spice "Cake Batter" Shots Recipe
Marshmallow Shakes: Food + Cooking
Apple Cider Cups
This is the latest installment of my Powernap column. The series where I share quick, easy food that can be made for all kinds of situations. Powernaps are short and sweet, and so are these recipes. These are the things I make in a jiffy when I need a quick snack, am in the mood for a recipe experiment, or simply need to clean out the pantry. When I was at BlogHer Food in Atlanta in May I had the great fortune of sipping the most delicious lemonade I'd ever, ever tasted. It was sold at a tiny cafe at the Auburn Street Market and I am fairly sure every single one of us on the field trip purchased a large serving.
Roasted Peach Lemonade | The Naptime Chef