Computer Science
Introduction to Computer Science and Programming. The most learner-friendly resources about algorithms. Computer Science. The Computer Science program will provide you with a breadth of experience in software, hardware, and mathematics.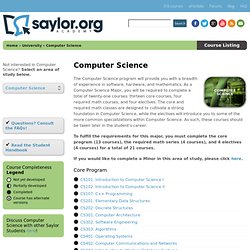 As a Computer Science Major, you will be required to complete a total of twenty-one courses: thirteen core courses, four required math courses, and four electives. The core and required math classes are designed to cultivate a strong foundation in Computer Science, while the electives will introduce you to some of the more common specializations within Computer Science. As such, these courses should be taken later in the student's career.
Harvard CS50 OpenCourseWare. This is CS50 OpenCourseware.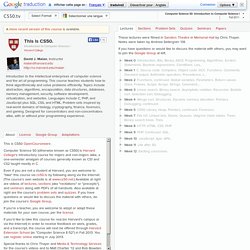 Computer Science 50 (otherwise known as CS50) is Harvard College's introductory course for majors and non-majors alike, a one-semester amalgam of courses generally known as CS1 and CS2 taught mostly in C. Even if you are not a student at Harvard, you are welcome to "take" this course via cs50.tv by following along via the Internet. Robotics. Electrical Engineering and Computer Science. Stanford Engineering Everywhere. SEE programming includes one of Stanford's most popular engineering sequences: the three-course Introduction to Computer Science taken by the majority of Stanford undergraduates, and seven more advanced courses in artificial intelligence and electrical engineering.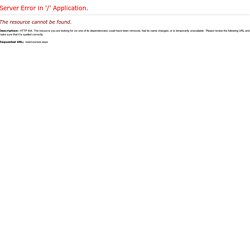 Introduction to Computer Science Artificial Intelligence Linear Systems and Optimization Additional School of Engineering Courses To learn about taking engineering courses online for Stanford graduate credit, please visit the Stanford Center for Professional Development. MIT OpenCourseWare - Free Courses. Free Online Computer Science and Programming Books. Coursera: Computer Science Courses. Coursera - Opinions. Course Hero: Intro to Programming.
WiBit.net: Introduction to Computer Programming. Tutorials. Academic Earth: Video Courses. In its purest form, computer science is the research and development of technology that solves specific problems.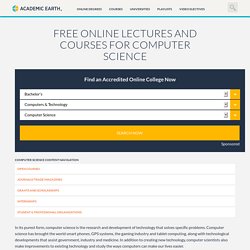 Computer science has brought the world smart phones, GPS systems, the gaming industry and tablet computing, along with technological developments that assist government, industry and medicine. In addition to creating new technology, computer scientists also make improvements to existing technology and study the ways computers can make our lives easier. As with any branch of science, computer scientists perform research that establishes new information. Intro to Programming.
---