Wordpress site setup must do tasks
How to Make Your WordPress Category Pages Search Engine (and People) Friendly. When you create a category page, your theme, by default, lists all of your articles marked with that category.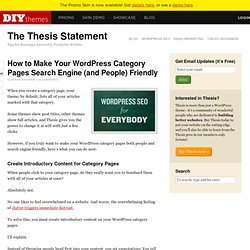 Some themes show post titles, other themes show full articles, and Thesis gives you the power to change it at will with just a few clicks. However, if you truly want to make your WordPress category pages both people and search engine friendly, here's what you can do next: Create Introductory Content for Category Pages When people click to your category page, do they really want you to bombard them with all of your articles at once? Absolutely not. How to Make WordPress More Secure from Hackers & Robots. WordPress is one of the most popular open source blogging platforms.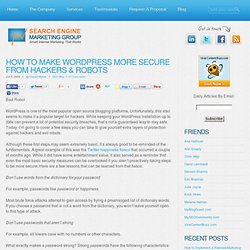 Unfortunately, this also seems to make it a popular target for hackers. While keeping your WordPress installation up to date can prevent a lot of potential security breaches, that's not a guaranteed way to stay safe. Today, I'm going to cover a few steps you can take to give yourself extra layers of protection against hackers and evil robots. Although these first steps may seem extremely basic, it's always good to be reminded of the fundamentals. Add LinkedIn Recommendations widget to your site and gather Insights. We have over 50,000 products and services represented on LinkedIn Company Pages today and that number is growing at a pretty rapid clip.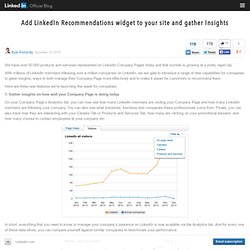 With millions of LinkedIn members following over a million companies on LinkedIn, we are glad to introduce a range of new capabilities for companies to glean insights, ways to both manage their Company Page more effectively and to make it easier for customers to recommend them. Here are three new features we're launching this week for companies: 1. Canonical Link Elements for WordPress. Rel="Author": How To Implement Rel=Author. Overshadowed by the Google+ launch was the implementation of the rel=author markup in search results.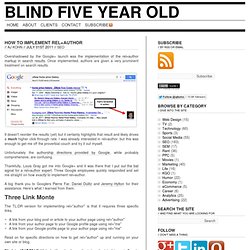 Once implemented, authors are given a very prominent treatment on search results. It doesn't reorder the results (yet) but it certainly highlights that result and likely drives a much higher click through rate.
---