Twitter Tools
Premium - Choose your package! Silver Your friends and followers sortable/filterable by more than 15 criteria.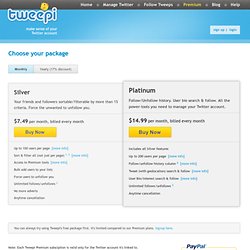 Force the unwanted to unfollow you. Up to 100 users per page [more info] Sort & filter all (not just per page) 1, 2 [more info] Access to Premium tools [more info] Announcing the Giant Summer Feature Release at Little Bird! Check out our weekly webinars and register now for an Intro to Little Bird!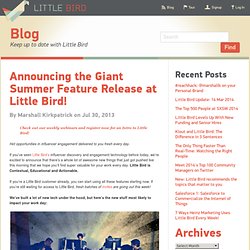 Hot opportunities in influencer engagement delivered to you fresh every day. If you've seen Little Bird's influencer discovery and engagement technology before today, we're excited to announce that there's a whole lot of awesome new things that just got pushed live this morning that we hope you'll find super valuable for your work every day. Little Bird is Contextual, Educational and Actionable. If you're a Little Bird customer already, you can start using all these features starting now. If you're still waiting for access to Little Bird, fresh batches of invites are going out this week! Twitter Marketing Software – Twitter Adder – Professional Twitter Marketing Tools – Automatic Twitter Software – Automate Twitter Posts, Auto Twitter Followback, Unfollow, Mass Tweets, Twitter Search, more ..
Use Twitter Cards For Branding & Local SEO. I've written before about the benefits of using various semantic protocols to improve your search engine optimization efforts.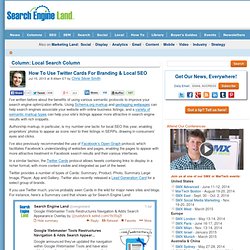 Using Schema.org markup and geotagging webpages can help search engines associate your website with online business listings, and a variety of semantic markup types can help your site's listings appear more attractive in search engine results with rich snippets. Authorship markup, in particular, is my number one tactic for local SEO this year, enabling proprietors' photos to appear as icons next to their listings in SERPs, drawing in consumers' eyes and clicks. I've also previously recommended the use of Facebook's Open Graph protocol, which facilitates Facebook's understanding of websites and pages, enabling the pages to appear with more attractive treatment in Facebook search results and their various interfaces.
Imagine the Possibilites! How Twitter Lead Gen Cards Can Increase ROI. Twitter cards!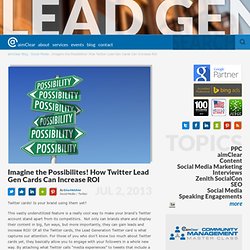 Is your brand using them yet? This vastly underutilized feature is a really cool way to make your brand's Twitter account stand apart from its competitors. Not only can brands share and display their content in big, fun ways, but more importantly, they can gain leads and increase ROI! Of all the Twitter cards, the Lead Generation Twitter card is what captures our attention. For those of you who don't know too much about Twitter cards yet, they basically allow you to engage with your followers in a whole new way.
Social Media. 11 Tools to Find Niche Twitter Influencers. One of the greatest things about social media is that anyone can become influential in any given niche.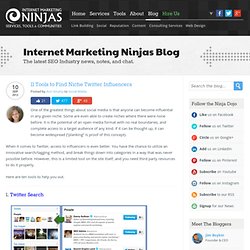 Some are even able to create niches where there were none before. It is the potential of an open media format with no real boundaries, and complete access to a target audience of any kind. If it can be thought up, it can become widespread ("planking" is proof of this concept). When it comes to Twitter, access to influencers is even better. 5 Twitter Tools to Enhance Your Marketing. Are you looking for new and creative ways to use Twitter?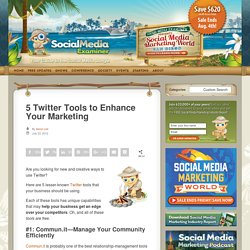 Here are 5 lesser-known Twitter tools that your business should be using. Each of these tools has unique capabilities that may . Tweepi v2.0 :: a geekier, faster way to bulk add quality followers. 6 Quick & Easy Tools To Measure ReTweets. It's said that on Twitter it's not the number of followers you have that counts, it's how many times you've been retweeted.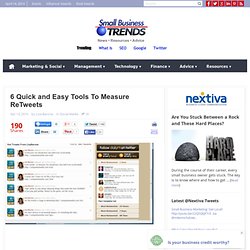 And there's some truth to that. While follower counts can be tricked, inflated or simply represent the number of people actively ignoring you, retweets show people actually engaging with what you're putting out there. Percollate: helping marketers discover their target audience. 10 Twitter Tools To Help You Track And Perform Better. I'm guessing if you are reading this is because you use or want to use Twitter for more than just pure fun.
Maybe you even have an objective in mind. Maybe you are trying to convert followers into prospects for your product or service or you are trying to increase traffic to your website or blog. Whatever those objectives are, having the right tools handy is always important. Think of a traditional marketing campaign, big or small, there are tools that help you measure your performance, compare with the competition, manage your cost, track your conversion rate and many more that will allow you to adjust your strategy and go after the right prospect. #localseo Twitter Analytics. Advertise with Promoted Tweets. Give your Tweets super powers.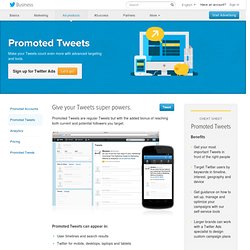 Promoted Tweets are regular Tweets but with the added bonus of reaching both current and potential followers you target. Promoted Tweets can appear in: User timelines and search resultsTwitter for mobile, desktops, laptops and tablets Targeting: You've got options. Twubs. Why does searching for Twitter lists suck so much? Let's say you want to find a Twitter list on a topic like, say, "tech."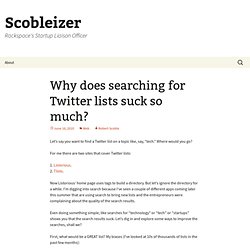 Where would you go? For me there are two sites that cover Twitter lists: 1. The Best Twitter Directories for Expanding Your Network. Follower Wonk: Twitter analytics, follower segmentation, social graph tracking, and more. Tweet Spinner: Twitter Analytics, Follower Management, DM De-spam, Scheduled Tweets, Profile Rotation, and More.
---