Twitter Tools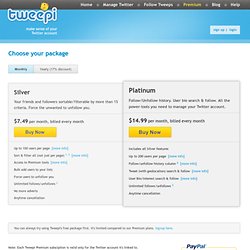 Silver Your friends and followers sortable/filterable by more than 15 criteria.
Premium - Choose your package!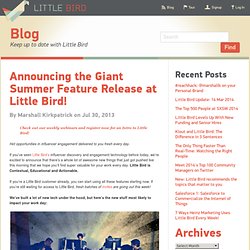 Announcing the Giant Summer Feature Release at Little Bird! - Little Bird
Check out our weekly webinars and register now for an Intro to Little Bird! Hot opportunities in influencer engagement delivered to you fresh every day. If you've seen Little Bird's influencer discovery and engagement technology before today, we're excited to announce that there's a whole lot of awesome new things that just got pushed live this morning that we hope you'll find super valuable for your work every day. Little Bird is Contextual, Educational and Actionable. If you're a Little Bird customer already, you can start using all these features starting now. If you're still waiting for access to Little Bird, fresh batches of invites are going out this week!
I've written before about the benefits of using various semantic protocols to improve your search engine optimization efforts. Using Schema.org markup and geotagging webpages can help search engines associate your website with online business listings, and a variety of semantic markup types can help your site's listings appear more attractive in search engine results with rich snippets. Authorship markup, in particular, is my number one tactic for local SEO this year, enabling proprietors' photos to appear as icons next to their listings in SERPs, drawing in consumers' eyes and clicks. I've also previously recommended the use of Facebook's Open Graph protocol, which facilitates Facebook's understanding of websites and pages, enabling the pages to appear with more attractive treatment in Facebook search results and their various interfaces.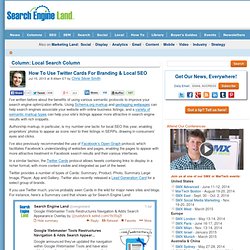 Use Twitter Cards For Branding & Local SEO
Twitter cards! Is your brand using them yet?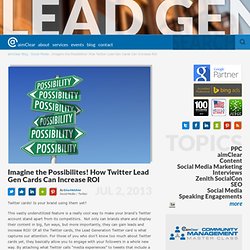 Imagine the Possibilites! How Twitter Lead Gen Cards Can Increase ROI
Social Media
One of the greatest things about social media is that anyone can become influential in any given niche.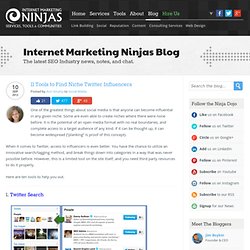 11 Tools to Find Niche Twitter Influencers
Are you looking for new and creative ways to use Twitter? Here are 5 lesser-known Twitter tools that your business should be using. Each of these tools has unique capabilities that may .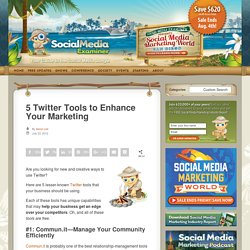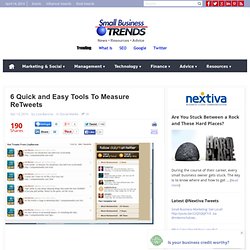 It's said that on Twitter it's not the number of followers you have that counts, it's how many times you've been retweeted. And there's some truth to that. While follower counts can be tricked, inflated or simply represent the number of people actively ignoring you, retweets show people actually engaging with what you're putting out there.
6 Quick & Easy Tools To Measure ReTweets
Percollate: helping marketers discover their target audience
I'm guessing if you are reading this is because you use or want to use Twitter for more than just pure fun.
10 Twitter Tools To Help You Track And Perform Better
#localseo Twitter Analytics
Give your Tweets super powers. Promoted Tweets are regular Tweets but with the added bonus of reaching both current and potential followers you target. Promoted Tweets can appear in: User timelines and search resultsTwitter for mobile, desktops, laptops and tablets Targeting: You've got options.
Advertise with Promoted Tweets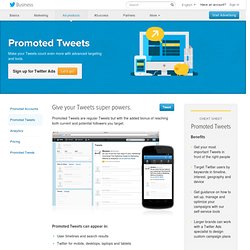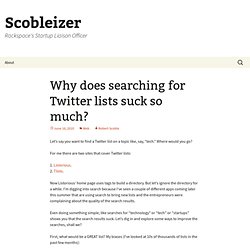 Let's say you want to find a Twitter list on a topic like, say, "tech."
Why does searching for Twitter lists suck so much?
The Best Twitter Directories for Expanding Your Network