Social Media Marketing
The 7 Personalities Every Successful Social Media Manager Has. There aren't many instances in our professional lives where having multiple personalities is seen as a positive trait.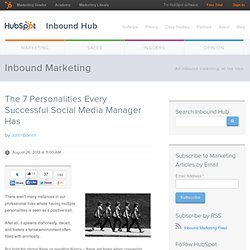 After all, it spawns dishonesty, deceit, and fosters a tense environment often filled with animosity. But hold the phone there ya negative Nancy -- there are times when conveying multiple personalities is not only encouraged, but also essential to the success of your marketing efforts. Storytelling in 2013. The Power of Social Media. Why social media may not be as effective as you think for small business - Vote for the best company in Sacramento's business competition. The 30 Most Creative Social Media Marketers RANKED. 10 fatal mistakes of social media marketing. Social media has been around for only a few years, but in that time marketers and researchers have made some pretty interesting findings.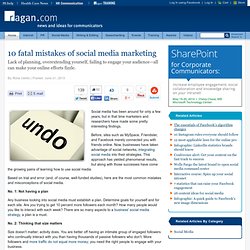 Before, sites such as MySpace, Friendster, and Facebook merely connected you with friends online. Now, businesses have taken advantage of social networks, integrating social media into their strategies. Customer Records all have the same address « Shopp Support. Info.thewholebraingroup.com/Portals/167787/docs/WBG_EnhanceYourInternetPrescence_SocialMedia.pdf. Hardcore Social Tactics -- SMX Advanced 2012. Good morning SMX Advanced attendees and readers!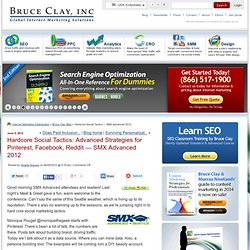 Last night's Meet & Greet gave a fun, warm welcome to the conference. Can't say the same of this Seattle weather, which is living up to its reputation. There's also no warming up to the sessions, as we're jumping right in to hard core social marketing tactics. Monique Pouget @moniquethegeek starts with Pinterest. 10 Social Media Secrets from the Social Scientist. There are some secrets regarding social media that I'd like to share.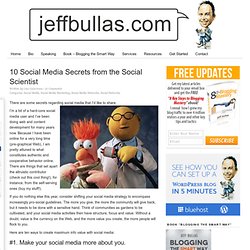 I'm a bit of a hard-core social media user and I've been doing web and content development for many years now. Because I have been online for a very long time (pre-graphical Web), I am pretty attuned to what constitutes authentic and cooperative behavior online. There are things that set apart the altruistic contributor (check out this cool thing!) , for instance, from the self-serving ones (buy my stuff!). If you do nothing else this year, consider shifting your social media strategy to encompass increasingly pro-social guidelines.
20 Essentials to Power-Up Your Social Media Strategy. Starting off on something as small as a social media contest or a marketing plan supported by a content calendar across a period we take everything into consideration.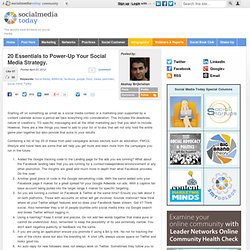 This includes the deadlines, nature of creative's, TG specific messaging and all the other marketing jazz that you wish to include. However, there are a few things you need to add to your list of to-dos that will not only hold the entire game plan together but also provide that extra to your results. Combining a list of top 20 of these from past campaigns across sectors such as education, FMCG, lifestyle and travel here are some that will help you get more and learn more from the campaigns you run in the future: Added the Google tracking code to the Landing page for the ads you are running? What about the Facebook landing tabs that you are running for a contest/sweepstakes/announcement or any other promotion.
Info.spredfast.com/rs/spredfast/images/spredfast-pocketguide-final.pdf?mkt_tok=3RkMMJWWfF9wsRonv6rKZKXonjHpfsX56eUsWqWg38431UFwdcjKPmjr1YIBTcd0dvycMRAVFZl5nR9ICOWReoFT7g%3D%3D. 30 Social Media Predictions for 2012 From the Pros. How will social media impact businesses in 2012?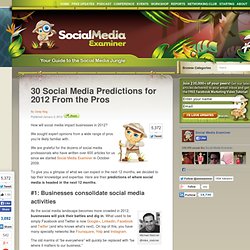 We sought expert opinions from a wide range of pros you're likely familiar with. We are grateful for the dozens of social media professionals who have written over 600 articles for us since we started Social Media Examiner in October 2009. To give you a glimpse of what we can expect in the next 12 months, we decided to tap their knowledge and expertise. Here are their predictions of where social media is headed in the next 12 months. The Most Powerful Social Media Measurement Tool Money Can Buy. With so many pieces of information floating around we are more pressed than ever to find something, anything that can help us make sense of the mess.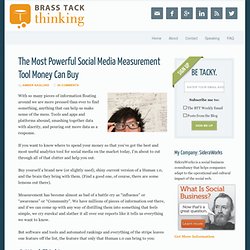 Tools and apps and platforms abound, smashing together data with alacrity, and pouring out more data as a response. If you want to know where to spend your money so that you've got the best and most useful analytics tool for social media on the market today, I'm about to cut through all of that clutter and help you out. Small Business Marketing with VerticalResponse Group News.
SMX Social Media Marketing: Zagg, Neiman Marcus & The LA Times Share Real Social Media Stories. A trio of brand representatives told their stories and offered actionable advice to attendees at SMX Social Media, a conference being presented this week by our parent company, Third Door Media.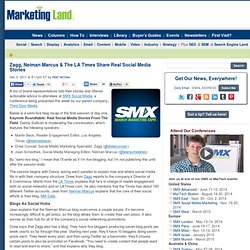 Below is a semi-live blog recap of the final session of day one, Keynote Roundtable: Real Social Media Stories From The Field. Danny Sullivan is moderating the conversation, which features the following speakers: Martin Beck, Reader Engagement Editor, Los Angeles Times (@latimesbeck)Drew Conrad, Social Media Marketing Specialist, Zagg (@drewconrad )Jean Scheidnes, Social Media Managing Editor, Neiman Marcus (@jeanscheidnes) By "semi-live blog," I mean that I'll write as if I'm live blogging, but I'm not publishing this until after the session ends. The session begins with Danny asking each panelist to explain how and where social media fits in with their company structure. Niche Social Networks Deliver Big Results. This post originally appeared on the American Express OPEN Forum, where Mashable regularly contributes articles about leveraging social media and technology in small business.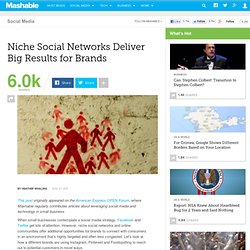 When small businesses contemplate a social media strategy, Facebook and Twitter get lots of attention. However, niche social networks and online communities offer additional opportunities for brands to connect with consumers in an environment that's highly targeted and often less congested. Is your social media expert really an expert?  There's a new phenomena of people declaring themselves social media experts.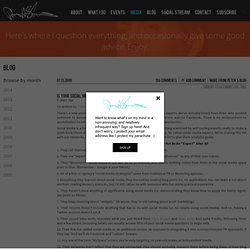 We've actually heard from firms who pushed someone to become their resident social media expert because the person was on Facebook. There is no endorsement or accreditation to set apart legitimate industry leaders from bandwagon opportunists. Social media is a hot topic. We get it. Publications 25 Signs Your Social Media Guru is a Hack 05/05/2010. I try not to make a habit of giving up the mic, but sometimes I come across something so good it needs to be shared (all social media-like). Thus today I am proud to direct your attention to 25 signs that your social media consultant might be a hack, composed by bona fide social media expert Peter Shankman and his partner Sarah Evans and first posted on Shankman's blog. If you have additional warning signs that you'd like to add, I believe you can do so in the comments section of Shankman's blog, and of course here as well. IA few of these were so amusing (and potentially truly helpful) I had to share them here.
26 Promising Social Media Stats for Small Businesses. Is your small business "all in" with social media? New research shows incredible opportunity for small businesses. Keep reading to discover why social media is changing small business for the better. Six months ago, I highlighted many benefits of social media for small business, but several new research articles add urgency to this message. Swiftly Changing Landscape. Social Media Marketing in 3 minutes. Www.hubspot.com/Portals/53/docs/ebooks/hubspot-how_to_monitor_your_social_media_presence_in_10_minutes_a_day.pdf. 17 Digital Marketing Experts Share Their Top Tips, Tricks, and Tools. With the breadth and depth of social media services out there, it's no wonder that we often find ourselves lost in the vast array of services.
Further, those who are seasoned may seem at a loss in the apparent "simplicity" of it all. I took the opportunity to contact some of my esteemed friends and colleagues who are experts in their field and asked for their advice on their favorite little known social media secret and social media tools, including their own if they had them. Here's what they told me:
---