SEOcial Random Task Ideas
The Secret Triggers Behind 43 Powerfully Simple Fill-in-the-Blank Blog Post Headline Templates
Why No One Links to Your Best Posts (And What to Do About It)
Every day, social media is abuzz with updates from everyone from Lady Gaga to Oprah to Donald Trump. It's an equal playing field where people are free to share and discuss any topic under the sun. And, with billions of users around the world on FaceBook, Twitter, LinkedIn, Google+, etc., social media is a great way for entrepreneurs to get known and connect with potential clients and customers.
"5 Social Media Formulas to Engage Your Clients and Customers" by Christine Hueber ::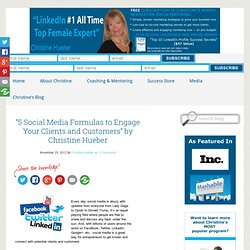 Link building can, and should, be a domino effect. A good solid link should lead to more good, solid links, but do we always pursue links with this in mind? I confess that I don't always. Sometimes a link is just a link, and that's where it ends, but moving forward in the wake of the recent algorithm updates, I think we'll all be better off if we try to build links that build links. Along with that, since I firmly believe that building relationships builds links, we'll talk about how to do that, too. It's simple and easy but sometimes the simple and easy methods are the most overlooked.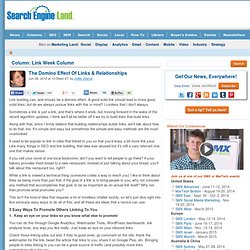 The Domino Effect Of Links & Relationships
30 Ways to Engage Your Social Media Influencers - Salesforce Marketing Cloud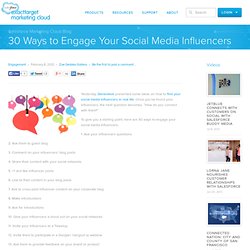 Yesterday, Genevieve presented some ideas on how to find your social media influencers in real life. Once you've found your influencers, the next question becomes, "How do you connect with them?" To give you a starting point, here are 30 ways to engage your social media influencers. 1.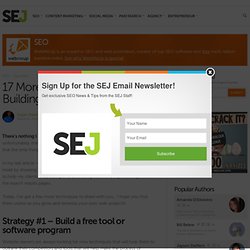 inShare116
17 More Unconventional Link Building Strategies
46 Ways to Kill It With Content
"The snake which cannot cast its skin has to die."Fredrich Neitzsche While I certainly don't agree with everything Nietzsche shared, his famous quote above captures nicely where digital marketing is right now. As an industry, change is something we live with day in day out, but we're in a period of unprecedented shift. Google is moving to a model of rewarding relevance and value based on the semantic web while rendering manipulative techniques of old redundant.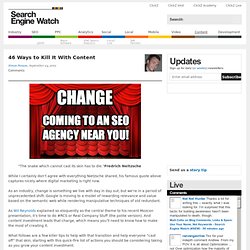 Taking your blog from zero to high traffic in no time at all | Blog-centric social mediaBlog
Checklist for Success
facebook_cheat_sheet.pdf - Google Docs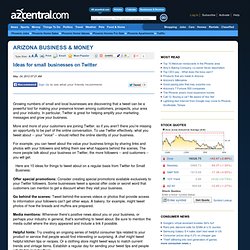 Ideas for small businesses on Twitter
May. 24, 2012 07:21 AM Growing numbers of small and local businesses are discovering that a tweet can be a powerful tool for making your presence known among customers, prospects, your area and your industry. In particular, Twitter is great for helping amplify your marketing messages and grow your business. More and more of your customers are joining Twitter, so if you aren't there you're missing an opportunity to be part of the online conversation.
Using Twitter for Small Business to Generate Calls and Loads of FREE Advertising By Thomas R. Reich Ever Wonder what Small Business Tools are contained within Twitter for small business?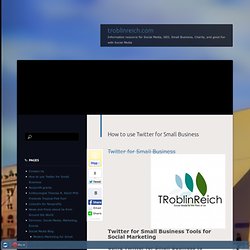 How to use Twitter for Small Business | troblinreich.com
www.createandconnectproject.com/wp-content/uploads/2012/05/C+CP-Create-Fans-from-Scratch.pdf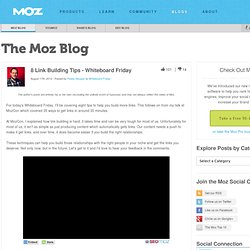 For today's Whiteboard Friday, I'll be covering eight tips to help you build more links. This follows on from my talk at MozCon which covered 35 ways to get links in around 35 minutes. At MozCon, I explained how link building is hard, it takes time and can be very tough for most of us. Unfortunately for most of us, it isn't as simple as just producing content which automatically gets links. Our content needs a push to make it get links, and over time, it does become easier if you build the right relationships.
8 Link Building Tips - Whiteboard Friday
Do you have really valuable blog posts that didn't receive nearly as much sharing/notice/buzz as you'd hoped or thought it would? You're probably not sharing it with the right people or through the right channels. The Issue You have a blog, but it's not garnering the amount of links that you'd hoped it would yield.
Small Business Blogging | how to get more links to your posts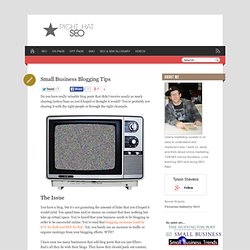 www.toprankblog.com/pdf/29-content-marketing-secrets-ebook.pdf
Link Building for Local Search
I never really thought of local link building as its own unique specialty until a comment on the 2012 Link Building With The Experts really made that sink in. With the recent mass confusion over unnatural link warnings in Google's Webmaster Tools, I noticed that loads of small business owners were frantically asking questions about what they should do. Let's say that the worst case scenario happens and you lose your search visibility in Google. Wouldn't it be great if that didn't completely cripple your business because you had such great local visibility? That's just one reason why local links are becoming more critical than ever. Why Are Local Links Important?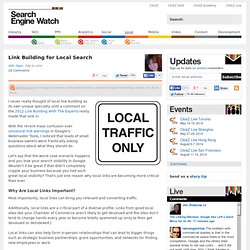 wp-content/uploads/2011/06/The-Ultimate-Backlink-Strategies.pdf
How To Build Content That Will Attract 100's Of Natural Links
40+ Tips on How to Become a Social Media Rock Star on Twitter, Facebook, and Google+
There are a several kinds of people in social media. There are the people that enjoy a nice, quiet existence with their family and close friends.
Ross Kimbarovsky is the co-founder of crowdSPRING, a community of 43,000+ graphic designers that helps small businesses from around the world with graphic design needs.
While social media marketing like Facebook, Google+, Pinterest, Twitter, and LinkedIn are getting tons of interest, Email is used far more than Facebook and Twitter combined. How much more? Daily activity for updates. tweets per day. . Email continues to be used each day by 93% of consumers.
22 Simple Tips to Grow Your Email List Organically
25 Tweaks to Capture Attention In Social Networks – Often Forgotten Tweaks — Social Metrics Pro
7 Foolproof Tactics to Write Better Blog Posts with Social Media
inShare126 Do your blog posts speak the language that your audience speaks?
PostRocket | Facebook Newsfeed and EdgeRank Optimization Tool
Your Posting Experience: Simplified. Optimized. PostRocket's Newsfeed Optimization algorithm takes your Insights data and provides you with simple, actionable recommendations. The One-Click Link to Photo Converter PostRocket's SmartLink feature allows you to post a link as a photo with one click - using one of the images found within the link being shared. Photos are a great way to get better engagement on your links.
50 Ways To Optimize Your Blog
Sorry, Marketers, You're Doing Twitter Wrong [REPORT]
7 Ways to Increase Your Blog Visibility With Social Sharing
20 Content Marketing Ideas for 2012
How to Strategically Dominate the Facebook News Feed
go.extole.com/rs/extole/images/Top5Tips_051012.pdf?mkt_tok=3RkMMJWWfF9wsRonuqjJZKXonjHpfsX56%2B4kUKawlMI%2F0ER3fOvrPUfGjI4ATcNhI%2FqLAzICFpZo2FFdAvSacIU%3D