SEO Blogs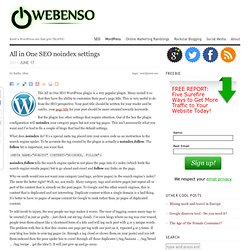 The All in One SEO WordPress plugin is a very popular plugin. Many install it so that they have the ability to customize their post's page title. This is very useful to do from the SEO perspective. Your post title should be written for your reader and be catchy, your page title for your post should be more oriented towards keywords. But the plugin has other settings that require attention. Out of the box the plugin configuration will noindex your category pages but not your tag pages.
Why I noindex tags in the All in One SEO settings
SEO Marketing & Search Engine Optimisation Blog by Tim Grice
SEO changes fast. If you're anything like me, you can spend an hour or two each day reading the best blogs, tweets and RSS feeds just to keep up with Google's algorithm changes. For the busy SEO, all this requires time, effort and tons of brain power that could be spent optimizing a site. Learning from the right source of SEO knowledge gives you a competitive edge. Sharing ideas with smart industry thinkers gives you a decided advantage over the non-informed competition.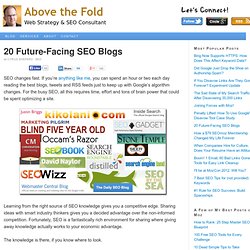 20 SEO Blogs to Watch in 2012 | Cyrus Shepard SEO
Many of you may not have known this, but the first time I ever became publicly introduced to Moz and the SEO world in large number had nothing to do with introducing a new tactic or proving my merits as an SEO, but rather my particular position on the growing debate about ethics and Search Engine Optimization. Rand Fishkin picked up on my piece entitled "Consensual SEO: Debunking the myth of Ethical SEO" in a post called Russ Jones of Virante on Search Engines & Consent. While it is still a good read, we humans tend to do this silly thing called "grow" and in time I have come to what I believe to be a more thoughtful and complete understanding of the Guidelines, ethical search marketing, and the reasons for the continued tensions... I am proud to announce today the launch of AuthorRank Pro, the first and only tool that allows you to track your AuthorRank, AuthorTrust and other metrics over time.
White Hat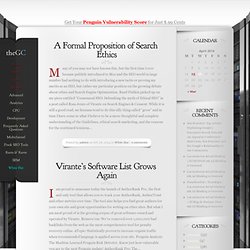 Latest Articles On-page SEO + Off-page SEO = Wonder Twins! August 9, 2011 By korbodo No Comments » I'm probably dating myself, but as a kid I remember watching the Super Friends fight crime on TV every Saturday morning.
Marketposition